From team collapse to new job in three hours: Marjolein van't Geloof on life after Le Col-Wahoo
Dutch Classics rider now has a fresh start at Human Powered Health, new objectives, and a licence to attack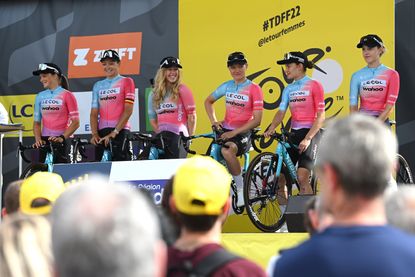 (Image credit: Getty Images)
Three months after they had starred at the first Tour de France Femmes, the news of Le Col-Wahoo's difficulties came out of the blue for the riders of Le Col-Wahoo in October, via email. The women's Continental squad, once known as Drops, was on life support; as a result, the overachieving riders were released from their contracts, allowed to go their own ways.
This led to an exodus from the British team. National champion Alice Towers went to Canyon-SRAM, Gladys Verhulst to FDJ-Suez, and Lizzie Holden to UAE Team ADQ. The team's biggest prospect, probably, was Marjolein van't Geloof, who went from planning for 2023 at Le Col-Wahoo to having to scramble for a new squad.
The Dutchwoman, responsible for one of the team's three wins last year, at the Grote Prijs Beerens, also finished second at Binche Chimay Binche, and has long threatened to have a breakthrough Classics season.
However, the breakup of the Le Col-Wahoo team endangered all of that promise; fortunately, Human Powered Health were interested, and provided her with a step up to the Women's WorldTour, an opportunity that camr at just the right moment.
"I wasn't expecting it, it has been a big shift, a big change," Van't Geloof explains. "But it has been really good. I think it was time for me to have a change anyway, but I was still in contract, so I wasn't planning on it. In the end it worked out fine.
"We got an email from the team [Le Col-Wahoo] saying they were having financial issues and we could be released from our contract if we wanted to. Basically, my manager just called up Jonas [Carney, Human Powered Health's performance manager] and set up a meeting straight away, and within three hours they were in agreement, so it was a really quick transfer.
"I was never stressed or in any doubt, we made a list with teams and Human Powered Health was at the top of the list, and apparently I was at the top of their list as well, so it clicked straight away. It went really fast, Jonas said it was the fastest transfer they've ever done, which I think is a good sign."
2023 was supposed to be Van't Geloof's fourth year with the Drops project, so one can only assume it was a bit of a shock to find out with three months to the new year that she could look for new opportunities. It shows just how fragile the life of a professional cyclist is, and how quickly it can all be wiped away.
"I was very invested in the programme at Drops, I was there for three years," she says. "It was very sad to see it falling apart at that moment, and there have been lots of girls who left, and it's basically a whole new team now. This was a big opportunity, it's the time for me to step-up to WorldTour. It turned out not be a bad thing that I got released from my contract."
Le Col-Wahoo has become Life Plus Wahoo for the 2023 season, with almost a brand new squad, with different sports directors, although it is still managed by Tom Varney.
Revolution rather than evolution for the team, which might not be able to punch above its weight as much as it has before; last year, the team were present at the Tour of Flanders, Paris-Roubaix Femme and the Tour de France Femmes, among others.
Van't Geloof, however, is ready for the new challenge.
"It was a big shift, but it was the right time for me," she says. "It was just after I got sick, I came back into training and got this news. That weekend I had booked away, so I just had some time to think about new goals and my programme, and also talk to the team about what I wanted, and that aligned really well. It worked out better for me, because I'll be focusing more on a leading role now, as before I was more of a leadout person and team captain.
"After last season, it was time. Results wise, and also the level I am now, I think I belong on the WorldTour. I'm at a level now that I wasn't a few years ago."
It is not the first time WorldTour teams have come calling for Van't Geloof's name for their squad. Human Powered Health, though, seems different, as she will be one of the senior riders at the squad, signed for results, rather than as a super-domestique.
"I think before it [the issue] was trust and the right opportunity," she says. "Before I've had interest in stepping up as a domestique, but this team really showed interest in me as a leader, going for results, which I'm really interested in. For me, and for the team, that was a good fit. I don't race just to do domestique work."
Paris-Roubaix is the big goal for the Dutch powerhouse, and in new colours, she might be one to watch
Thank you for reading 20 articles this month* Join now for unlimited access
Enjoy your first month for just £1 / $1 / €1
*Read 5 free articles per month without a subscription
Join now for unlimited access
Try first month for just £1 / $1 / €1