'I was sick everywhere' - Brit Tom Gloag fights illness and embraces 'ignorance' at Giro d'Italia
The 21-year-old Londoner on his dramatic debut Grand Tour call up, throwing up on a climb, and trying to help his Jumbo-Visma team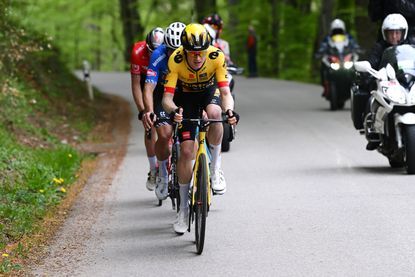 (Image credit: Getty Images)
After a rollercoaster first week of the Giro d'Italia, Tom Gloag says he's taking it one day at a time at his Grand Tour debut as he eases into the final two weeks of racing.
The 21-year-old from East Dulwich in London has been going to bed each night unaware as to what the next day will bring and joked that for him, "ignorance is bliss" in Italy.
Speaking to Cycling Weekly on the race's first rest day, the Jumbo-Visma rider explained that he hasn't been checking each stage's profile in advance, so each one has been a surprise in the morning before the day's racing gets underway.
"I've got to be really honest with you," Gloag said. "I didn't know I was riding the Giro until the day before the time trial at about 5pm. Since then, I've religiously refused to look at the stage profile of the next day until the morning of it. So, I literally don't know what's coming up. People have told me there could be bad weather but I don't know, I have no idea."
"Ignorance is bliss," he joked. "I imagine there's going to be some hard days to come, but I don't know how hard exactly or what it's going to be like."
Gloag was elsewhere in Europe training for goals later in the season when Jan Tratnik, the rider he replaced in Italy, was struck by a vehicle on a final training ride before the Giro got underway.
After receiving a call from team management to brief him on the situation, he rushed to the nearest airport and boarded a flight to Rome.
Once he had landed, the 21-year-old faced a two and a half hour drive to the team hotel in Abruzzo, eventually arriving at 3am. Gloag explained that he then received an early morning wake up call after just a few hours of sleep.
"I had the call that I was coming a little bit last minute. So yeah, it was an early morning arrival followed by a doping test at seven," he said. "Then I was on the start line for two, so it was a pretty full gas start to it all."
"It was a much harder first day than I'd have liked, but hey ho!"
'IT WAS COMPLETE CARNAGE IN THE BUNCH'
An arduous first week of action brought driving wind and rain for the Giro peloton, with the wet weather causing crashes on stage five to Salerno won by Kaden Groves, and wind causing general classification action to be neutralised.
Gloag revealed to Cycling Weekly that as well as dealing with the weather, he had also battled with sickness early in the race.
"One day I just got super dizzy as we crested the top of a climb," Gloag explained. "I could barely see straight and was just going backwards on this descent. It was complete carnage in the bunch, I lost about 100 positions, there were bodies everywhere.
"I think I caused a big split, but my head was just gone. I was then sick everywhere on the next climb, it was one of the worst experiences I've ever had on a bike."
"At that point I thought right! I've only got 18 days left so this is fantastic," he added. "I managed to somehow make it to the finish line, that was tough. Thankfully it's been better since then, not so much better that I've been able to help the team, but better than I was at that point. That was definitely a low point so far."
Despite not yet being at the physical level he had hoped for yet, Gloag said he remained optimistic that his form would still turn a corner. He explained that he hoped to be able to offer more of a contribution to his teammate Primož Roglič's push for overall victory in the coming days.
"In 21 days a lot happens as we've already seen… to be honest, at the moment I'm not really riding at a level where I can really contribute to the team," Gloag said. "So unfortunately there's not been much that I can do, but I was good at the Tour de Romandie. So, if I can find the legs that I had there then I'm really hoping that I can help the guys out a bit.
"At the moment unfortunately for me it's more a case of survival than contribution, but that's sometimes how things are I guess."
He acknowledged that when the Dolomites arrive, it will inevitably be painful but he hoped that could be a staging post for a potential resurgence.
"The mountains are always a double edged sword. When I'm going well, that's an environment that relative to other guys I perform quite well in," Gloag said. At the same time, if you're not in good shape personally, you have to remember that we're at a Grand Tour and everyone else may be in good shape."
"Also 5,000 metres of climbing is bloody hard! My level has not been great at the moment… I just have to survive and anything else is a bonus."
Thank you for reading 10 articles this month* Join now for unlimited access
Enjoy your first month for just £1 / $1 / €1
*Read 5 free articles per month without a subscription
Join now for unlimited access
Try first month for just £1 / $1 / €1
Tom is a News and Features Writer at Cycling Weekly, and previously worked in communications at Oxford Brookes University. Alongside his day job, prior to starting with the team, he wrote a variety of different pieces as a contributor to a cycling website, Casquettes and Bidons, which included interviews with up and coming British riders.