Topeak FastFuel Tribag review
We've tested Topeak's top tube bag which can be fitted to either road bikes or tri bikes with screw-on bag mounting points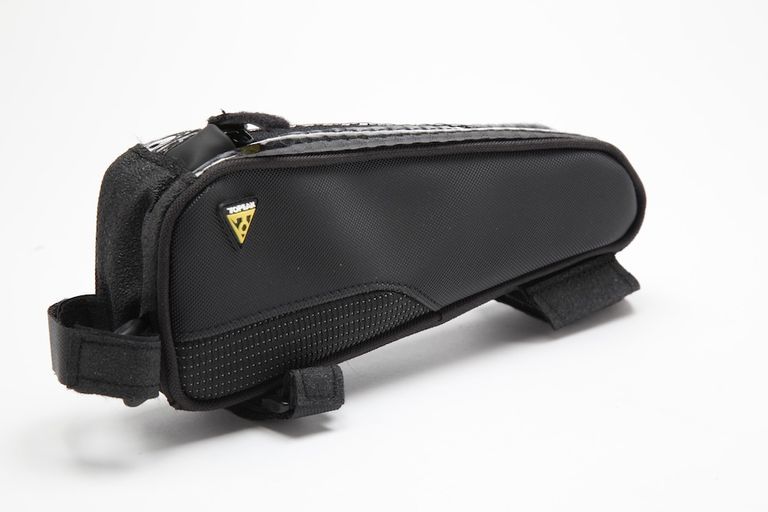 The Topeak FastFuel Tribag is a quick way to add a small amount of extra carrying capacity to a road or tri bike, but gets in the way a bit when riding out of the saddle.
For
+

Easy to fit and access

+

Includes gel organiser

+

Compatible with road and tri bikes

+

Fixes securely

+
Against
-

Not much capacity

-

Rubs against your legs when climbing

-
Adding extra carrying capacity to a road bike is a bit of an art and anywhere where you can tuck a small bag is welcome. The Topeak FastFuel Tribag has a capacity of 0.6 litres and is designed to fit to the top tube of a triathlon or time trail bike for in-race feeding, or to a road bike.
Watch: how to beat long time trials
I've used it on the latter, where it's help in place by two Velcro straps around the top tube and one around the head tube. It also comes with bolts to fix it to a tri bike, if there are fixing lugs built into the frame.
>>> Dr Hutch: Isaac Newton was a time triallist
The Topeak FastFuel Tribag is made of padded nylon and comes with a central divider with loop straps to organise your gels, so that they stick up and are easy to get at when on the move. There's also a mesh side compartment running the length of the bag for a phone or other small kit. I usually put my phone and food in my jersey pockets, but have found the bag a useful place to store a couple of spare tubes and a multi-tool for longer excursions.
>>> How to get into triathlon: buyer's guide
There's not a lot of capacity for much more than this though and I found that although it's quite narrow, I still tended to rub my legs against the sides of the bag when climbing out of the saddle, necessitating a slightly bow-legged climbing style. Nevertheless, the Topeak FastFuel Tribag is useful to carry that bit extra for longer trips or to organise your fuel if you're competing in a triathlon this summer.
For more details visit Extra UK.