JetBlack WhisperDrive Smart review
JetBlack's self-powered smart trainer is a bit lighter than some and it's lighter on the pocket too – is it a match for the heavyweights?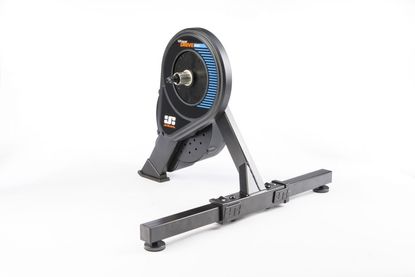 The JetBlack is ambitious, innovative and very competitively priced. It doesn't react as quickly to changes in gradient or wattage as some, but that's due to it being self-powered. However, that's not a deal breaker and if you want to train in a shed without mains hook-up it's the answer to your prayers. The app is a little buggy at the moment – though we expect that to be fixed.
Reasons to buy
+

Doesn't need mains power

+

Competitively priced

+

Good 'road' feel

+

Not ridiculously heavy to move
Reasons to avoid
-

App isn't quite there yet

-

Motor slow to react to wattage/gradient changes

-

Some unresolved resistance issues
You can trust Cycling Weekly. Our team of experts put in hard miles testing cycling tech and will always share honest, unbiased advice to help you choose. Find out more about how we test.
The Australian brand entered the smart trainer market this year with the JetBlack WhisperDrive Smart, which is compact next to the heavyweights of its category such as the Tacx Neo and CycleOps Hammer. However, it comes with a big USP: it doesn't require an external power source so can be used anywhere.
It also has a USB port so you can charge up a device while you're riding. It makes total sense to redirect the energy generated by pedalling straight back into the trainer itself.
Whereas certain smart trainer designers have let their imaginations run riot and created abstract sculptures or Sith landing crafts, the Aussies have played it straight: the WhisperDrive is unremarkable looking but much more user friendly than the Tacx Neo Smart and the Elite Drivo II. Two hinged legs simply fold out and snap into place. It's not pretty but it works.
Set-up is incredibly easy. There's no cassette supplied but you do get thru-axle end-caps and a spanner to fit them if you're using a disc bike with bolt-thru axels.
>>> Five best smart turbo trainers for autumn/winter 2018-2019
In use the WhisperDrive feels stable with a springiness that makes pedaling feel realistic. The legs are well placed just behind the BB and directly underneath the rider's weight for maximum support.
As for connectivity, we had an initial hiccup where the wouldn't connect to anything at all via Bluetooth despite furious pedalling to charge its capacitors, but then it pinged up on Zwift and behaved like any other smart turbo.
Riding the JetBlack WhisperDrive Smart
Riding the Watopia Volcano Circuit its electromagnetic resistance system replicated changing gradients very smoothly and 'feel' was particularly good with its 6.5kg flywheel, which is pretty heavy for its overall size.
There is, however, a slight delay in the resistance changing compared to what you see on screen, in the region of five seconds. The same goes for increases or decreases in rider power output. This means that, for example, 10-second sprint intervals in erg mode tend to start and finish later than the Zwift interface indicates, but I've found it's not a problem once you get used to it – you still get the same workout. JetBlack has said this is due to the the JetBlack WhisperDrive Smart being self-generating: it doesn't have the power supply to move its motor any quicker – but you can't have it all.
I've used it as my regular indoor trainer for the last month and it has been as reliable as any, with those occasional hiccups that most of us never get to the bottom of: for instance I get cadence with an iPhone but not with an iPad even though everything, including the trainer itself, is running the most up-to-date version of its software and firmware.
A couple of times I've also had the resistance increase for no apparent reason until I've had to stop pedalling. I suspect this is a connection issue rather than one with the trainer itself and it has happened only rarely.
In all the times I've used it I've had just one dropout of power and, as with the above, it's hard to know whether to point the finger at the trainer or the device, but it was easily resolved by simply coming out of the Zwift workout back to the device-pairing screen and ordinary service was resumed.
I've only used the JetBlack WhisperDrive Smart with Bluetooth and iOS devices so can't comment on its behaviour with ANT+.
What's for certain is that the JetBlack app needs improvement: it crashes easily and it isn't always possible to do a spin-down calibration with it despite uninstalling and reinstalling it. Sometimes it simply won't connect to the trainer. However, based on the zero-offset I've done and based on an FTP derived from another smart trainer I would say the JetBlack is accurate, but it would be nice to be certain each time.
'Whisper' does not describe the noise the JetBlack WhisperDrive Smart makes – whine is more accurate – but fortunately as you increase the resistance and pedal harder the whine settles down into a hum that is still louder than the quieter units on the market such as the Wahoo Kickr, but is not offensive.
Overall, it lacks the refinement of smart trainers from the more established brands and there are a few software/firmware issues still to be resolved, but JetBlack's product development team seem to be on the case.
Thank you for reading 20 articles this month* Join now for unlimited access
Enjoy your first month for just £1 / $1 / €1
*Read 5 free articles per month without a subscription
Join now for unlimited access
Try first month for just £1 / $1 / €1