Zwift launches a New York world which includes 10 new courses
The Big Apple but with added hills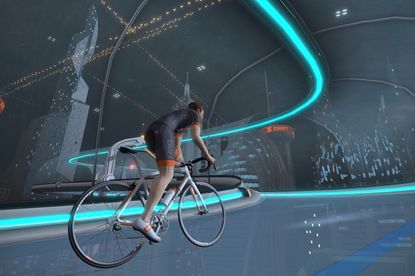 Zwift has launched its latest world based in New York City, which the brand is calling its most ambitious world to date.
The new map, which was leaked just a few days ago, has been in development since 2017 and is set 100 years in the future and includes suspended glass roads in between the city's famous sky scrapers. The new world is designed to deliver what Zwift calls a "futuristic vision of the city and signifies the company's biggest move to 'gamify' the training experience yet".
According to the brand, the new world was deliberately centred around Central Park, home to many of the city's thousands of road cyclists, where Zwifter's will be able to ride a 9.7km loop that skirts famous landmarks such as the Guggenheim, the Met, the El Dorado Hotel and the Tavern on the Green.
In total the map features 10 cycling routes, including both Central Park and "suspended glass roads above Manhattan". It's the latest in a series of moves to increase the gaming aspect of Zwift, with the brand saying it helps the user enjoy their training and they train harder as a result.
Particular highlights look to be 'Rising Empire', which is billed as 'a climber's course, ascending 376m in just over 20km and the Highline, which is set on the aforementioned elevated roads.
Here are the full details of the routes:
Rising Empire - 20.7km and 376m
Park Perimeter Loop - 9.7km and 126m
The Highline - 10.5km and 179m
Lady Liberty - 12.3km and 206m
Mighty metropolitan - 20.0km and 318m
Astoria Line - 11.5km and 142m
Knickerbocker - 22.4km and 365m
Grand Central Circuit - 6.8km and 144m
Everything Bagel - 34.3km and 545m
The Six Train - 6.5km and 69m
Zwift co-founder and chief programmer Jon Mayfield said: "since the early days of Zwift our community has taken great pleasure from our gamified fitness environment. Our creative approach to building New York has been inspired by some of the video games we were playing back in the 90s. It helped us deliver a more challenging, and significantly, a more entertaining environment that I know Zwifters will love".
The new release follows hot on the heels of Zwift's Innsbruck-Tirol 2018 World Championships course and it joins Watopia, London and Richmond as Zwift's 5th World.
Thank you for reading 10 articles this month* Join now for unlimited access
Enjoy your first month for just £1 / $1 / €1
*Read 5 free articles per month without a subscription
Join now for unlimited access
Try first month for just £1 / $1 / €1