Kona Rove AL 650 review - a big-tired, big-on-fun bike for under $/£1,100
The only thing stopping the Kona Rove AL 650 from being a great bike is poor-performing brakes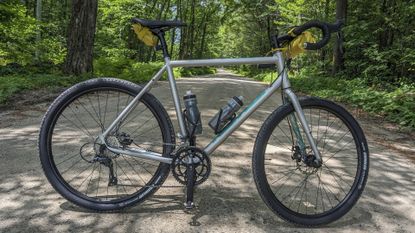 (Image credit: Tim Peck)
Ironically, the one thing holding this big-on-fun bike back is its brakes, as their lack of stopping power sucks some of the enjoyment out of the ride. The Kona Rove AL 650 is the type of bike that's at its best on unmaintained roads and easy singletrack, and while it won't get you to gravelly terrain quickly—it's slow and steady on pavement—it always delivers a smile thanks to its playful spirit.
Reasons to buy
+

Really fun to ride

+

WTB Rambler tires

+

Ample number of mounts

+

Comfortable on rough roads and techy terrain

+

Clean, understated good looks
Reasons to avoid
-

Brakes lack stopping power

-

Slow on the road

-

Lack of thru-axles

-

Uncomfortable seat
You can trust Cycling Weekly. Our team of experts put in hard miles testing cycling tech and will always share honest, unbiased advice to help you choose. Find out more about how we test.
Get The Leadout Newsletter
The latest race content, interviews, features, reviews and expert buying guides, direct to your inbox!
Thank you for signing up to The Pick. You will receive a verification email shortly.
There was a problem. Please refresh the page and try again.
The Kona Rove AL 650 delivers a fun, not fast, ride that's sure to put a smile on your face but probably won't put you on the podium of a race or in the lead of your local ride. While fun is the main flavor of the Rove, it's also adaptable. The bike is capable of ripping singletrack one day, navigating in-town traffic the next, and lives up to Kona's description as "the road biker's gravel/touring/do-it-all steed."
Kona Rove AL 650: construction
Kona is best known for making mountain bikes and you can feel the brand's off-road DNA in the Rove—it's more interested in delivering smiles than podiums. Highlights include:
An aluminum frame and fork
Shimano Claris drivetrain
Maxis Rambler tires
Kona cork-wrapped road drop bar
The frame
The Kona AL 650 features an aluminum frame and fork and provides a surprisingly comfortable ride. It eats up road vibration, smooths out washboard, and gobbles unseen bumps and dips. I'm sure the semi-plump tires help, but in the end, the Rove won't beat you up on long days in the saddle.
One disappointing feature of the Rove is that the wheels are attached with quick-release axles rather than thru-axles. I never had any issues with the quick releases loosening over hundreds of miles of testing, however, that didn't keep me from checking their tightness whenever I was stopped. I would prefer a more secure solution for a bike I consistently rode on chattery terrain, which is a place the Rove begs to be ridden.
The frame is well-appointed for those who want to use the bike for touring or commuting. The bike features mounts for two bottle cages in the main triangle as well as mounting points on the front and back for fenders or racks.
The Kona Rove AL cuts a classic profile although its chunky tires make it stand out. The matte faux raw finish has held up extremely well and looks like new, and its mint detailing adds a splash of color.
The geometry
The Kona Rove AL 650 geometry distributes the rider's weight evenly over both wheels. This configuration provides predictable handling, plenty of traction (even on soft surfaces), and an assuring ride. In technical terrain, the Rove is stable and easily negotiates techy trails, comfortably tackling everything from baby heads to roots.
The Rove prefers seated spinning up hills and across flats. Similarly, standing up on the Rove isn't likely to win you any town line sprints. However, get off the saddle and into the drops and the Rove absolutely wants to bomb descents, regardless of how rowdy they get.
Tires and wheels
The tires are one aspect of the Kona Rove AL 650's build that really shines. The Maxxis Rambler 650x47c tires absolutely eat up dirt roads and deliver the grip needed for shredding everything from the finest quality gravel to unmaintained and little-traveled roads to multi-use trails. On singletrack, the knobby-treaded, semi-plump Ramblers cruised through everything from hardpack to mud to huge (and surprisingly deep) puddles.
The Rove comes with WTB SX19 rims. The rims have done an admirable job of withstanding abuse—especially considering they've spent a significant amount of time on terrain better suited to a mountain bike—and remain true and dent-free. Sadly, the rims are not tubeless-ready. Seeing how comfortable the Rove is on rugged terrain, this seems like a miss.
The brakes
The Kona Rove AL 650 loves speed. Good thing, because the brakes want to do very little to help you slow it down. The biggest disappointment of the Rove is its Tektro Mira CX mechanical disc brakes, which struggle to bring you to a stop under even the most optimal conditions. On my initial ride, I needed to make a high-speed hop onto a sidewalk to avoid rolling through a four-way stop, due to the shocking lack of bite from the brakes.
The brakes' lack of stopping power really detracts from the overall ride of the Rove—for example, on fun descents (where the bike thrives), the rider is left to imagine what they'll do if they need to make a quick stop at, say, a surprise stop sign or an unaware driver backing out of a driveway.
The drivetrain
The Kona Rove AL 650 features Shimano Claris shifters and derailleurs and has a 2x drivetrain with 50/34-tooth chainrings in the front paired with an 8-speed 11–34 tooth cassette in the back. While not the sleekest shifting setup, the Claris shifters delivered reliable performance over hundreds of miles. They move from gear to gear easily and without fuss, albeit with a resounding clunk indicating gear changes.
The gear range feels a little high if, like me, your favorite routes contain sustained, double-digit grade climbs. That said, the Rove isn't winning any hill climbs, so just sit back, spin, and you'll get to the top eventually.
The cockpit
The Rove's cockpit is a collection of Kona parts, the standout of which is the handlebars. The slightly flared 48cm Kona Road drop bar (on my 58cm bike) offered an abundance of hand positions and plenty of stability on speedy descents and technical trails. The handlebar tape is really nice—it's comfortable and easy to hold on to and it never felt slippery, even on gloveless rides in high heat and humidity.
The one area where the cockpit can improve is the seat. The Kona Road Saddle is fine for short rides under a couple of hours, but if you're planning on all-day adventures or touring, it's worth upgrading.
Kona Rove AL 650: the ride
The Kona Rove AL 650 offers a lot of what newer gravel bikers are looking for in a bike. It's comfortable, has predictable handling, and is a pure pleasure to ride. Kona describes the Rove AL 650 experience as "everything you need for a fast, comfortable ride, and nothing you don't. It's the perfect bike for commuting, partaking in weekend warrior adventures, or diving deeper into longer tours."
For the most part, it's hard to argue with Kona's characterization. The bike easily navigates twisty technical singletrack, flies on flow, and gobbles up gravel roads. While riding the Rove, I rarely passed up an opportunity to duck into the woods or take the road less traveled when given the option. When descending, I was liable to run out of gears or hill before having the desire to slow down.
On mixed-surface routes, the Rove AL 650 provides an engaging ride while eating up asphalt. While you won't confuse the Rove with a speedy road bike on pavement, it's purposeful and delivers you gravelly surfaces without too much extra effort. An added bonus is that the bike's point-and-shoot attitude carries over from singletrack to city and encourages charging over poorly maintained roads, through potholes, and hopping on and off curbs.
The Rove's wide tires and confidence-inspiring geometry also make it an enjoyable bike to ride in town. It's become my go-to choice for running errands. Its playful spirit is unlocked while working through traffic and tackling small urban obstacles. A testament to the Rove's fun factor is that I always took the "shortcut" through the park when riding it.
Kona Rove AL 650: value and conclusion
Bikes at the price point of the Kona Rove AL 650 ($/£1,099) have to make some concessions favoring price over performance. While the Kona Rove AL 650 is a joy to ride, it's hard to ignore some of its shortcomings—like its lack of thru-axles, bad brakes, and uncomfortable seat. However, it's also hard to overlook that the bike will simply make you smile.
In the end, the Rove is, as Kona says, a "dependable bike to ride on asphalt, gravel, or a bit of light singletrack." And riders who make a few upgrades over time will be able to squeeze even more performance and enjoyment from the bike.
While the Rove AL 650 is fun, it faces some stiff competition at its price point. The Giant Revolt 2 is roughly only a hundred dollars more and features front and rear thru-axles, which are missing on the Rove and something you can't upgrade later. It also comes from Giant set up with tubeless tires. The similarly priced Salsa Journeyer Advent 650B offers the brand's gravel pedigree, thru-axles, a ton of accessory mounts and an off-road friendly 1x9 drivetrain at a lower price than the Kona.
Thank you for reading 20 articles this month* Join now for unlimited access
Enjoy your first month for just £1 / $1 / €1
*Read 5 free articles per month without a subscription
Join now for unlimited access
Try first month for just £1 / $1 / €1
Get The Leadout Newsletter
The latest race content, interviews, features, reviews and expert buying guides, direct to your inbox!