Ribble Endurance 725 'Base' model review: a stylish year-round training bike
Made from Reynolds 725 steel, the Ribble Endurance delivers a comfortable, if not slightly heavy, ride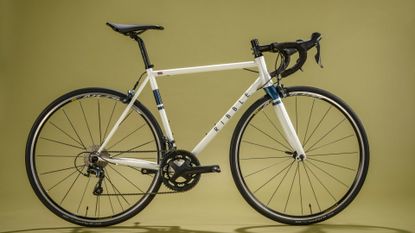 (Image credit: Future)
A year-round training bike, the Ribble Endurance Base will keep you riding through the darkest depths of winter to the sunniest of summer days. It's certainly not the sort of bike you'll win races on, but it will allow for consistent training that will translate to winning form when race day arrives. Careful, however, not to succumb to disillusionment should those on lighter steeds leave you behind when the road starts to rise.
Reasons to buy
+

Offers year-round practicality

+

Elegant and stylish frameset

+

Reliable and high-performing components
Reasons to avoid
-

Narrower tire clearance by today's standards

-

Feels weighty when climbing

-

Tire choice could be better
Take a first glance at Ribble's Endurance 725 'Base' model, and straight away something looks different. Eventually, it becomes obvious – this is a rim brake bike, no discs. That's not to say this isn't a good looking machine though – it certainly is, sharing plenty of attributes with its disc-brake equivalent, which made our list of the best steel bikes.
It's part of a four-bike Endurance 725 range, all featuring Reynolds steel tubing and yes, all featuring rim brakes. With a 10-speed Tiagra, the Base is the lowest rung bike, with the top-specced machine, the Pro, featuring Ultegra Di2 and carbon wheels.
The 'Base' tag could be deemed slightly misleading though and certainly doesn't do justice to its elegant steel lines, or even its performance, which we'll get on to later. But first, the build…
Ribble Endurance 725: construction
The Reynolds 725 steel that makes up the frame has been put to good, and popular, use by a few brands, Ribble and Genesis included. It may not be cheap; it may not be light, but in terms of elegance there is little to rival a frame made in round-profile steel tubing, reason enough why your next road bike needn't be carbon.
As well as looking fantastic, it sates any nostalgic yearnings while at the same time offering steel's renowned plush ride – just the ticket in today's times of cut-price road maintenance. The timeless combination of white paint with dark blue lettering only adds to its understated appeal.
Make no mistake though, this is a thoroughly modern frame, which features internal cable routing and accommodation where necessary for Shimano Di2 routing.
It lags behind a little in terms of tyre clearance though – dual pivot rim brake bikes can never compete with discs here – with room for 28mm tires, or 25mm with fenders/mudguards fitted. Fans of bikes that don't creak will be pleased to note the inclusion of a British-threaded bottom bracket too.
The geometry throws up few surprises on what is essentially a bike designed for all-day comfort. The medium I tested features a 73.6deg seat tube paired with a 72.5deg head tube, as well as an oh-so-standard 55cm virtual top tube and 997cm wheelbase.
The fork is full carbon with tapered steerer and features mudguard eyelets to match the ones on the rear dropouts. The whole shebang weighs in at a not-inconsiderable 2,570g (that's 2,100 for the frame, 470g for the fork).
Ribble Endurance 725: components
The groupset comprises predominantly of Shimano Tiagra 4700. The obvious exception is the chainset, an FSA Omega item, which in my eyes doesn't compete with the Tiagra equivalent in the style stakes, even if the difference in practice is negligible.
The groupset as a whole though represents trickle down tech at its best, operating beautifully and offering great value for money. The only potential downside is the 2x10 speed configuration. Whilst this still offers a generous range of gears, it will require a bit of fiddling with spacers for those using a newer direct drive turbo trainer to supplement their training.
The GRX cassette at the back gives a rangy 11-32t choice of ratios, which when paired with the 50/34 up front should be enough to tackle most climbs. However, if you fancy tweaking this set-up (or indeed anything else on the bike), Ribble's BikeBuilder platform will allow you to personalise your new bike to your heart's content.
The wheelset is the tried-and-trusted Mavic Aksium 19 Alloy, with quick-release axles. A workhorse of strong pedigree we can all agree. There are no complaints here; once again at the price point they offer excellent value. They're shod with Continental Ultra Sport III 25mm wire-beaded tires – clearly some money has been saved here and arguably they let an otherwise battle ready steed down. Again, you can swap these out using the BikeBuilder, or hold on to them as spare turbo trainer tires.
Finishing kit comes courtesy of Ribble's in-house Level 1 brand, finished in de rigeur black anodised alloy. It's pretty standard stuff, with 100mm stem, a slightly narrow 40cm bar and 27.2mm seatpost that ought to give the edge when it comes to comfort.
The saddle is Prologo Kappa RS in black, an item designed to be as accommodating as possible to a variety of shapes and sizes. You might well prefer your own perch though, as is often the way.
Ribble Endurance 725: the ride
Happily I live amid a cycling infrastructure that the Ribble Endurance Base can thrive in. The forgiveness of a steel frame lends itself to the canopy covered pock-marked lanes and byways of rural Surrey, England to a tee. Indeed, with the roads having been subjected to a long and harsh winter, carbon and its associated stiffness and speed no longer hold such appeal; particualry when contact points are punished more than quads.
As well as a local parcours bumpy enough to make the Carrefour d'Labre cobbles raise an admiring eyebrow, the age-old British weather issue will continue to thwart those looking to take their mega-money steeds out for a spin. A no-nonsense workhorse like the Ribble Endurance Base is practical for an all-weather guilt-free puddle-splash that won't elicit a cringe every time the down tube picks up a fleck of dirt.
However, reaching for the steel obviously has its disadvantages. As well as rubbish weather and horrible roads, Surrey has its fair share of hills and the Ribble was lacking in any urgency to crest them. Despite a well provisioned cassette, our size medium Ribble felt more of a chore than a challenge to ascend upon, and coupled with low tier Tigara transitions, changes in gradient weren't always met with a seamless gear change, which doesn't yield a particularly pleasing climbing experience. This is, however, hardly a revelation and climbing on a heavier bike for most of the year will only prove to increase fitness and build character.
Back on the flat and cruising with a pint-size local club peloton, the Ribble Endurance has no issue keeping a wheel and canny use of momentum can put paid to small undulations without falling off the back of a speedy outing.
Ribble Endurance 725: value
Priced at $1,740.02 / £1,399.00, pieced together with Shimano components, Mavic hoops and a pretty basic selection of finishing parts, all hanging on Reynolds 725 frame, this is more or less what you'd expect to spend on a bicycle of this spec. Although it's a low tier groupset, to have Tiagra run throughout keeps things consistent and it's always nice to see Mavic on the components sheet. The finishing kit is unremarkable but can evolve as and when the need arises - the current crop of parts, however, will certainly suffice in the interim.
For comparison, another popular rim brake road bike, the Specialized Allez, retails at $1,400/£1,159 but does use an aluminium frame and comes with Shimano's Sora groupset, which is rung down the ladder from the Tiagra gruppo used on the Ribble.
Thank you for reading 10 articles this month* Join now for unlimited access
Enjoy your first month for just £1 / $1 / €1
*Read 5 free articles per month without a subscription
Join now for unlimited access
Try first month for just £1 / $1 / €1