Cube HPC bottle cage review
Forty quid is a lot to spend for a bottle cage, so what do you get with the Cube HPC bottle cage? Not a lot of extra weight.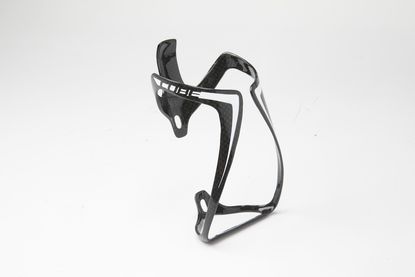 The Cube HPC bottle cage has a nice clean-looking design and very light. It's just a shame that it does not hold the bottle more firmly
Reasons to buy
+

Attractive design

+

Very light

+
Reasons to avoid
-

Doesn't hold a bottle very securely

-

A bit fiddly to fit

-

Expensive

-
Why you can trust Cycling Weekly Our expert reviewers spend hours testing and comparing products and services so you can choose the best for you. Find out more about how we test.
At only 23 grams, the Cube HPC bottle cage is a real weight weenie's delight. It's also got a satisfyingly minimalist design, with no spine connecting the two bottle boss bolt holes, which gives your bike an ultra-clean look. The two arms which hold the bottle in place are very thin too and joined at their base to make sure that the bottle can't escape in that direction.
Watch: what to eat for your next sportive
The Cube HPC bottle cage is available in high gloss black and white as well as a matt black finish, to blend in with your frame. Attachment is made a bit more fiddly by the lack of connection between the two fixing points and the degree of flex which this allows, but it's a one-time job and easily enough accomplished.
>>> How to make your own energy and recovery drinks
More of a problem is the lack of security of the hold on the water bottle. Because the Cube HPC bottle cage is so light and the top retainer is quite low profile, I found that bottles tended to work their way loose over typically bumpy UK back roads. I noticed them rubbing against my legs and was able to push them back in before I lost them, but this recurred a few times on each ride.
>>> Review: Elite Nanogelite thermal bottle
It was never dangerous and I'm not sure you could easily lose a bottle completely, but it did get a little irritating over time. A couple of bits of insulating tape over the top retainers reduced the problem. I'm not sure I'd want to use this cage if I were riding Paris-Roubaix though.
For more details visit the Cube website (opens in new tab).
Thank you for reading 5 articles this month* Join now for unlimited access
Enjoy your first month for just £1 / $1 / €1
*Read 5 free articles per month without a subscription
Join now for unlimited access
Try first month for just £1 / $1 / €1