Changing gear with the flick of a Blip. Testing SRAM's wireless gear changers
Weighing just a few grams and with the potential to be mounted (almost) anywhere, are SRAM's Blips a worthwhile accessory to any bike or just for TT riders?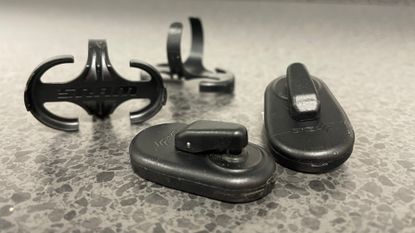 (Image credit: Future)
Being able to change gear from anywhere on your handlebars might seem like a luxury for some, while for others it could be central to their performance. SRAM's wireless Blips allow you to connect to any AXS mechs and functions can be adapted via the app, if you can get it to connect. Lightweight and with easy initial setup they're perfect for a TT bike but tricky to neatly tape over due to their flat shape.
Reasons to buy
+

Lightweight

+

Nice clicking motion

+

Can be placed anywhere

+

Easy initial set up
Reasons to avoid
-

Protrude from bars

-

Not easy to tape over neatly

-

Disposable
You can trust Cycling Weekly. Our team of experts put in hard miles testing cycling tech and will always share honest, unbiased advice to help you choose. Find out more about how we test.
Get The Leadout Newsletter
The latest race content, interviews, features, reviews and expert buying guides, direct to your inbox!
Thank you for signing up to The Pick. You will receive a verification email shortly.
There was a problem. Please refresh the page and try again.
Launched early in 2022, SRAM's eTap AXS Wireless Blips allow a rider to change gear from any position on their bike. Designed to go with their plastic clip-in brackets which themselves clip to the handlebars they could theoretically be placed anywhere on your bike. Each one can then be programmed via the AXS app to change up or down gears on either front or rear mech. Although the app isn't necessary for initial setup.
Ideal for time trialling, as they can be placed exactly where your hands sit requiring minimal movement to change gear, they could also be placed on the tops for long mountain climbs or gravel riding or down on the hoods for sprinting. Weighing in at just six grams (plus an extra gram for the brackets) they're light enough to keep even the most ardent weight weeny happy.
Perhaps the biggest surprise is that they can't be recharged and the batteries can't be replaced. So once they run out, they're done. I imagine that paying for something that is going to go in the bin when the battery runs out will turn many off and it does seem quite wasteful.
However, each click will use so little battery they should last years and they do come with a two year warranty. Realistically you'd want them to last a lot longer than that and as the lifespan of lithium ion batteries are affected by non-use and cold temperatures, you might not want to leave them in a cold garage or shed throughout a winter.
SRAM eTap AXS Wireless Blips: setting up
In my experience electronic equipment that gives multiple options can get complicated. Certainly more complicated than tightening or loosening a cable. Thankfully the Blips are simplicity itself when it comes to the initial set up.
To use them you'll need an AXS rear derailleur and a primary shifter, i.e. SRAM eTap brake and gear levers or Blip Box. To pair the Blips first hold down the AXS button on the rear mech to put it in pairing mode, (a green light will flash) pair the mech with your primary shifter, and once that's paired you hold the Blip near the rear mech and press and hold for four seconds.
It's paired when the the green light on the rear mech flashes quickly. Then immediately do the second Blip. Doing it this way will set the first paired Blip to change up the gears and the second paired Blip to change down the gears. This was the quickest and easiest way for the one-by set up I had on a TT bike.
If you want to change things around you'll need the SRAM AXS app. And this is where things started going wrong for me. I struggled to get this to work reliably as the app wouldn't pair. In the end I gave up. Incidentally I had similar problems when I tried to pair the app with the SRAM groupset on a gravel bike I was testing.
Placement of the SRAM Blips on the bike
I used my Blips on a set of TT extension bars placing them exactly where I wanted them, underneath the bars so I could change gear with my index fingers. I also had eTap multiclic buttons placed by the bar end brake levers. These were wired into the blipbox and do not function as primary shifters.
Such specific placement of the Blips is an obvious advantage of wireless changers and SRAM's design mean they're more versatile than Shimano's which sit in the end of the bar extensions.
At first I used them riding on the turbo, making sure they were in just the right place so that I could easily change gear with minimal movement of my hands, meaning I wouldn't need to come out of position during a TT.
Fixing them into position in their brackets with bar tape wasn't quite as seamless as I'd have liked due to the shape of the Blips. Both the Blips and the brackets have flat backs, so they protrude off of round bars. Taping over the top of the Blip base (not the button part), to keep them in place, (the brackets aren't strong enough to do this without being taped in place) makes for quite a bulge coming off your bars. I'm sure a mechanic could do a better job than me, but still, it wasn't neat.
They also need to be taped in place with insulation tape before the bar tape as they won't hold in place on their own.
The ride
The really simple part comes when you're riding. Click to change gear. Simple. It's a minute movement, but the Blips have a satisfying click and you know when you've pressed it.
I did however have quite a few missed changes on mine, but as these were when in the middle of a threshold level TT effort it's hard to say whether it was the Blip and mech not talking to each other, or if I didn't press hard enough every time, or if a bump in the road stopped me from pressing as hard as I needed to. I suspect it was rider error, not quite pressing hard enough. In general the changes were good.
Conclusion
Easy to set up and versatile enough to put anywhere on your bars the SRAM Blips give SRAM users more options for changing gear. Essential for a TT set up, they're probably more of a luxury item for a road bike.
But I can also see a use for them on gravel bikes, especially those used for all-day rides, or multi day rides, when a rider might not want to spend lots of time stretched out on the hoods. I can even see an advantage on the road for mountain riding on the tops. Saving you the effort of reaching forward to your brake levers might seem unnecessary, but avoiding that movement at the top of an exhausting two hour climb would be quite welcome.
Just make sure you get a really good mechanic to hide them neatly under your bar tape, and that the tape is stretchy enough to hug their ungainly shape. If the Blips and their brackets could be made with a curved rear and be held closer to the bars they would get top marks.
Thank you for reading 20 articles this month* Join now for unlimited access
Enjoy your first month for just £1 / $1 / €1
*Read 5 free articles per month without a subscription
Join now for unlimited access
Try first month for just £1 / $1 / €1
Get The Leadout Newsletter
The latest race content, interviews, features, reviews and expert buying guides, direct to your inbox!