Best bike accessories and gadgets
We've selected our favourite products for the complete cycling lifestyle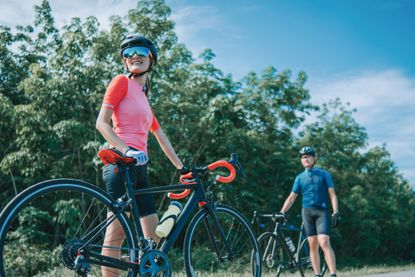 (Image credit: Getty)
Get The Leadout Newsletter
The latest race content, interviews, features, reviews and expert buying guides, direct to your inbox!
Thank you for signing up to The Pick. You will receive a verification email shortly.
There was a problem. Please refresh the page and try again.
Owning a bicycle can be incredibly liberating, but it's also just the tip of the iceberg when it comes to a cycling lifestyle. Investing in the best bike accessories can help keep you and your bike safe, help you keep track of fitness and even give you a connection to your favourite hobby when not in the saddle.
The best bike accessory will differ for each and every cyclist, and can be practical, stylish, fun or a combination of all three.
So whether it's keeping your best road bike extra safe and secure, wanting some bicycle personalisation or perhaps you're looking for the perfect gift or present for the cycling enthusiast, our guide has all you need to know about how to buy the best bike accessory for you.
Best bike accessory for you head
Considered by many as integral to the purchase of a bike, the best road bike helmet is probably the number one bike accessory.
If you're on a budget, but safety is paramount, then we think the best is the Bell Formular MIPS road bike helmet. We gave it nearly full marks in our review, finding not only the gold standard safety feature, MIPS, on board, but also that it's was a great fit, with plenty of ventilation channels and lots of colour options to choose from. You can read more about all the best budget bike helmets that we've ridden and reviewed to find your perfect match.
A little higher up the price bracket it the POC Ventral Spin helmet marries aerodynamics, breathability and a comfortable fit all in to one neat package. On test we found it a faultless road bike helmet and even presented it with a Cycling Weekly Editor's Choice award.
If you're after a multi-tasking option, then the Livall BH60SE helmet is the one for you. LED remotely operated lights, Bluetooth speakers and smart phone integration. This helmet will even alert an emergency contact with your exact location if it detects a crash. It's probably one of the best bike accessory's on the market, assuming that you don't ride in total signal dead spots and the helmet fits your head.
Best bike accessory for security
Bike theft is a really unfortunate part of cycling. No one wants to be the victim, but it happens, and the best bike lock can help to protect you.
While the unrated Hiplock Z Lok Combo won't stand up to a bolt cutter at 70 grams it's an ideal choice for café rides. Small enough to fit into a bar or saddle bag the 40cm long lock can secure your bike to a post or railing while you enjoy a coffee or pop into a garage or shop for mid-ride provisions. It uses a zip tie-like design, with an internal steel ribbon covered by a plastic covering. In short, the Z Lok is an affordable alternative to a full-strength lock when portability is more important than complete security.
Zefal's K-Traz U17 offers great value for money, delivering a Sold Secure Gold rating at an affordable price. We also like this lock for its surprisingly low weight - just under 1.3kg - and its durable plastic coating. At this price point there are a couple downsides, notably the straight shackle and the bike mount. We found the latter to be pretty fiddly to set up and a little flimsy once we'd done so.
The Oxford Alarm D Pro uses a double-pronged approach to protecting your bike. This Gold rated u-lock features an inbuilt alarm that uses internal motion sensors to detect any tampering. We found that the calibration was just right, reacting to movement that would suggest potential theft but not so sensitive that it sounded when the bike was knocked a little. As for the lock itself it features a bent shackle, a decent mount and is an acceptable weight.
Best bike accessory for night rides
It's a legal requirement that you have a white front light and red rear light fitted to your bike when cycling before dawn and after dusk. And it's a pretty good idea, really, if you want to be seen on the road.
The brightness of a bike light is usually expressed in 'lumens' and front bike lights fall into two very distinct categories: lights for being seen, and lights for seeing.
As its name suggests, the USB charged Lezyne Macro Drive1300XXL packs a serious punch. At 1300 lumens it's firmly in the high-powered front light camp. However it boasts plenty of options; Race mode for example handily lets you dip the beam and switch between full power and 130 lumens. We liked its wide beam as well as its robust construction and easy-to-use rubber attachment strap.
If you don't require something quite as powerful, the Knog PWR Rider could be a good choice. This front light delivers 450 lumens in a tidy, lightweight package; in fact at 114g it's light enough to attach to your helmet. It's programmable too, so you set the modes you want to use. Attachment comes via silicone strap and the built-in USB port means it can also double-up as a power bank to charge other devices.
Bontrager's Flare RT is certainly compact in size and weighs just 33 grams. However this tail light is a real box of tricks. While it might put out only 90 lumens, built-in optics in the lens focus the beam so it can be seen from up to 1.2 miles away. It also has a built-in ambient light sensor that will adjust the output depending on the conditions you're riding in. ANT+ connectivity allows you to connect it to your GPS computer too so you can keep an eye on its battery life.
Other recommendations include the Exposure Strada and the TraceR rear, which is hard to beat, especially now it's USB rechargeable.
Best bike accessory for getting going
Wait - so the bike that just cost you £1000 comes without pedals? Afraid so.
Most bikes over a threshold value come without pedals. There are several different styles, and manufacturers don't know which type you'd like, so they thoughtfully don't give you any.
Look's Keo Classic 3 Plus are an ideal choice for both those new to clipless pedals. Their affordability also makes them well suited for winter riding when you may be inclined to save your expensive pedals from the wet and the grime. We like them not only for their price point but also for the stable pedalling platform and the decent size contact patch. They're not the lightest out there but share the functionality of Look's more expensive offerings, which means they're simple to clip in and out of.
The lollipop design of the Wahoo Speedplay Zero pedals is enough for them to stand out from the crowd. But behind the eye-catching design are plenty of features that should get your attention too. The dual-sided entry has obvious benefits as does the high degree of float adjustability. We also found them to be strong and secure in use thanks to the cleat design that houses the spring mechanism; no need for strong riders to worry that the small, lightweight design will affect power transfer through the pedals.
An SPD or two bolt design will likely appeal to many gravel riders and commuters. Shimano's PD-M520 pedals combine affordability with functionality to make them a great choice for clipless newbies or those with a penchant for off-road riding. Like the Speedplays the dual-sided design means they're easy to get into, on dirt tracks or pulling away at traffic lights. And despite their relatively low RRP they feature sealed bearings and adjustable cleat tension, making them both durable and user-friendly.
Best bike accessory for tweaking the fit
If there's one thing you can guarantee with the purchase of a new bike, it's tinkering. Though Allen keys are better for making adjustments (more leverage = fewer rounded bolts), saddle height and bar angle tweaks on the move are often made out on the road using one of the best cycling multi-tools.
If you're after durability then Park Tool's IB-3 is for you. The tool bits - 1.5-8mm hex, T25 and screwdriver - are made using a similar grade of material to that of its workshop tools. We also liked its unique design, which sees the tools placed on the outside and attached to a central bar, making it easier to work in tight areas of the bike. There's also a chain tool and tyre levers, which are equally as robust as the rest of the tool. The downside? It weighs 170 grams, which makes it one of the heavier multi-tools we've reviewed.
The Birzman E-Version 15 features, you guessed it, 15 functions in a lightweight and affordable package. For just under £20 you get 2 to 8mm hex keys, a T25, four spoke wrenches, a Phillips screwdriver and a decent chain tool that works with 9-12 speed chains. It's hard to beat if you're after a multi-tool on a budget that still delivers plenty of functionality. Alternatively the Fabric Sixteen multi-tool scored well with us and is similarly priced.
Blackburn's Big Switch takes a different approach from many 'one-piece' multi-tools. Here you get a handle with a set of plug-in tools - with each tool having a different head at each end. We found the design gave us greater leverage as well as making it easier to work in those hard to reach spots . As well as a range of hex and torx keys you also get a chain breaker that doubles as a disc pad spreader, a spoke key and valve removal tool. It all comes in a handy storage pouch and weighs under 100 grams.
Best bike accessory you shouldn't leave home without
Rumour has it that bike tyres don't stay inflated forever - and rumour would be right there.
You'll need to pump your tyres up form time to time, to ensure tyre pressure stays at a safe level which will help you avoid punctures. At home, use a track pump to do this once a week or so. However if you're unlucky enough to suffer a puncture, then you'll also need something to fix it with on the move. Here we'd suggest a mini pump.
Lifeline's Performance mini pump is ideally suited to those on a strict budget. For under £20 you get a reversible Presta/Schrader head, a telescopic hose and a mounting bracket and strap. While we've not tested it Lifeline claim that it's good for up to 100psi and at only 18cm long it can be stored in a jersey pocket or bar baf with ease.
If you're after a pump that will safely fit in your jersey pocket then the Topeak Race Rocket HP is for you. At 18cm long and 82 grams in weight it really is a true 'mini' pump. The small size however does mean you'll need to work pretty hard to get a road tyre up to pressure. That said we did manage to reach 100psi, which is more than enough to get you home safely.
Lezyne's Digital Pressure Drive mini pump comes complete with a built-in pressure gauge. It helps takes the guess work out of things when you've fitted a fresh tube and are trying to reach a suitable pressure. We found that the gauge was easy to read but that reading did jump around a little. Small enough to stow in your pocket it also comes with a bracket so you can mount it to your bike's frame.
Best bike accessory for longer rides
You don't HAVE to go full lycra to cycle - buy cycling shorts are a good investment. The chamois (designed to be work against the skin, with no underwear) will protect your derrière from saddle discomfort and quick drying fabric will take care of sweat.
The Rapha Core Cargo bib shorts are typical of the brand's core range, offering quality and performance at a more affordable price. We liked these shorts for all types of riding, including road and gravel rides. The four pockets - two on the legs and two on the back - provide additional storage and can comfortably hold a phone, a wallet, snacks or a pump. There's also a female version of the shorts too.
If you're planning on a long day in the saddle, or perhaps a cycling holiday aboard the Assos' Cento Evo bib shorts should deliver the comfort you need. We found the 10mm S7 Evo chamois to be one of the best pads we've tested, handling back to back 100km rides without issue. As you'd expect for a premium priced product the shorts are both well designed and well-made; proof in this case that you get what you pay for.
Made from recycled fabrics dhb's Aeron women's bib shorts are hard to fault. We liked the Paris HP chamois, which works well on both short rides and long. The sweat-wicking Italian M.I.T.I. fabric is stretchy yet robust while the strap design makes them unnoticeable when on. In essence you get all the performance of a 'premium' product without the hefty price tag.
Best bike accessory for keeping dry
There's lots of kit that you can choose to wear to ride through autumn and winter - but not everything is essential. However, unless you want to get wet the one item you will really need is a good waterproof.
Some rain jackets can be pretty cumbersome, which isn't great when you're wearing them and even less so if you need to store it in a pocket mid-ride. Gore's C5 Gore-Tex Shakedry 1985 doesn't suffer such issues. It's super lightweight - under 100 grams for a size small - but the thin fabric still delivers an almost faultless blend of breathable yet waterproof properties. The Shakedry tech is expensive and the jacket is only available in black, but for sheer performance it's hard to beat.
If you're after a race cape-style fit but without the premium price tag dhb's Lab Aeron jacket is well worth considering. It's made from a three-layer waterproof fabric complete with a DWR coating. We liked just how light this jacket was. At 103 grams you hardly notice you're wearing it. Equally it's easy to stash into a pocket when the rain stops. Other features include a perfectly executed drop tail to help keep your shorts dry from road spray.
Endura's Windchill Jacket II isn't fully waterproof but is a solid example of an affordable winter jacket that performs across a range of elements. The polyester fabric is both windproof and water resistant, while the fleece-backed inner should keep you perfectly warm. We also liked the underarm zipped vents, which really help you to regulate your temperature over a long ride. And unlike the other jackets featured here it comes in a range of colours included a grey and fluro combo thats ideal for the daily commute.
Luxury bike accessory: cycling computer
Of course, you don't necessarily need a cycling computer, but it certainly is nice to have one. Whether it's the mapping functionality for exploring more widely, a desire for more data to better guide your sessions, or the any of the myriad functions modern headunits can provide (Strava live segments and climbing graphs are particular favourites).
If you're after a sublime user experience, Hammerhead's Karoo 2 could well be the one for you. It has a touchscreen and interface much more like a phone than an traditional headunit, making for a more intuitive and easier to navigate system than others on the market. It plays nicely with third party apps, making it easy to load routes onto the device and, again like a phone, brand new useful features get added to the unit in periodic updates.
Perhaps the best balance between function and price comes from the Garmin Edge 530. It's got essentially the same software functionality as Garmin's range topping Edge 1030 Plus, just with a smaller screen and without the touch screen capability – which some people even find preferable. You get full colour maps, routes that sync wirelessly to the device, Strava live segments and Garmin's ClimbPro feature – pretty incredible for the price.
Finally, as a more price-point oriented option, there's the Garmin 130 Plus. This again benefits hugely from the software developed for the more expensive head units. The same route syncing, live segments and climbing graphs are all there – the main difference is that the screen is black and white and there are no base maps. You can still upload and follow routes, but they are breadcrumb trails on a blank background – still perfectly good enough for getting you about, but can be hard to read in busy, built up areas.
A few 'nice to have' lifestyle bike accessories...
Cycling themed mug
Ok, we're moving on to slightly less necessary items - and more 'nice to haves'. But how else will you ensure that everyone in your office knows you're a cyclist?
TruePassionStyles' 1890 Bicycle Patent Diagram mug caught our eye – not least because those date from just one year before Cycling Weekly was founded. It's available in two sizes and is both dishwasher and microwave safe.
DesignsbytheCrown's Cycling Cardio mug is quite nice in its more minimalistic design and pleasing ambiguity of its implication. Is it that a hard bike ride raises your heart rate? Or, more romantically, is it that your heart beats only for cycling? Something to think about while you sip your tea.
Finally, we have Worry Less Designs' Love You mug, which also harbours a few alternative interpretations. Bought by a cyclist, it could be reassurance for a significant other; bought by a significant other it could serve as a not-so-subtle reminder – either's open!
Cycling bell
You can absolutely alert people to your presence with a cheery: "Good day!" But the crisp, sharp note of a bike bell normally does a better job and from a greater distance. Of course, it doesn't have to be either or: by all means still say hello as you pass.
There are cheap and functional items, such as Lifeline's simple Bike Bell, which does very much what it says on the tin. With a zip tie style clamp, it's super easy to fit too.
The Knog Oi Classic bike bell cuts a much more stylish look, with its thin and narrow profile that discretely wraps around your bars.
But bar space is often at a premium on road bikes, so to combine a bell and out-front GPS mount kills two birds with one proverbial stone. CloseTheGap's HideMyBell Regular 2 does exactly this, although there are other designs, such as a stem faceplate mounted option, should you prefer.
Personalised top cap
Sitting on top of the steerer tube, top caps are right there in almost every cyclist's line of sight – but generally they're just plain, boring and dull. On the other hand, this makes them ripe for an upgrade: whether that's just adding in an accent colour or inscribing a personalised message you'll always see.
FAQs
When should I replace my helmet?
It might surprise you to learn that it's recommended that you replace your bike helmet every three to five years – or immediately if you have been involved in a crash or have dropped it from a significant height.
You can read more about all of the best road bike helmets in our buyers guide, including a detailed look at what features to focus on when making your purchasing decision.
What should I look for in a bike helmet?
Unless you're racing and want an aero helmet, then your key requirements will be a good fit, venting to ensure breathability, and a lightweight construction will be more comfortable.
If you're buying a helmet as a gift, you'll likely not be able to retain the element of surprise, as the user will need significant input in terms of fit. Unless, of course, you're buying it as a direct replacement for a much loved model that now needs replacing.
What level of security do I need from a lock?
It's a sad truth that a thief will be able to get through any bike lock, given enough time, the right tools and the know-how. What's most important is that you insure your bike, so that if it is stolen, you are at least covered. Your insurance will specify the level of security you need, with more expensive bikes generally needing Sold Secure Diamond or Gold ratings.
Locking your bike securely, securing both wheels and the frame to an immovable object will help to lower the chance of your bike being stolen, as thieves tend to go for easier targets
Do I need road clipless pedals for road cycling?
The vast majority of road cyclists ride with Look pedals or Shimano clipless pedals. These provide a wide platform for effective power transfer and aren't too pricey. However, commuters might also want to check out SPD pedals - some of which come with a flat platform so you can pedal away before you connect.
If you're curious about how to how to cycle with clipless pedals (which you clip in to) takes a little bit of practice, but once you've mastered the skill it's well worth it as they allow for a more efficient pedal stroke.
And of course, pedals purchased, you will need a pair of the best cycling shoes. Carbon soles and boa dials make up the most expensive shoes - whilst nylon soles and Velcro will be found on cheaper options.
What multi-tool do I need for my bike?
Look for a multi-tool with 2-8mm Allen key bolts, which is small enough to fit into your pocket with ease. Useful additions on a multi-tool include chain tools and Torx keys - though the latter is used only on a minority of bolts so it's not essential.
Get The Leadout Newsletter
The latest race content, interviews, features, reviews and expert buying guides, direct to your inbox!
Michelle Arthurs-Brennan is a traditional journalist by trade, having begun her career working for a local newspaper, where highlights included interviewing a very irate Freddie Star (and an even more irate theatre owner), as well as 'the one about the stolen chickens'.
Previous to joining the Cycling Weekly team, Michelle was Editor at Total Women's Cycling. She joined CW as an 'SEO Analyst', but couldn't keep her nose out of journalism and in the spreadsheets, eventually taking on the role of Tech Editor before her latest appointment as Digital Editor.
Michelle is a road racer who also enjoys track riding and the occasional time trial, though dabbles in off-road riding too (either on a mountain bike, or a 'gravel bike'). She is passionate about supporting grassroots women's racing and founded the women's road race team 1904rt.