Bike accessories: essential (and some less essential) kit to go with your bike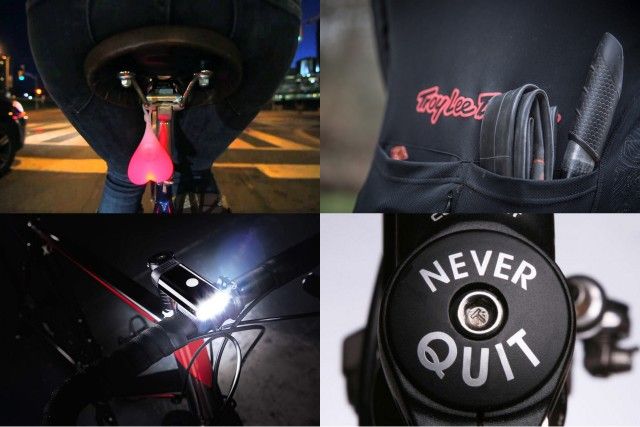 (Image credit: Picasa)
Buying your first bike can often feel like a bit of an ordeal.
After months of research and several awkward visits to the bike shop (during which you try to pitch your questioning at a level between time wasting and fear of being ripped off) you finally roll away with your new steed. Thankful that you've managed to balance desire with cost efficiency and smug with the fancy 'puncture resistant tyres' and complementary multi-tool which you've managed to bag.
>>> 17 cycling gadgets you never knew you needed
At this point, it's time for the realisation to strike: buying a bike isn't just about the bike. Like any new toy, there are add-ons - some of which are essential, others less so.
We're here to guide you through the maze, and explain which cycling accessories you do need (and we've added a couple at the bottom which are just a bit nice to have...)
Cycling helmet
There's a lot of debate surrounding cycling helmets. It's not compulsory that you wear one to cycle - but they are a requirement at the majority of cycling events and we would advise it.
Unless you're racing and want an aero helmet, then your key requirements will be a good fit, venting to ensure breathability, and a lightweight construction will be more comfortable.
More expensive helmets will come with softer, lighter straps and extra safety ad-ons such as a MIPS inner shell to protect against brain injury as a result of rotation and built-in lights.
There are loads of options to choose from, but if you're feeling bamboozled, we rather liked the Bontrager Starvos MIPS helmet reviewed here.
Also available atAmazon
Bike lock
Bike theft is a really unfortunate part of cycling. No one wants to be the victim, but it happens, and a good bike lock can help to protect you.
Most bike locks are rated by independent testers Sold Secure. Locks are rated either Bronze, Silver or Gold - any lock with a Gold Sold Secure rating has survived testing against top level tools (including large bolt croppers and a TCT Hackshaw) used multiple times, for a minimum of five minutes.
There are various styles of locks - each with pros and cons. U, or D locks are popular because they make it difficult for a thief to get much leverage, but it's often a good idea to team them up with a cable lock threaded through the wheels.
The Hiplok D-Lock is a popular Gold rated option, which comes with a handy hook so it can be attached to a belt or trousers - saving you from adding weight to a backpack or the bike.
Also available atAmazon
Bike lights
It's a legal requirement that you have a white front light and red rear light fitted to your bike when cycling before dawn and after dusk. And it's a pretty good idea, really, if you want to be seen on the road.
The brightness of a bike light is usually expressed in 'lumens' and front bike lights fall into two very distinct categories: lights for being seen, and lights for seeing.
Lights for being seen can be anything from about 100 lumens. They're designed to increase your visibility to other road users. Lights for seeing show you the road even on unlit country lanes, and will be 500 lumens and above, some well above 1000 lumens.
Most lights come with a variety of modes and the higher lumen versions have dipped (lower) brightness levels for use on lit roads - you should use this to avoid dazzling anyone.
Rear lights can be anything from around 30 lumens. Most lights are USB rechargeable these days, but it's a good idea to have a cheap battery operated back-up pair at hand 'in case'.
There's a wide range of light suggestions here depending upon your needs. If you're looking for a 'seeing' front light, we loved the Exposure Stradaand the TraceR rear is hard to beat, too (especially now it's USB rechargeable).
Also available at Amazon
Also available at Amazon
Cycling pedals (and shoes)
Wait - so the bike that just cost you £1000 comes without pedals? Afraid so.
Most bikes over a threshold value come without pedals. There are several different styles, and manufacturers don't know which type you'd like, so they thoughtfully don't give you any.
The vast majority of road cyclists ride with Look pedals or Shimano clipless pedals. These provide a wide platform for effective power transfer and aren't too pricey. However, commuters might also want to check out SPD pedals - some of which come with a flat platform so you can pedal away before you connect.
Getting used to clipless pedals (which you clip in to)takes a little bit of practice, but once you've mastered the skill it's well worth it as they allow for a more efficient pedal stroke.
Also available at Amazon
Also available at Amazon
And of course, pedals purchased, you will need some cycling shoes. Carbon soles and boa dials make up the most expensive shoes - whilst nylon soles and velcro will be found on cheaper options - though there are some exceptions, like these from B'Twin.
Multi-tool
If there's one thing you can guarantee with the purchase of a new bike, it's tinkering. Though Allen keys are better for making adjustments (more leverage = fewer rounded bolts), saddle height and bar angle tweaks on the move are often made using a multi-tool.
Look for a multi-tool with 2-8mm Allen key bolts, which is small enough to fit into your pocket with ease. Useful additions on a multi-tool include chain tools and Torx keys - though the latter is used only on a minority of bolts so it's essential.The Fabric Sixteen multi-tool scored well with us.
Also available at Amazon
Pump
Rumour has it that bike tyres don't stay inflated forever - and rumour would be right there.
You'll need to pump your tyres up form time to time, to ensure tyre pressure stays at a safe level which will help you avoid punctures. At home, use a track pump to do this once a week or so.
If you're unlucky enough to suffer a puncture, then you'll also need something to fix it with on the move. Here we'd suggest a mini pump.
The smaller and lighter the pump, the less it'll irritate you in your back pocket - we liked the Topeak Race Rocket mimi pump reviewed here.
Also available at Amazon
Cycling shorts
You don't HAVE to go full lycra to cycle - buy cycling shorts are a good investment. The chamois (designed to be work against the skin, with no underwear) will protect your derrière from saddle discomfort and quick drying fabric will take care of sweat.
You can go for waist shorts, or bib shorts - the latter use straps on the shoulders and are more comfortable.
If you hate the idea of lycra shorts, you can also get padded boxer shorts to wear under your civvies. If you want to cover those legs in lovely lycra (a very good idea in winter!) then bib tights are where it's at.
For a relatively inexpensive pair that offers high quality, we liked the dhb Aeron Speed bib shorts reviewed here.
Waterproof jacket
There's lots of kit that you can choose to wear to ride through autumn and winter - but not everything is essential. The one item you will really need is a good waterproof.
Features to look out for are a waterproof treatment (note: water resistance will just keep the worst off), taped seams, venting for breathability and sleeves and collar designed to fit close and keep the drips out. Reflective patches for breathability are a good idea too.
The more you spend, the greater the breathability and water protection you'll get - jackets can retail at well over £200. But you can pick up a deal if you look hard - we really liked the Hydrosphere from PlanetX, with an RRP of £99.
Luxury bike accessory: cycling computer
You don't NEED a cycling computer, but it's nice to have one. The Garmin Edge family is the market leader, and the Garmin Edge 520is a middle of the road option which will provide you with speed, distance, calorie burn and elevation info.
If you're tying up with Strava, you can get live segments on there too. Of course, you could just use your phone if you don't feel you need a separate device - in which case you just need a cycling phone mountwhich is secure and ideally provides a waterproof shield.
Also available at Amazon
A few 'nice to have' lifestyle bike accessories...
Cycling themed mug
Ok, we're moving on to slightly less necessary items - and more 'nice to haves'. But how else will you ensure that everyone in your office knows you're a cyclist?
We love the china mugs at Target Velo - but you'll find quite a selection available around the web...
Also available at Amazon
Cycling bell
Bikes in the UK have to be sold with a bike bell by law. But it's usually a pretty boring one. You can get some pretty call designs out there, like these from BikeBelle...
Also available at Amazon
Or - you could just go with loud....
Also available at Amazon
Saddle cover
Well, no one wants to come back to a wet and cold saddle - which is why you can get waterproof saddle protector covers. Or you could just get a novelty one that looks really 'cool'.
Bike balls
Most of the cycling community has seen this by now, right?
The idea of Bike Balls is to combine lighting with a statement which certainly gets drivers attention - ensuring the rider is seen. Plus the brand gives back to the community via a number of projects.
Also available at Amazon
Personalised top cap
Training for a big event? Or just need the motivation? Pick up a stem top cap with a personalised message to keep you going...
Of course, there are plenty more items you could deck your bike out with... let us know in the comments if you've found something cooler than a crocodile shaped saddle cover...
Michelle Arthurs-Brennan is Cycling Weekly's Tech Editor, and is responsible for managing the tech news and reviews both on the website and in Cycling Weekly magazine.
A traditional journalist by trade, Arthurs-Brennan began her career working for a local newspaper, before spending a few years at Evans Cycles, then combining writing and her love of bicycles first at Total Women's Cycling and then Cycling Weekly.
When not typing up reviews, news, and interviews Arthurs-Brennan is a road racer who also enjoys track riding and the occasional time trial, though dabbles in off-road riding too (either on a mountain bike, or a 'gravel bike'). She is passionate about supporting grassroots women's racing and founded the women's road race team 190rt.
She rides bikes of all kinds, but favourites include a custom carbon Werking road bike as well as the Specialized Tarmac SL6.
Height: 166cm
Weight: 56kg
Michelle Arthurs-Brennan on Instagram
Michelle Arthurs-Brennan on Twitter