Lezyne Digital Pressure Drive mini pump review
The Lezyne Digital Pressure Drive has an inbuilt digital pressure gauge that tells you how much pressure is in your tyres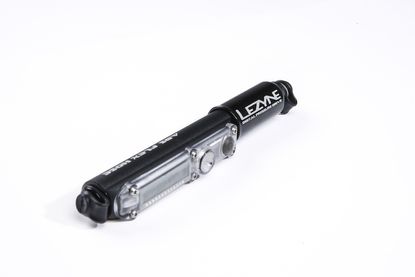 (Image credit: mike prior)
Not cheap, but built to last. It is great to know you have adequate pressure to ride home and will not fall victim to a pinch flat. Just be careful when unscrewing the valve.
Reasons to buy
+

Can reach 100psi

+

Gives you your pressure

+

Well made
Reasons to avoid
-

Expensive

-

Could be a little lighter

-

Screw on valve.
Why you can trust Cycling Weekly Our expert reviewers spend hours testing and comparing products and services so you can choose the best for you. Find out more about how we test.
Not just any old mini pump, oh no, the Lezyne Digital Pressure mini-drive features a digital gauge to tell you how much pressure is in your tyres.
The pump is based on an existing Lezyne mini drive pump design and exhibits the quality CNC construction that Lezyne is known for.
>>> Buyer's guide: the best cycle mini pumps
Having a digital gauge on your mini pump is hugely useful. We have all been at the roadside with a puncture, desperately inflating a tyre after in the middle of nowhere.
After much pumping, it starts to dawn on you that you have no idea how much pressure you have mustered.
Usually, despite vigorous wrist action (opens in new tab), it isn't enough and you are left worrying about the prospect of a potential pinch flat or at the very least dramatically diminished rolling resistance.
Haplessly pinching your tyre with finger and thumb, to try and estimate the pressure is a common resort.
The Lezyne Digital Pressure drive removes this guess work and has become an indispensable tool for me on training rides.
Video - How to puncture proof your tyres
I should also point out that it fits very well into a jersey pocket, but can be frame mounted, with a bracket that is included.
The gauge works pretty well and using the pump, I could work out my tyre pressure from the screen.
However, the reading does jump around slightly, depending upon where the piston is situated in the barrel and this could be improved.
To test the accuracy of the Lezyne Digital Pressure Drive, I compared the reading to that with separate gauge and the reading was consistent to within about +/– 5 psi.
Using the pump to inflate 25mm tyres I was able to reach a commendable 100 psi and I only have weedy cyclist arms. Seventy pounds is very expensive for a pump, but it does work well and solves a problem.
Aside from the price, a bigger disadvantage is that the hose screws on to your valve. This can sometimes result in you accidentally unscrewing your valve core, deflating your tyre in the process.
An event which, take it from me, is thoroughly depressing when you have just spent 15 minutes in the freezing rain, getting covered in crap, repairing your flat tyre.
For more info, head over to Lezyne (opens in new tab)
Thank you for reading 10 articles this month* Join now for unlimited access
Enjoy your first month for just £1 / $1 / €1
*Read 5 free articles per month without a subscription
Join now for unlimited access
Try first month for just £1 / $1 / €1
Oliver Bridgewood - no, Doctor Oliver Bridgewood - is a PhD Chemist who discovered a love of cycling. He enjoys racing time trials, hill climbs, road races and criteriums. During his time at Cycling Weekly, he worked predominantly within the tech team, also utilising his science background to produce insightful fitness articles, before moving to an entirely video-focused role heading up the Cycling Weekly YouTube channel, where his feature-length documentary 'Project 49' was his crowning glory.