Exposure Strada 1200 front light review
We put Exposure's top road light to the test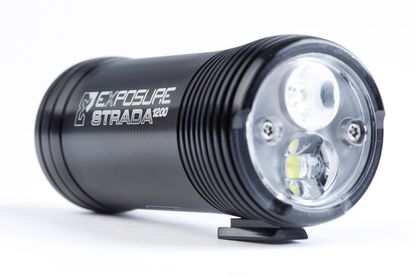 It may cost not far short of £300, but the Exposure Strada 1200 front light is a very smart investment. Pumping out 1200 lumens, it's more than bright enough for any sort of road riding and has a long battery for extended night time rides. But most importantly, it's build to last with a lifetime warranty for the LEDs.
Reasons to buy
+

Exceptionally bright

+

Very impressive battery life

+

Built to last

+

Easily programmable
Why you can trust Cycling Weekly Our expert reviewers spend hours testing and comparing products and services so you can choose the best for you. Find out more about how we test.
If you're after a powerful front light for road riding, then you can't do much better than the Exposure Strada 1200, which ticks all the boxes that you could possibly want it to tick.
Most importantly, the Exposure Strada 1200 front light is exceptionally bright. As you can probably ascertain from the name, the light pumps out a sizeable 1200 lumen. This is an output that can be matched by a number of other road lights on the market, but importantly the Exposure Strada manages to direct all of this in the right direction.
>>> Bike lights: a complete buyer's guide
In general the light has a wide and flat beam which really helps with illuminating rough road surfaces and potholes when riding out on unlit lanes, but when you have a clear stretch of road and unleash the highest mode then it's as pretty much as bright as riding in daylight, if not brighter. Just be careful to remember to switch off this mode when there are cars around to avoid blinding drivers.
What's really impressive, and what goes a long way towards justifying a price tag that is edging towards £300, is the fact that this brightness is combined with an exceptional battery life, and furthermore that this battery life comes without needing to have an external battery pack.
Watch: buyer's guide to bike lights
On it's brightest 1200 lumen setting, the Exposure Strada 1200 will last for up to three hours, double what you can usually expect from other lights pumping out this level of lumens. On it's lowest constant setting (with a brightness that is still more than enough to see you safely along lit roads and when riding through twilight) the battery will last for a whopping 36 hours.
On the back of the Exposure Strada 1200 is a small OLED display. This, as well as the the colour lights on the rear, displays which mode you are in, and the amount of battery life remaining. Having the amount of battery left in hours and minutes is much better than just changing the colour of a display light, as it's much easier to judge whether you've got enough juice to get home, rather than having to time trial in a full gas panic when you don't realise that a battery status light turning red actually means that you've still got two hours remaining.
>>> Best front bike lights for under £100
This display is also used to make it easier to switch between different light mode programmes. There are five different programmes displayed on the side of the CNC Aluminium body which are easy to switch between depending on what sort of riding you're doing. For example if you're just riding around town, then you might want to switch to a programme which adds in a flashing mode and takes out the full beam, meaning that battery life will be increased and drivers won't be blinded as you switch between modes.
The Exposure Strada 1200 is attached to your bike using an elegant aluminium mount. This might not be tool-free in the way that many other mounts are (although you can remove the light from the mount without tools), but don't let this put you off. A 4mm Allen key is all you need to take it on and off, but to be honest the mount is so slim that you won't notice it on your bars when riding without the light in daylight.
>>> Rear lights: a complete buyer's guide
Finally we have to come to the price tag. There's no escaping the fact that the Exposure Strada 1200 is a very expensive light that many won't be able to afford. However, I would argue that it still offers good value for money.
The reason for this is that you can expect years of use for your investment. I have a previous version of this light that I bought four years ago, and it is still working perfectly, so you can be sure that if you do decide to invest in the Exposure Strada 1200 front light, you won't be buying another front light for the foreseeable future
For more details visit the Exposure website (opens in new tab).
Thank you for reading 5 articles this month* Join now for unlimited access
Enjoy your first month for just £1 / $1 / €1
*Read 5 free articles per month without a subscription
Join now for unlimited access
Try first month for just £1 / $1 / €1