Buyer's guide to rear lights
Here's our guide to make sure that you pick a good rear light that will keep you visible this winter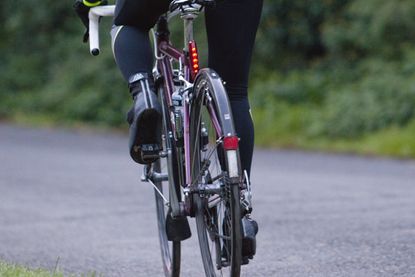 If you're looking to ride through the winter, then you're really going to need some good lights to attach to your bike. While you'll be buying a front light to light up the road in front of you to let you see where you're going, from a safety point of view, the rear one is perhaps more important, making sure that drivers approaching from behind can always see you and overtake safely.
>>> Buyer's guide to cycling lights
So what should you be looking for in a good rear light for your bike in order to make sure that your winter and nightime riding can be as safe as possible?
Legal Requirements
You can trust Cycling Weekly. Our team of experts put in hard miles testing cycling tech and will always share honest, unbiased advice to help you choose. Find out more about how we test.
By law, according to the Road Vehicles Lighting Regulations, if you're riding between sunset and sunrise, then you must display a red rear light (as well as white front light, red rear reflector, and two pedals reflectors on each pedal).
The rear light must be positioned centrally, 35cm to 150cm from the floor, and visible from the rear. It must also conform with the relevant safety standards, and if flashing emit a minimum of four lumens.
>>> Garmin Edge computers: a complete buyer's guide
Of course in reality, these requirements are rarely enforced, and we can't really imagine you being pulled over and reprimanded by the police on account of having your rear light 170cm from the floor. However, it is always wise to conform to the regulations, not only on safety grounds, but just in case you find yourself in court after being involved in a collision.
Brightness
One of the most important things to look at in a rear light (or any light for that matter) is how bright it is. While a serious heavy-front light can be expected to pump out thousands of lumens, you really don't need this sort of brightness at the rear. In fact, even the very brightest rear lights are unlikely to pump out much more than 75 lumens, which is more than enough to make you seen.
>>> Buyer's guide to road bike groupsets
Much more important is where all this light is directed. Obviously you want most of it pointing backwards so that cars approaching from behind are able to see you, but sideways visibility should always be a major consideration too. Especially if you're riding in built-up areas then it's really important to make sure that drivers emerging from side junctions can see you as well as those approaching from in front or behind. Therefore look for rear lights which have clear sides in order to avoid taken out from vehicles emerging from side roads.
Modes
A key consideration in deciding which rear light to buy is the number of modes that it has, and in general the more modes the better. The most basic of rear lights will often only have a single flashing mode, but pay a little more and you'll often find lights with multiple constant and flashing modes. Rear lights with more than one LED or bulb will often also have modes where one LED is on while the other flashes, as well as different levels of brightness.
>>> 15 top tips for commuting to work by bike
This is useful on a number of levels. Firstly it allows you to be flexible when it comes to light conditions. Slightly counterintuitively, the darker it is the less bright your rear light needs to be, so if you're riding on dark, unlit lanes then you should be easily be spotted even if your rear light is flashing away on its lowest setting. However, if you're riding towards a low sun, and have your rear light on in order to help drivers see you in the brightness of the sun, then you'll want your light to be as bright as possible.
>>> Buyer's guide to road bike tyres
Multiple modes will also help you to preserve battery life, so if you've forgotten to charge your rear light and are worried that it might be running low, then you can put it on a lower setting in order to get you home safely. That said, plenty of the better rear lights on the market now come with a low battery mode, which automatically switches the light into a less energy-sapping mode in order to get you home safely.
Watch our pick of the five sexiest superbikes of 2015
Battery life and charging
Even if your rear light does have a low battery mode, battery life still has to be a key consideration. It's really better to be safe than sorry with these sort of things, so the longer the battery life the better, and you should really be looking for a rear light that would be able to cope with at least a week of commutes in order to keep your mind at rest.
>>> Brompton: the perfect commuting machine
However, probably more important is what batteries the rear light uses, and whether they are rechargeable. If you're looking to get a good, convenient rear light, then it's really worth getting one that is rechargeable. There are plenty around that are powered by coin cell, AA or AAA batteries, but these leave you guessing as to when they might run out of juice.
>>> Buyer's guide to winter cycling gloves
The beauty with USB rechargeable ones is that you can just keep the charging cable at home or at work, and plug it in whenever you think your light might need a boost. What's more, plenty of rear lights are now charged using micro-USB cables, which you're likely to already have lying around at home somewhere, meaning that is you lose the cable that comes with the light then it's not the end of the world.
Mounts
The final big consideration is how your rear light is going to attach to your bike. Basically what you're after is a mount that will keep your rear light firmly in place and pointing in the right direction, so even if you hit some pretty big potholes on some gloomy lanes, your not going to have your nice new light bouncing off into the bushes.
>>> The 25 best pieces of cycling advice
If you're got a standard round seatpost, then mounting your light shouldn't be too much of an issue (although if you've got a 31.8mm seatpost then some mounts can be a little tight). However if you're attaching your rear light to a bike with an aero seatpost, then things can be a bit more difficult.
If this is you then look for lights which attach using a long silicon band, or ones which are designed in such a way that they can be mounted either elsewhere on the bike, such as underneath the saddle or on your seatstays.
Our pick of the best rear lights
£44.99
The new format Lezyne KTV Drive light set has plenty of output for commutes or daytime running, in a compact
£37.99
Exposure Blaze acts as a bright, compact and easy to use rear light which our tester liked.
£99.95
Hope do provide extra special pieces of kit that work thoroughly well, though is a rear light with an external
£95
£8.5
How much should I spend?
The good news is that while you probably have to go well into three figures in order to buy a top-quality front light that's suitable for the darkest conditions, you don't have to spend nearly this much on your rear light. In fact thirty quid or so should be more than enough to buy a very good front light that will be bright and include all the key features, while if you're just riding on lit roads then you can get away with much less than this.
How we score
10 – Superb, best in its class and we couldn't fault it
9 – Excellent, a slight change and it would be perfect
8 – Brilliant, we'd happily buy it
7 – Solid, but there's better out there
6 – Pretty good, but not quite hitting the mark
5 – Okay, nothing wrong with it, but nothing special
4 – A few niggles let this down
3 – Disappointing
2 – Poor, approach with caution
1 – Terrible, do not buy this product
Thank you for reading 20 articles this month* Join now for unlimited access
Enjoy your first month for just £1 / $1 / €1
*Read 5 free articles per month without a subscription
Join now for unlimited access
Try first month for just £1 / $1 / €1