The 25 best pieces of cycling advice
We asked you to send us the best cycling advice that you have been given, and here we collect together the best 25 tips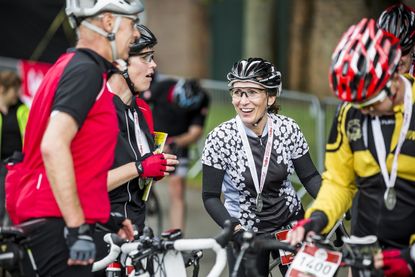 (Image credit: chris catchpole)
You can always rely on other cyclists to provide you with advice. Get any group of riders together, and you can guarantee that sooner or later someone will be telling someone else that they're doing it all wrong.
How do you tell the good advice from the bad? That's a tricky one. What works for one, may not work for another.
We recently asked Cycling Weekly readers for the best piece of cycling advice they've ever been given, and who gave it to them. Here are the best 25 answers from the many responses we received.
Warning: article contains an image that some may find disturbing.
When cornering, look at where you want to go and the bike will follow. Sound advice from a neighbour after I had broken my collarbone overcooking a bend on a fast descent.
Luke Alexander-Dent
Ride your own race. Do not compete with anyone other than yourself. My old cycling buddy Baz.
Justin McCrann
When a co-worker - an experienced cyclist - heard I was starting to take a real interest in road cycling he told me to "stay vertical and have fun" and I've been doing it ever since.
Mark Lassler
Try not to crash - my mum, 1975.
Simon Steele
Not to have too high a cadence going up hills. A club member saw me spinning like mad and running out of breath, advised me to up to a higher gear and suddenly I could breath!
Thurstan Johnston
I was told by an Epic Cycles bike fitter, when pedalling I was lazy from 6pm to 9pm in my pedal action. I was told: imagine you're scraping dog mess off your shoe to improve my pedalling action. It worked for me.
Steven Fortey
Geraint Thomas came to Cardiff Flyers (his first club as a schoolboy) recently to meet and talk to the youngsters, including my daughter. He was asked how many races he had won. He replied that he didn't know but that he had lost far, far more than he had won. I thought that was a brilliant answer, which avoided giving the kids a figure to which they might (negatively) compare their own records, as well as being an entirely appropriate message about expectation management.
Gideon Brough
Concentrate, be aware, train, eat well and go get 'em Tiger. Beryl Burton to me after having thrashed me totally in a 25 time trial.
Alan Jones
On getting over my fear of riding on the road/crashes... There are two kinds of rider: ones that have been down and those that are going down. Learning to accept the inevitability actually made me a better rider.
Juliet McGraw
A good friend David Thorley who rode semi-pro in his teens but is sadly no longer with us: "Pedal hard and just keep clicking a gear until your legs slow!" It's in my head to this day during time trial events.
Daniel Bates
When hill climbing, and your legs are burning say to yourself "Shut up legs, I tell you what to do!". Originally said by Jens Voigt. My eight-year-old daughter said this aloud on a 12 per cent climb yesterday and I loved the determination this quote gave to keep going to the top.
David Moran
"You only have to be on the front for a yard to win the race, lad" Keith Boardman (Chris's dad)
Barry Jones
"Don't ride in flipflops" - by me.
Matt Limacher
Willy Thompson advised me about how much food to take on the North East Divisional Road Race years ago, 110 miles of brutal hills. He said: "Don't do what I did once in the 24, son. I took a whole roast chicken but it kept bouncing up and down so I had to eat it after six miles". Legend.
George Stainsby
"While the minimum number of bikes one should own is three, the correct number is n+1 , where n is the number of bikes currently owned. This equation may also be re-written as s-1 , where s is the number of bikes owned that would result in separation from your partner." An oldy but a goody.
Jonny Harvey
Wherever you travel for business or pleasure, take your bike and ride.
Colin Sherrard
Don't cross your chain - use big and small rings to save your legs, and your groupset.
Mark Sherrard
If your legs hurt most you're in too high a gear. If your chest hurts most you're in too low a gear. If they both hurt, you've got it spot on.
Mark Dodds
If you can't go fast, go long.
Darryl Collins
Work to Eat, Eat to Live, Live to Bike, Bike to Work - The Bicycle Place motto.
Michael Butchko
Watch: Five minute warm-up before you ride
Buy decent clothing for all weathers so you can enjoy your bike more.
Rob Blackler
If you're thirsty it's too late... keep hydrated.
Jonathan Pugh
You can rest at the top... not before.
Mike Grice
Enjoy it, or it's a waste of time.
Paul Murphy
Take most advice with a pinch of salt as everyone is different.
Nick Manning
Thank you for reading 20 articles this month* Join now for unlimited access
Enjoy your first month for just £1 / $1 / €1
*Read 5 free articles per month without a subscription
Join now for unlimited access
Try first month for just £1 / $1 / €1