Lezyne KTV Drive front and rear lightset review
The new format Lezyne KTV light set has plenty of output for commutes or daytime running, in a compact format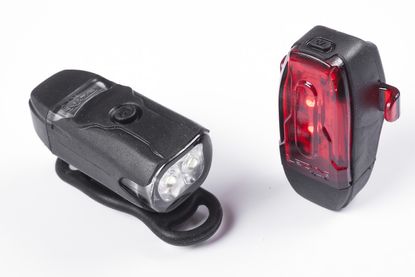 Bought together as a set, the Lezyne KTV Drive lights are good value for a to-be-seen light set with reasonable output for riding on lit streets or as daytime running lights. They've got plenty of mode options and recharge reasonably quickly too.
Reasons to buy
+

Small on-bike profile

+

Plenty of mode options

+

Good run times

+
Reasons to avoid
-

Won't fit easily into some computers' USB ports

-

Rubber USB covers could get lost

-
Why you can trust Cycling Weekly Our expert reviewers spend hours testing and comparing products and services so you can choose the best for you. Find out more about how we test.
This year, the Lezyne KTV Drive commuter lightset has been redesigned, with a new format. This makes the front light more of a conventional shape than its predecessor, with a rubber band mount on the bottom of the unit attaching it to the bars.
The new format means that the light takes up a bit of bar space, although the light is still very compact. Maximum output is 70 lumens, with a claimed runtime of 1.5 hours. Drop down to 15 lumens constant output and you should get up to 5 hours run time.
There are also three flashing modes: a new high intensity 180 lumen daytime flash mode gives you 5 hours claimed run time, which can be extended up to 12 hours on the most economical flash. There's some sideways visibility, with windows in the side of the lens.
>>> 19 best front and rear lights reviewed
Recharge takes around 3 hours. There's a USB plug under the substantial rubber bung at the rear of the unit. Because of its position, it's slightly awkward to fit the USB plug into some laptops's USB ports and I found that I couldn't fit the front and rear lamps into adjacent ports, as the light units are too large. Because the bungs are separate from the light units, there's also the risk of losing these.
Lezyne KTV Drive rear light
The rear light has a vertical seatpost mounting position, fixed in place by a rubber strap. There are two flexible rubber guides to make sure that it stays in place and continues to point rearwards.
Maximum output is 10 lumens, with a 3 hour run time constant, there's a lower output constant mode, two flashing modes and a 10 lumen pulsed mode, where the lamp is always on, but with intermittent higher intensity flashes. Lezyne says that this last mode, new in its lights this year, helps make the light more noticeable to other road users.
If you're worried about rear visibility, Lezyne also now sells a high output KTV Drive Pro, as well as its Laser Drive, and there's a version, not sold in the UK, which complies with German lighting regulations too.
For a bit of variety from plain black, the Lezyne KTV Drive is now available with its plastic body in white, red or blue as well.
Thank you for reading 5 articles this month* Join now for unlimited access
Enjoy your first month for just £1 / $1 / €1
*Read 5 free articles per month without a subscription
Join now for unlimited access
Try first month for just £1 / $1 / €1