Knog PWR Rider front light review
Neatly packaged light with plenty of illumination, good battery life and an in-built USB powerbank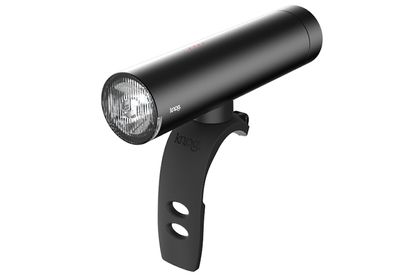 The Knog PWR light range provides a lot of options for different riding styles from commuting on lit roads through to technical off-road use. They are well made and the design means that they can double up as a power bank to charge other devices when on the move.
Reasons to buy
+

Range of five lights with illumination levels to suit your riding

+

Double up as a power bank

+

Easy operation with gloves

+

Robust mounts

+

Configurable lighting modes

+
Reasons to avoid
-

Recesses in lights can accumulate dirt
You can trust Cycling Weekly. Our team of experts put in hard miles testing cycling tech and will always share honest, unbiased advice to help you choose. Find out more about how we test.
Knog may have started out selling compact blinkies for commuters, but its range of lighting options has become ever-broader and more sophisticated. Its acme is the Knog PWR light range.
There are actually five different PWR lights, ranging from the 450 lumen Knog PWR Commuter at £49.99 to the Knog PWR Mountain, pumping out 2000 lumens peak and costing £179.99.
In between are the three units we've tested: the PWR Rider, also with 450 lumens (£57.99), the PWR Road with 600 lumens (£84.99) and the PWR Trail with 1000 lumens (£109.99). Plus, there's the Knog PWR Rider Duo, with a plug-in red rear light and a helmet mount priced at £79.99.
So Knog has a comprehensive range of different lights to meet different illumination needs.
All have the same cylindrical black alloy body and all have a pull-off waterproof cap which hides a USB port, allowing the light to be used as a power bank, by plugging the supplied USB lead into a phone or other device. It's a neat trick if you want to recharge your phone or Garmin while on the move, as well as using your lights. The cap also covers the light's charging port.
In the case of the PWR Rider, the USB port is at the rear of the light, so you can potentially charge your phone and run your light at the same time. Knog says that if you run the PWR Rider at its peak 450 lumens for an hour, there's still enough charge left to add 35% charge to an iPhone, so you get a reasonable level of performance for both. Used just for lighting, it will run for around two hours at 450 lumens.
The Knog PWR Rider attaches to the bars with a rubber strap, which is adequate to support its 114g weight. Charge level is indicated via four red LEDs on the top of the light. There's also a shield built into the light's top edge, to stop you dazzling yourself, whilst still providing side illumination.
There's plenty of light output in the highest 450 lumen constant mode to ride steadily on unlit roads, or a bit faster if there's street lighting. The beam is elliptical, so you can point the light down a bit, get wide coverage to make turns safely and avoid dazzling oncoming vehicles. The front lens has a round depression in its centre, which I found tended to accumulate dirt. It's pretty easy to clean, but I did have to wipe it out occasionally to keep output at its best.
The Knog PWR Rider comes with six preset constant and flashing lighting modes, ranging down to 50 lumens, with run times up to 16 hours constant and 90 hours flashing. Pressing the on/off button switches the unit on and cycles through these modes. There's a mode memory so that the light starts in the mode you left it on, once you switch it back on again.
But you can also use Knog's ModeMaker app to set up your own lighting preferences and drop ones which you won't use. Knog includes some whacky flash patterns. Configuration is via an intuitive drag and drop interface. It's useful if, for example, you're planning to go off road and only want a high and a low beam option.
Knog PWR Road and PWR Trail additional features
Step up to the Knog PWR Road and Trail lights and, although the cylindrical design is superficially similar, you get some nice additional features. The lights' diameter increases too.
As well as the larger battery, for longer run time, more light and more charging power, the USB port is concealed behind the light's replaceable head unit. At max output, the Knog PWR Road will run for 2.3 hours, while the Eco Flash mode runs for 195 hours. For the Knog PWR Trail, the equivalent figures are two hours and a whopping 300 hours.
Again, there are configurable output patterns as well as the six standard modes. Swapping between modes is by twisting the head unit. It's a nice, easy way to switch between lighting modes, which works well even when wearing gloves. It also needs to be twisted, while pushing the on/off button to switch the light on and off. In the PWR Trail, this ring is knurled, which helps with grip too.
Battery level is indicated in all the PWR lights via four red LEDs on the side of the unit. You can use these to check how much juice you have left, even when the light is not switched on, by twisting the lighthead or just by moving the light around.
The removable lightheads can be paired with other power banks, which you can buy separately, for even more off-grid run time, if you're heading out into the unknown. Knog's largest power bank stores 10,000mAh of power.
>>> The best front and rear lights tested
The PWR Road and Trail lights get a more sophisticated hard plastic mount, which tightens onto the bars with a cam lever. The mount slips into a groove in the side of the light unit and is tightened in place with a thumbwheel, so you get a secure connection. The mount is also designed to position the light over or under the stem, so that it takes up less bar space.
Unlike the Knog PWR Rider, the lightheads have flat lenses, which stay clean. But instead, there's a tendency for the groove to mount the light to get mucky.
Thank you for reading 20 articles this month* Join now for unlimited access
Enjoy your first month for just £1 / $1 / €1
*Read 5 free articles per month without a subscription
Join now for unlimited access
Try first month for just £1 / $1 / €1