Smartphone vs cycling computer: which should you use?
With phones and apps becoming ever smarter, is the humble cycling computer out dated?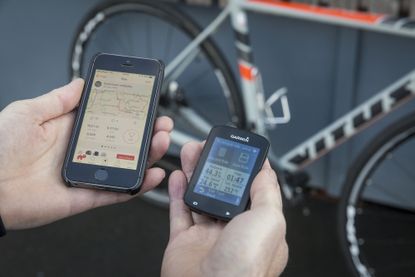 Smartphones are getting smarter by the day; where once the vast majority of cyclists recorded their rides using dedicated computers, phones running GPS apps are becoming ever more popular.
There's a wide range of cycling apps capable or recording rides, and uploading straight to an online platform - and as a result the cycling computer is becoming redundant in the eyes of many.
But is there a benefit to using a dedicated cycling computer?
Price
Cycling computers come in at many price points, starting from just over £30 for models that record speed and distance via analog means right the way up to GPS equipped, performance pushing models that cost over £300.
Mobiles phones can be some of the most expensive objects that we buy, and you might be, quite rightly, reticent about spending any more on a cycling computer having just purchased a mobile that is capable of tracking your location.
More expensive cycling computers are able to push your performance using built in tools, so it'll large come down to the type of cycling that you want to do.
Battery life
Everyone hates seeing the 'battery life: 10%' sign flash up on your screen, half way through a 50-mile ride.
The Wahoo Elemnt Roam has a stated life up to 17 hours, whilst the Garmin Edge 830 lists a 20 hour span. The iPhone 8 has a stated battery life of 26 hours, compared to 14 hours for the iPhone 7. In all cases the stated hours will be reduced based on functions used, and factors such as screen brightness.
Using a GPS app 'significantly decreases' battery life on a phone, whilst the cycling computer is designed with this purpose in mind. In addition, the phone is required outside of bike riding. Using up battery on the ride could mean having to plug in later in the day.
Add to that the fact that the phone running out of juice cuts off access to your emergency helpline, whilst the computer running out of juice is just a mild inconvenience and the computer wins here.
CEO at Wahoo – which offers bike computers and apps for smartphones – Chip Hawkins said: "Of course it always depends on the type of phone and what applications are running and bike computers vary based on battery type and size. However bike computers are designed specifically for cycling and battery life is extremely important.
"For anything more than a two to three hour ride I would want a dedicated bike computer because most bike computers have 10+ hours of ride time with GPS running."
Aerodynamics and resilience
The Wahoo Elemnt Bolt was designed with one clear USP – aerodynamics. Indeed, combined with an aero out front mount, the brand claimed it saves 12.6 seconds over a 40km time trial over the 'leading competitor'.
Assuming the 'leading competitor' is also a cycling computer, it's fair to say both have the 'edge' over a phone.
Hawkins said: "Smartphones in a case are not designed for cycling specifically so there are no aerodynamic advantages."
A phone can of course be placed in the pocket, but this removes the users ability to track stats - something you probably want to be able to do if you're targeting performance enough to want an aero handlebar set up.
Resilience is a factor too. Though you can purchase waterproof phone cases which promise shatter resistance, bike computers are created to withstand demands specific to riding.
"Wahoo bike computers are designed to withstand the elements and crash scenarios that I would be scared to test my phone through," Hawkins says.
>>> Best cycling phone mounts reviewed
Accuracy
It's not uncommon for people to notice differences in average speed and even distance when comparing a ride recorded on a cycling computer, using GPS, vs a ride recorded on a phone using GPS in conjunction with an app.
The differences more often than not come down to the quality of the GPS data.
Computers tend to calculate average speed within the unit itself, whilst Strava analyses the info independently once the file is uploaded - using both total activity distance and the detected moving time.
In terms of which is more accurate, Hawkins told us: "It depends on your cell phone's GPS signal and the hardware inside of the bike computer."
Discussing variable performance of mobile phones, Strava also says in its support pages: "The GPS system includes the chip in your device as well as the satellites above the Earth... it may behave differently from one day to the next."
Cycling computers usually determine altitude by using a barometric altimeters measuring atmospheric pressure – accuracy can be affected by weather, among other factors.
Strava uses its own basemap – looking up the elevation for each point you record. This basemap was created using data from uploads made by users, riding with barometric altimeters. Accuracy is affected by the reliability of the data for the region where you're riding.
Strava allows you to 'correct elevation' on a file created using a cycling computer by clicking the little blue button underneath the elevation number. The correction uses its own basemap, built up using assorted data from more barometric altimeters.
Both forms of GPS and data recording rely upon the accuracy of the unit and the satellite - and this varies dramatically between all units - phones and cycling computers.
Fitness data
Apps these days are pretty smart - most can display much of the fitness data we're used to seeing on a cycling computer: speed, distance and elevation.
However, historically cycling computers and fitness units – power meters, cadence sensors and heart rate monitors – have used ANT+ to communicate data. Phones generally receive Bluetooth info, though some support ANT+, and they're listed here. With the use of phone apps becoming more popular there are now more devices, like Wahoo's Tickr heart rate monitor, which use Bluetooth too. Not all brands have caught up.
Some computers such as Garmin units only receive ANT+ data whilst others, like Wahoo computers, receive both.
If you're using a phone and your devices are ANT+ then you may lose access to some data – unless you purchase a third party ANT+ key to plug into your phone – like the Wahoo ANT+ Key. Recently, Strava removed capability with third party sensors, meaning you can no longer record power or heart rate when recording an activity on your phone.
Computers also have a few more cycling specific applications – like the ability to control additional items such as the Garmin Varia lights.
The bottom line…
Cycling computers are purpose designed. They're built to be crash proof, rain proof and more aerodynamic. The key purpose being to record GPS data, this is taken into account with regard to battery life, too.
A phone using GPS, on the other hand, is capable of doing almost everything a cycling computer does - but it's not its number one job - so it's sub optimal in many areas.
Hawkins told us: "For anyone doing more than two to three hour rides once a week or wants to utilize cycling data outside of speed, distance and time I highly recommend a GPS bike computer. They are designed specifically for cycling and to record all of your data - not to mention using cycling apps as your data recording device does use cell phone battery."
So the answer, really, is that a cycling computer is the best option. But if you're looking to save some cash and keep device ownership to a minimum, a phone will do the job.
Thank you for reading 20 articles this month* Join now for unlimited access
Enjoy your first month for just £1 / $1 / €1
*Read 5 free articles per month without a subscription
Join now for unlimited access
Try first month for just £1 / $1 / €1