Poc Propel sunglasses review - Roads? Where we're going we don't need roads
Poc go full sci-fi in the quest for speed and efficiency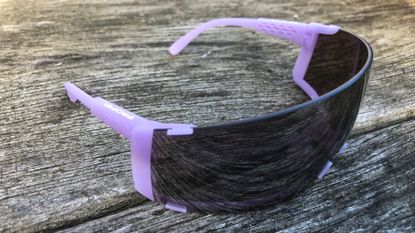 (Image credit: Rachel Sokal)
You've likely already decided whether you think Poc's Propel glasses look like the coolest shades out there or are better suited to cyborg fancy dress. You've also probably decided whether you think that the modest gain in watts from the aero design is worth grabbing or whether, if you were really bothered about more watts, you'd train a little more. Away from the divisive matters there are a few clearer pros and cons of the Propels: clarity and field of vision is really stunning; fit is good and their adjustability means that this should be the case for pretty much everyone. As they're close fitting they're prone to misting up and hard to reposition, and they cost an awful lot of money.
Reasons to buy
+

Massive field of vision

+

Excellent lens clarity

+

Size adjustable

+

Modelled aerodynamic efficiency
Reasons to avoid
-

Cost

-

Liable to steam up

-

Improvement in aerodynamics is very modest
You can trust Cycling Weekly. Our team of experts put in hard miles testing cycling tech and will always share honest, unbiased advice to help you choose. Find out more about how we test.
Get The Leadout Newsletter
The latest race content, interviews, features, reviews and expert buying guides, direct to your inbox!
Thank you for signing up to The Pick. You will receive a verification email shortly.
There was a problem. Please refresh the page and try again.
Poc launched new Propel sunglasses with the claim that they are "the most aerodynamic cycling sunglasses Poc has ever produced", thanks in part to the addition of "side fairings" to the wrap-around lens - the better to help guide air away from the rider's ears.
With Poc itself being less than precise about the exact aero gains, I did my best to put the Propels through a rigorous testing programme and see how they stack up against our other best cycling glasses. But in terms of how many watts are actually saved, unfortunately I don't have any clearer a picture.
Poc Propel: design
I doubt it was Poc's intention – difficult to negotiate copywrites and all that – but I can't get over the uncanny similarity between the Propels and Doc Brown's mirror-shield visor glasses he dramatically dons as he and Marty set off to travel Back to the Future. Or, to be exact, these are probably the ones he would wear in the alternate version of 2015, it's just taken a few extra years to get them to market.
Unlike Doc's, Poc's tech isn't entirely in the wrap-around lens of the Propel. Much of it has to do with the close fitting and very subtle 'trailing edge' flaring of the sides of the frames which – according to Poc's computational fluid dynamic modelling – reduces drag and turbulence around the rider's ears. Designs as subtle as this make me wonder the effect on aerodynamics of different ear sizes and angles, side burn thickness and earring design. POC haven't publicly said what watt savings a rider might expect although Poc's head of global PR and communications Damian Phillips has gone on the record as saying "…we are seeing watt savings, typically in low single figures when riding at 40kph."
For those who are keen to pursue every aerodynamic gain that is theoretically possible, one or two watts extra will be very attractive. I suspect the rest of us will be basing a decision of whether to buy on the vision and fashion credentials of the Propels.
Poc Propel: construction
The huge wraparound lens uses Poc's Clarity technology for a clear view and sharp contrast. It also has a repellent coating for muck and moisture and an anti-scratch treatment. The standard lens is for road riding in mid-light conditions and there's a clear lens included too. Additional lenses are available for trail riding or brighter conditions.
The frame itself is really minimal just running on the sides and across the base of the lens. The arms are adjustable by sliding in and out and there are three different sized nose bridges.
There are six different frame colours with coordinated mirror lenses for mid-light conditions.
Poc claims that the 'majority' of the 'biogrilamid' frame is made from renewable resources. The company doesn't expand on what actually the 'majority' percentage is and what it defines as renewable. It's a small step in the right direction but I'd like to see some tangible information to substantiate these headlines.
Poc Propel: the ride
Despite all the tech and design wizardry, I can't help but liken the lightweight plastic frames to something you could buy from a £/$1 shop for a kid's dressing up outfit. Sorry Poc, I do believe that they are much better than this, they're just so incredibly lightweight (1.1oz / 32g on our scales).
Despite the plasticy appearance of the Propels they feel really great on, they're really comfortable and stable. Adjustment is easy and effective which the other half interpreted as permission to borrow the glasses whenever he liked.
The field of view and lens clarity is really stunning. The Clarity lens definitely does it's job, sharpening what's in view. It's not until you wear something like this that you realise that your view is typically quite restricted by the edges of the frames and lenses. With the Propels there's much less need for those subtle head and eye movements to keep what's around you in your peripheral vision, an attractive feature for bunch riders and sprinters alike.
By nature of the aerodynamic design there's not much airflow under the lenses so if you're a steamy rider then you might find these misting up a fair bit. And, again, because of their shape it's also quite difficult to shift them a bit to improve the flow or wipe your face. I, for one, won't be wearing these for hot climbing days.
And finally, onto the elephant in the room; did I ride a little faster with a little less wind noise around my ears? If I did, I can't say that I noticed. Maybe I'll need to start addressing all my other aerodynamic disadvantages before I can fully assess this one.
Poc Propel: value and conclusion
At $275/£230 the Poc Propels aren't going to be an idle purchase, even if they do come with two lenses. As a comparison, Oakley Jawbreakers are a mere $225/£180.
If you have the money and can pull off the pro-peloton look then there's much to like about the Poc Propels. The lens quality and field of vision is outstanding and let's not forget about those few extra watts you get from the aero profile. For most of the riding mortals out there, there are many excellent sunglasses out there which cost a lot less money and a whole load of more proven ways to gain some extra watts in the saddle.
Thank you for reading 20 articles this month* Join now for unlimited access
Enjoy your first month for just £1 / $1 / €1
*Read 5 free articles per month without a subscription
Join now for unlimited access
Try first month for just £1 / $1 / €1
Get The Leadout Newsletter
The latest race content, interviews, features, reviews and expert buying guides, direct to your inbox!