New POC Propel sunglasses 'introduce aerodynamic gains to eyewear'
Worn by the EF Education teams, the Propel is designed to smooth airflow to improve a rider's aerodynamic profile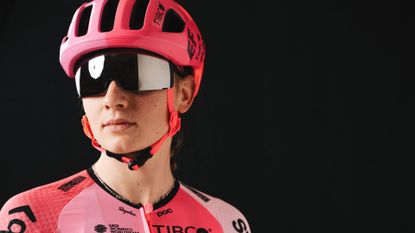 (Image credit: POC Sports)
POC has released the latest product as part of its Aero initiative - Propel eyewear.
The POC Propel sunglasses are described by the Swedish brand as "the most aerodynamic" shades it's ever produced.
Aimed at high-performance racing, the Propel debuted at this year's Tour Down Under, worn by both the men's and women's EF Education teams.
So how exactly does the Propel seek to gain an aerodynamic advantage?
According to POC, the "unique lens and temple design", the result of computational fluid dynamic (CFD) testing, reduces drag and enables "airflow to interact with the rider and their body position."
The result is a pair of sunglasses that sits closer to the face and uses side fairings designed to guide air away from the rider's ears; it's this component that helps to better manage airflow, guiding it over the shoulders, which in turn, according to POC, "enhances a rider's aerodynamic profile."
POC's press release doesn't say exactly how many watts a rider might expect to save, so we asked for some more details of the testing.
"Our CFD analysis was done against our existing performance eyewear, typically those you see as our road line up, Do, Do Half, Aim etc," says POC's head of global PR and communications Damian Phillips.
"It was done in the position of the CFD model [in the image above] - i.e. aero on the hoods. Principally we used CFD for the detailed analysis as it's nigh on impossible to gain the level of detail for such a small area in a wind tunnel, outside or on the track. CFD is more precise and allows many more iterations with better comparability."
How many watts might a wearer of the POC Propels expect to save?
"It's impossible to say that everyone will have the same saving as every rider has a different position," continues Phillips. "But even then we are seeing watt savings, typically in low single figures when riding at 40kph. These are not figures that are easily shared as it's never a simple black and white picture."
"On the face of it," Phillips punned, "that might not sound much, but when we think about the surface area we are playing with the result is very positive. And we also conclude, but this needs further testing to validate, that as you sit more upright and increase your CdA that would also impact the wattage saving further."
But the best cycling glasses, even at this elite level, aren't about aero gains alone.
To ensure that riders have the best possible view of the road ahead, and the peloton around them, the Propel features what POC calls "a unique clarity lens". In essence it's a wraparound lens that's designed to maximise field of view and peripheral vision.
It appears that those charged with leading the EF Education teams to success approve.
"There's a saying in cycling, 'if it looks fast, it is fast', and that sums up Propel," says EF Education-EasyPost CEO, Jonathan Vaughters. "We know all the aerodynamic testing that went into creating it, but equally important is the lens shape and broad field of view, which is incredibly confidence inspiring when you are packed in a tight peloton."
EF Education-TIBCO-SVB general manager, Rachel Hedderman concurs. "Performance is critical when the margins we are playing with are so small. It's essential that the kit we use can contribute to our success, and it helps motivate us to dig even deeper knowing that everything we use is so technical and highly tuned, designed to support and enhance our effort."
To ensure the best possible fit POC equips the Propel with three nose bridge sizes, while the glasses' temples are fully adjustable in length and grip.
Propel eyewear retails at $250/249 EUR and comes in six colours and lens types with an additional eight lenses also available. Each pair of Propels also comes with a spare clear lens as standard.
For more information visit pocsports.com
Thank you for reading 20 articles this month* Join now for unlimited access
Enjoy your first month for just £1 / $1 / €1
*Read 5 free articles per month without a subscription
Join now for unlimited access
Try first month for just £1 / $1 / €1