Camden X KPP Cycling Edition watch review
In an era of 'smart' watches it is nice to take a break and look at something more stylish when cycling and the Camden X KPP Cycling Edition watch does just that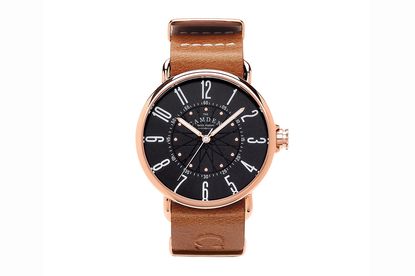 What can I say? It reliably tells the time, looks good, and doesn't harangue me about exercise I haven't done. Yes, I love this watch for what it doesn't do. In an era when 'smart' marketing has decided that all things should do all things, it's no small relief to have something doing just the one thing, beautifully and dependably — like that trusty steel-framed bike you wish you'd never sold.
Reasons to buy
+

Stylish, subtle cycling-themed design

+

Water-resistant to 50m

+

Robust leather strap, plus interchangeable nylon strap
Reasons to avoid
-

No date display

-

Slightly too chunky (and delicate) for safe riding use

-
I knew it was time for a change when my Garmin smartwatch started nagging me. One sunny afternoon in an otherwise serene beer garden, as I eased another pint towards my mouth, the GPS's stern digital face reprimanded me: "MOVE, DAVID". Apparently I'd not "met my step goals" nor completed "three afternoon tasks". Whatever.
Video: Five beginners tips for setting up your cycling computer
Wrist-mounted activity-tracking had turned into a nightmarish, near-constant guilt-trip. Besides, my bike computer provided all the fitness data I needed. The only number I needed on my wrist was the time, preferably in analogue format, and if possible with a subtle hint of good old-fashioned bicycling.
I was delighted, therefore, to stumble upon the Camden Watch Company, a small outfit headquartered in an old horse hospital in Camden's Stables Market. After a quick browse through the range, I was content that theCamden X KPP Cycling Edition watch was suitably low-tech for my needs, while being more than stylish enough for my post-ride, afternoon ambles to the pub.
This watch was designed in collaboration with London-based artist/cyclist Kitty Pemberton-Platt, and the other models in the series are named after London Underground lines and bus routes. Clearly, the local connection is important, though the watches are — inevitably — manufactured in the Far East. Granted, there is a distinctly hipsterish vibe to the Camden Watch Co's marketing, but I wasn't about to let that put me off this classic, subtly vintage-styled timepiece.
Down to the nitty-gritty: what qualifies this iteration of the X KPP as the 'Cycling Edition'? Look closely and you'll spot the spoke pattern on the dial, jersey-style lettering on the strap, and you'll notice that the crown is shaped (a bit) like a sprocket. The strap's white stitching on tan leather conjures vintage handlebars, though a nylon strap is supplied as a hardier option.
Thank you for reading 5 articles this month* Join now for unlimited access
Enjoy your first month for just £1 / $1 / €1
*Read 5 free articles per month without a subscription
Join now for unlimited access
Try first month for just £1 / $1 / €1