Fizik Infinito R1 Knit review
Are knitted shoes a technological advancement or just a fashion statement? We put the Fizik Infinito R1 Knit shoes to the test to find out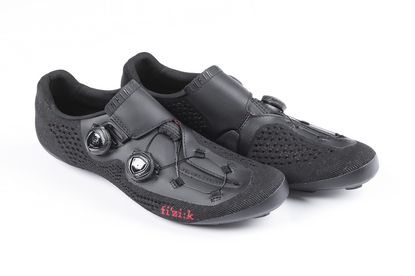 (Image credit: Cycling Studio)
A good fitting and comfortable pair of shoes that ultimately aren't as light, or as cool, as Fizik's might have hoped
Reasons to buy
+

Comfortable fit and spot on sizing

+
Why you can trust Cycling Weekly Our expert reviewers spend hours testing and comparing products and services so you can choose the best for you. Find out more about how we test.
Last summer, cycling shoes took a novel step forward with the introduction of knitted technology. While from some it was met with cries of gimmicky, Fizik assured us that the knitted construction adds flexibility and comfort, while the more rigid exoskeleton is used to reinforce the uppers in areas of high stress.
Without a doubt it's a novel design for a cycling shoe, and one that Fizik says makes the shoes lightweight, cool and ideal for climbing.
To put that to the test I took the snazzy slippers with me on a recent trip to Gran Canaria for the launch of Campagnolo's 12 speed groupsets, with the warm, 10km climbs providing the perfect testing ground for the shoes.
Out in the wild and on the sun beaten hills they didn't feel as cool as Fizik probably hopes. While there are 8 vents, it's rare that you feel the intake of air against the soles of your feet. Perhaps it was the black colour of my test pair, or the knitted fabric not breathing particularly well, but on the two 60km rides my feet definitely got too warm.
Retention is taken care of and adjusted by two Boa dials, operating Fizik's proprietary "Infinito" fit system. The Boa dials sit on the side of the shoe rather than on the top, reducing pinching or hot spots on the foot. The "volume control" and "dynamic arch support" system closes the upper unilaterally across the foot.
At first I was sceptical, and initially I found it very difficult to get a proper fit, feeling like I had to over tighten the shoe to get it to stay on my foot. It took a bit of trial and error, but eventually I found tightening the top boa held the shoe on whilst I could slacken off the bottom one to allow my feet room to manoeuvre.
For the most part, the Fizik R1 Infinito Knit shoes had a really comfortable fit. There's far more padding around the heel area than on the Specialized S-Works 7 shoes, and I suffered none of the pinching or rubbing I felt with the Specialized shoes. The fit of my size 43 shoes was spot on, without no need to upsize (or downsize) at all.
I often suffer from numb feet when riding with carbon soled shoes, especially ones that are aggressively stiff. Again, I suffered much less with the Fizik's than with the S-Works 7 shoes, with my right foot occasionally going a bit tingly – even on the warm roads of Gran Canaria.
Thank you for reading 5 articles this month* Join now for unlimited access
Enjoy your first month for just £1 / $1 / €1
*Read 5 free articles per month without a subscription
Join now for unlimited access
Try first month for just £1 / $1 / €1