Gaerne G.Stilo road shoes review
New for 2015, the Gaerne G.Stilo shoes are high end, lightweight kicks with carbon sole and Boa closure system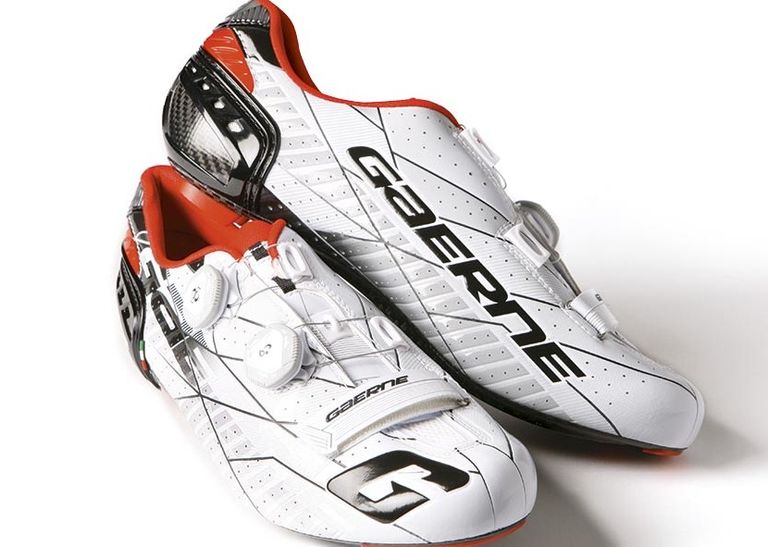 There are some fabulous cycling shoes at this price point and the Gaerne G.Stilo is more than up to punching its weight in some pretty exotic company. For racing or competitive sportive riding the Stilo will not let you down.
Against
-

Expensive

-

Not heat mouldable
Try to put the price out of your mind for a moment and feast your eyes the brand new Gaerne G.Stilo road shoes. Our mostly white example has a microfibre upper with a shiny finish and tiny drillings for ventilation.
The brash Gaerne branding in grey and black with red padded lining would not look out of place on a football boot. The Stilo is also available in green and orange versions both of which will appeal to bike riders who like to turn up the volume to 11.
Classy details impress. There's a mesh strip under the Velcro strap which should help vent the shoe in summer. The U-control heel system has vented cut-outs and you can see the carbon heel cup below it.
>>> Cycling shoes: a buyer's guide
There's virtually no join visible between the carbon sole and the upper of the Gaerne G.Stilos. Red plastic vent plates and non-slip walking lugs adorn the super slim carbon sole. The heel is replaceable too – a nice touch. All pedal systems will work with the three point fixings and there's also a Speedplay version of the carbon sole with greater range of cleat adjustment.
Pick it up, crikey it's featherweight. At about 275 gram per shoe the Stilo is very light for a shoe with twin Boa ratchet dials. Using a nylon line the new Boa IP-1 system is very simple and satisfying to use. Push the dial in and rotate it to tighten the upper around the foot. Reverse it to release the tension at the same micro-adjusting rate. To remove the shoe pull up on the dial and all tension is released.
Compared to ratchet straps or Velcro closure the Boa system is more fine tuneable and satisfying to use. It also ensures that there is less material across the top of your foot which should aid cooling and overall comfort. In use the Boa system allows for a very snug fit and the amount of micro-adjust is impressive. It would be easy to turn the dials while freewheeling along too.
>>> The best cycling overshoes
It goes without saying that the Gaerne G.Stilo is a stiff soled shoe which feels like it's transmitting all your power to the pedal. The toe box is nice and rounded but you should always try a cycling shoe to find the ideal fit before committing to buy. Traditionally Italian shoes have been narrow in the shank but that is not the case with these Gaernes.
Thank you for reading 5 articles this month* Join now for unlimited access
Enjoy your first month for just £1 / $1 / €1
*Read 5 free articles per month without a subscription
Join now for unlimited access
Try first month for just £1 / $1 / €1