Endura Women's FS260-Pro Bibshort DS review
Comfortable fabrics and chamois, plus bio-break convenience for a modest price.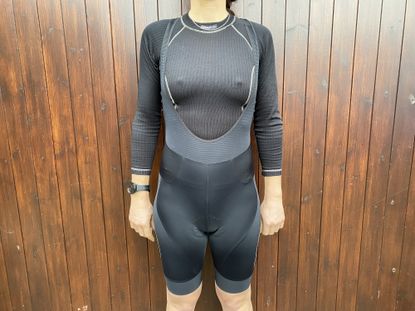 (Image credit: Emma Silversides)
Endura's Women's FS260-Pro Bib Shorts DS have a lot going for them... a supportive chamois, leg grippers that don't over-compress and an easy-pee system that is actually, yes, easy to use... all for less than £100. The soft, stretchy fabrics will suit riders who don't want high levels of compression. While the pad is great for relieving the pressure of endurance rides, not everyone will warm to the the generous width at the front of it.
Reasons to buy
+

Comfy, effective leg grippers

+

Easy-pee design

+

Soft fabrics

+

Modest price

+

Pressure relieving pad
Reasons to avoid
-

No compression

-

Not as breathable as some

-

Chamois may be too wide for some
You can trust Cycling Weekly. Our team of experts put in hard miles testing cycling tech and will always share honest, unbiased advice to help you choose. Find out more about how we test.
Reviewing shorts isn't always easy… what exactly justifies a pair costing close to £200? Performance fabrics? Quality construction? Bio-break presence and functionality? A quality chamois? What one person a prioritises will be different to the next and investment will invariably boil down to personal preferences. But is it possible to get all of these things for less than £100? I'd say Endura put up a good case with their FS260-Pro Bibshort DS, though nothing is ever perfect...
We tested these bib shorts as part of a women's bib short grouptest, alongside Velocio's Women's Ultralight Bib Short, the Cafe du Cycliste Adeline Fade Women's Bib Shorts, and Assos Women's UMA GTV Bib Shorts C2.
Construction
Endura claim that the shorts have been designed by 'in-house' roadies. The cut certainly supports this, boasting panels specifically tailored to a position on a road bike. The recycled polyester (20%) / elastane (30%) / nylon (50%) composition slides over the skin and doesn't feel in anyway restrictive.
Hem-lined bib straps are made with a light mesh fabric with plenty of give to help the bio-break design function effectively.
Image 1 of 2
The leg grippers are made out of a raw cut, deep elasticated band. Silicone micro-tabs help anchor the shorts against bare skin or warmers . Overall length is good - these are certainly not a 'short' short.
Inside, Endura have used their Women's 600 Series Pad which is ergonomically designed to mould to the female form. The Italian stretch chamois incorporates what the brand calls 'Silver Dry' antibacterial technology for enhanced hygiene. A 3D, multi-density foam construction incorporates strategically placed gel inserts designed to relieve pressure.
The FS260-Pro's feature Endura's DropSeat (DS) function. It's not so dissimilar to Velocio's FlyFree design, but with two overlapping panels which make pulling the shorts down very easier. They also ensure that less strain is being put through the fabrics and seams of the shorts themselves.
Image 1 of 2
Endura have finished off the FS260 Pro's with reflective strips at the rear. Logos on the leg add some distinctiveness to the shorts but have proven too delicate to withstand repeated wear and washing.
Three different colourways are available- Black, Kingfisher (seemingly not in the photos on Endura's site so I've included one below) and Neon Pink (with coloured trims, rather than the whole short).
Image 1 of 4
The ride
When I pulled on the FS260 shorts that I was sent to test, I had to double check the size; there was no compression to note and the fit at the rear was very generous. Indeed, it was the medium I'd requested - the size that Endura's chart had recommended for my measurements. I would soon see the benefit of the excess fabric at the rear.
The shorts are exceptionally soft against the skin. There's zero chance of pinching or tightness; the fabric flows freely with the body. They are thicker in comparison to some performance bibs, I favoured them for chilly starts and evening rides over something like Velocio's Ultralights (Endura's are 210g versus Velocio's 150g, if weight is of concern). That said, with overlapping layers at the rear, a sweaty lower back was noticeable if I turned up the tempo in milder weather. Packed out pockets made this worse.
Gel insert chamois' can feel more rigid and weighty in comparison to ones using sculpted foam. However, they have their merits, remarkably so when you're making micro-movements in the saddle; the gel responds to these movements.
The inserts protecting the sit bones in this pad are excellent. I'm not one to suffer with discomfort or achiness in this region, but these are noticeably cushioned and I'd certainly say anyone who struggles with sore sit-bones while riding will really appreciate them. The front end of the chamois gets two slightly thinner inserts to protect the soft tissue areas. I have been, for the most part, very happy with the pad for rides in-excess of 4 hours; pressure reduction is as good as with a premium short.
There is just one gripe on my part - the pad is cut too wide at the front end, consequently chaffing on the inner thigh was occasionally a problem. The finishing cut of the chamois is a little rough around the edges in places, I suspect this might not have helped. I didn't suffer on every ride and it seems to have improved with washing and wearing, but, it can't be ignored.
Image 1 of 2
The pad itself is breathable enough for steady riding. Anything intense and I began to get uncomfortably warm. The layered fabric promoting a build up of heat around my lower back was unikely to be helping matters.
However, it's exactly this layering of fabric that allows Endura's DropSeat (DS) to work as well as it does, so there are benefits to be had from it. I've tested many bio-break systems that do away with zips and clasps and rely solely on the fabrics stretching enough for you to prise the shorts down over your bum before relieving yourself and wriggling back into them. I've pulled straps to their limit at the front, heard threads snap at the rear and panicked about compromising fabrics... I can honestly say that DropSeat is the first set-up where none of this has been of concern. It stands to reason that this should be the case given my earlier comments about fit; there is excess fabric for a reason. I guess you lose compression and live with extra layers at the rear in order to enjoy genuinely quick comfort breaks that don't compromise your kit.
If you're not willing to forego the compression, maybe Endura's own FS260-Pro SL would be a better option, CW tech writer Hannah Bussey loved these when she tested them. Or, if you want to stay at the same price point, perhaps the FS260-Pro's with a zip rather than the layered fabrics.
Value and verdict
The FS260 Pro Bibshort DS definitely deserve a 'value-for-money' label; shorts costing less than £100 are increasingly hard to come by. Endura is offering quality and functionality for less than £100 here. Cafe du Cycliste's Adeline Shorts are a good comparison: minimal compression, a decent pad and a couple of colour options. They will set you back £209 / $273 and don't offer any kind of easy-pee function. Ale is known for quality, Hannah warmed to the Ibisco Shorts when she tested them, I'd say the £81.99 Chios might be better comparison though.
Breathability and compression take a back seat in the FS260-Pro's, but the pressure-relieving pad and DropSeat design go a long way to make up for this. I'd say these are a grest investement for anyone prioritising the latter.
Specifications
Sizes: XXS-XL
Colour: Black, Kingfisher, Neon Pink
Composition: Polyester (recycled) 20%, Elastane 30%, Nylon 50%
Made in: China
Thank you for reading 20 articles this month* Join now for unlimited access
Enjoy your first month for just £1 / $1 / €1
*Read 5 free articles per month without a subscription
Join now for unlimited access
Try first month for just £1 / $1 / €1