Fizik Vento Ferox Carbon review - super robust gravel bike shoes with good breathability
Velcro retention won't suit all - especially at this price point - but the Vento Ferox Carbon are super stiff, lightweight and employ a very impressively wear-resistant upper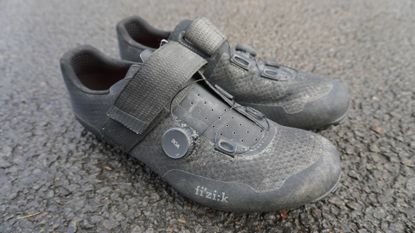 (Image credit: Future)
The Fizik Vento Ferox Carbon are wonderfully stiff off-road shoes with a lightweight upper that isn't overly hot, but still gives reasonable protection from spray and wet weather. The closure system doesn't guarantee comfort for all riders, with the velcro strap not offering the easy micro-adjustability that a two dial system does - which, considering the price, is what these shoes are up against. That said, if you're more a fit-and-forget type of rider, these are a high performance set of shoes that will serve you well.
Reasons to buy
+

Lightweight

+

Breathable

+

Very stiff
Reasons to avoid
-

Closure system not comfortable for all

-

Velcro doesn't offer the easy micro-adjustability that dials do

-

Slight heel slippage
You can trust Cycling Weekly. Our team of experts put in hard miles testing cycling tech and will always share honest, unbiased advice to help you choose. Find out more about how we test.
Described to be a technical XC trail shoe, Fizik reckons the Vento Ferox Carbons will cover you for everything from cyclocross races to all-day gravel events.
It's a bold claim to make - many of the best gravel shoes are content to be more specific in their target audience - but we've taken Fizik at its word and used the Vento Ferox Carbon shoes in (gravel) races and on big weekend rides. The build quality is high and their race credentials stack up, although that is to the detriment of their performance on longer, slower rides and the retention system won't suit all.
But that's all to come, let's jump in and dig into details.
Fizik Vento Ferox Carbon: construction
The Vento Ferox Carbons use a dual closure system, allowing the instep and forefoot to be adjusted separately in order to help you find a comfortable, secure fit. This is achieved via a micro-adjustable Li2 Boa dial down in the forefoot area, and the velcro 'Powerstrap' higher up the foot.
The upper construction is an interesting one, with a polyurethane-laminated material combined over a translucent mesh. It's been used to save weight and keep things breathable, while also being strong enough to resist the 'challenges' of off-road riding (i.e. rocks and semi-regular clashes with vegetation).
The X1 carbon outsole is rated at 10 on Fizik's stiffness index. Sure enough, it is an unyielding platform and excellent for powering up the rough stuff - although less well suited to more laid-back styles of riding.
Underneath, the sole's lugs are reasonably tall but not as numerous or as widely spaced as some other gravel shoes, limiting their suitability for particularly muddy off-the-bike situations. That said, the Vento Ferox shoes are still more aggressive than others, and there is the option to add studs to the front of the shoes. Finally, the lugs are rubber coated, which makes them much more grippy on hard, flat, slippery surfaces.
The ride
I'll start with the good points. The wide Velcro strap is excellent for distributing pressure over a larger area, and proved quite comfortable in this respect. The stiff soles, low weight, and the breathability combined with splash protection were an excellent combination for competing in the Gritfest enduro-style gravel race - and were especially good for powering up the climbs.
That said, I did find it quite difficult to get the tension exactly spot-on across the upper part of my foot, often being a little too loose or a little too tight - a problem exacerbated on longer days with big temperature changes.
A dual closure system with Boa dials is something you would expect on mid to top-tier cycling shoes (which is the price bracket of the Vento Ferox), as it allows you to quickly tailor the fit across your foot for the best balance of security and comfort everywhere. Although Velcro is quite quick to adjust, it's hard to really refine the fit and make those small micro adjustments, which you can with Boa dials.
The materials used on the upper have proved highly robust, with no snags or scars from overgrown shrubbery on tight and twisty singletrack trails. Admittedly the soles do bear the superficial marks of heavy use - at least in areas without that tacky rubber coasting. But in terms of the upper, it's remarkable how wear-resistant the Fizik Vento Ferox shoes have proven.
I appreciated the use of a Boa Li2 dial (which allows for both tightening and loosening in millimetre increments) for retention around the forefoot. However, the exact position of the dial didn't agree with the shape of my feet. When I tried to tighten the shoes up to a degree that felt secure, I found that the closure system would pinch on my forefoot.
Then, when slackening things to the point that the pinching stopped, the fit felt too loose. This isn't a problem that I usually experience with dual closure systems - and may not be one you experience with the Vento Ferox yourself - but it's an issue worth being aware of. This, combined with the very stiff soles, meant that I didn't get on well with these shoes for longer distance riding.
Value and conclusion
Priced at $299.99 / £299.99, the Fizik Vento Ferox Carbon shoes are pretty expensive. The Giro Sector gravel shoes cost $240.00 / £229.99, are similarly lightweight and highly robust, but have two Boa dials and are much easier to get a good fit with.
Overall, the Fizik Vento Ferox shoes are stiff, lightweight and robust shoes that are well suited to racing and faster paced rides - although less so for all-day epics. In practice, the Velcro strap made it hard to make small adjustments to the retention tension, which is more easily done by Boa dials - and which the majority of the competition are speccing at that price point.
But if you're not one for mid-ride adjustments, then this is a robust performance-oriented option which could work well for you - if you're willing to pay the premium.
Thank you for reading 20 articles this month* Join now for unlimited access
Enjoy your first month for just £1 / $1 / €1
*Read 5 free articles per month without a subscription
Join now for unlimited access
Try first month for just £1 / $1 / €1