Geraint Thomas' SunGod Velans review - they're great, but are they cool enough for the Tour de France winner?
The Welshman's new shades tick all the boxes, according to our in-house reviewer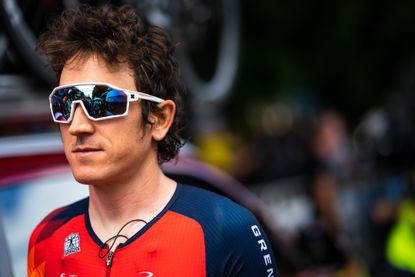 (Image credit: Getty)
The SunGod Velans are well designed, comfortable and lightweight. All the right ingredients for on-bike success, whether you're trying to win a town-sign sprint or the Giro d'Italia.
Reasons to buy
+

Full UV protection

+

Lightweight

+

Fully customisable, at no extra cost

+

Environmentally conscious
Reasons to avoid
-

Expensive at $185/£140 a pair
The new road season began with outcry. For the first time in over a decade, Geraint Thomas would not be wearing Oakley sunglasses.
The masses feared for him. "What will he wear now?" they cried. For many, the Welshman's bug-eyed Racing Jackets had become a staple of the WorldTour peloton, the last remnants of bygone cycling couture, a middle finger to the modern era.
Speaking on his podcast, Thomas seemed unfazed about ditching his iconic look. "Sad times, innit?" he said. "Things change. You've got to adapt."
The new brand chosen to adorn G's face was SunGod - a British eyewear company that started out making ski goggles in 2013. Kate Middleton wears them, the Lionesses wear them, and now, albeit due to contractual obligations, Thomas has started wearing them.
I, like the yellow jersey-winning Welshman, have always been an Oakley guy, but that's where the comparisons between us stop. So, in a desperate attempt to cling onto the one thing we had in common, I ordered in a pair of his new SunGods and put them to the test.
SunGod Velans: style
First and foremost, of course, we must briefly consider the product's main, and for many sole, function: Will they protect G's eyes from light?
Well, I can tell you that yes, they certainly will. They offer 100% UV protection and they work fine. The lenses are curved to fit flush with the shape of the face, but don't distort at the edges or fog up, at least during my testing in warm, spring weather. Importantly, too, they retain the vibrancy of the colours, meaning the leaves on the trees are as green as before, rather than being washed out by the tint.
Now, let's delve into the style.
Despite first-glimpse pictures of Thomas wearing black sunglasses, the people at SunGod reassured me that he'd be sticking with his white-framed look. The model in question is the Velans, they said, full-frame, in matte white and silver blue.
Now, even though SunGod's range is fully customisable, these details are important. For the sake of a rigorous, controlled test, it was crucial I mimic the Welshman's aesthetic. What he chose, interestingly, isn't totally dissimilar from his stockpiled Oakley Racing Jackets. They're both full-framed, but now the overall design is more contemporary - think the Mona Lisa, but rendered on an iPad.
The first thing that struck me when unboxing the Velans is the environmental attention paid by the manufacturers. There's no plastic hard case (I'm sure G has an old one he can use), and the sunglasses come in a microfibre sleeve, made from recycled bottles, that doubles up as a lens cloth. There's a lifetime guarantee, too, so if Thomas breaks them in a crash, SunGod will repair them for him.
Removing the Velans from the sleeve, you really notice their boxy, angular shape. The jagged frame construction is striking, and will flatter anyone with prominent cheekbones or a strong jawline.
Add that to the mirrored 8KO lenses, and the vibe is somewhat futuristic. I like it. And I think G pulls it off, too.
SunGod Velans: comfort
For a man who once rode an entire Tour de France with a broken pelvis (Thomas, not me), comfort may not be paramount. Still, he'll have no issues with his new shades.
The silicone arm tips fit snug behind the ear and stop the sunglasses from sliding down your nose when you're staring down at the road. The Velans also sit slightly off the face, allowing airflow in warmer temperatures, but not too much that it makes your eyes water.
In less blinding conditions, when the Ineos Grenadiers rider wants to see the road without a darkened tint, he can easily stow away his specs. The arms are angled inwards and, together with the silicone tips, they slot securely into the air vents of a helmet.
Crucially, too, they're very light, weighing in at around 30g. At one point during testing, I frantically raked my fingers down my face to check I was still wearing them.
I was.
SunGod Velans: verdict
The Velans are a solid pair of shades. They protect from the elements and fit comfortably, both when worn and stored in the helmet. But are they cool enough for G?
The answer, I believe, is yes. Now I'm no purveyor of cycling fashion, but from weeks of casual wear and testing, I am convinced that these sunglasses fit the bill for Thomas.
After all, the Welshman has a reputation to uphold. He's the man who did a mic drop on the Tour de France podium, styled out wearing a gilet in a time trial, and hosts not one but two podcasts.
He is, quite frankly, cool. And, in my opinion, his new SunGod Velans only add to that.
At $185 (£140), these sunglasses are priced similarly to their competitors, and retail cheaper than Oakley's boxy-shaped Jawbreakers ($233/£192, but available elsewhere for less). Still, they are more expensive than other options, such as dhb's Vectors ($120/£90), which features in our round up of the best cycling glasses.
Thank you for reading 10 articles this month* Join now for unlimited access
Enjoy your first month for just £1 / $1 / €1
*Read 5 free articles per month without a subscription
Join now for unlimited access
Try first month for just £1 / $1 / €1
Tom joined Cycling Weekly as a news and features writer in the summer of 2022, having previously contributed as a freelancer. He is the host of The TT Podcast, which covers both the men's and women's pelotons and has featured a number of prominent British riders.
An enthusiastic cyclist himself, Tom likes it most when the road goes uphill and actively seeks out double-figure gradients on his rides.
He's also fluent in French and Spanish and holds a master's degree in International Journalism.