Tifosi Alliant photochromatic sunglasses review
New from Tifosi, the Alliant sunglasses feature photochromatic lenses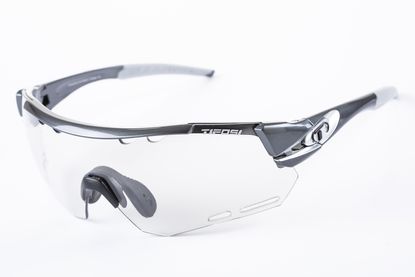 The Tifosi Alliant photochromatic sunglasses have a lens tint that works well when riding through mixed bright and shady conditions in the UK. They're comfortable and the upper rim doesn't impede head-down vision, although the bottom vents are noticeable when riding more upright.
Reasons to buy
+

Variable lens tint works well in UK light and shade

+

Comfortable design

+

Frame top does not intrude when riding head down

+

Less expensive than other brands' photochromatics

+
Reasons to avoid
-

Bottom of lens and vents are in field of vision when riding more upright
Why you can trust Cycling Weekly Our expert reviewers spend hours testing and comparing products and services so you can choose the best for you. Find out more about how we test.
With a half frame design, the Tifosi Alliant sunglasses are designed to fit a wider face and provide plenty of airflow. There are large slot vents in the bottom outside corners of the single lens as well as smaller slots under the brow.
The photochromatic lens of the Tifosi Alliant has a light transmission range claimed to run from 28 per cent to 76 per cent. That's a bit lighter than some other photochromatic options like the photochromatic Oakley Radar Path, but enough to keep your eyes shaded from bright sunlight. The lens tint is also designed to be colour neutral.
But the lens works well in low light conditions, letting you see a lot more when you ride into deep shade than a non-light sensitive lens. I found this useful when riding in the typical light and shade of a UK summer backroad or bridleway.
The Tifosi Alliant sits quite high on the face. That's good for when riding in a more head-down position, as it gives you a better view of the road ahead, without the top frame getting in the way.
But it does mean that the open lower edge of the lens can come into your line of sight when riding in a more upright position, as when you are climbing. The side vents are also then noticeable. At first I found this a little distracting, but you soon get used to it.
The nose and ear pieces are adjustable so that you can dial in the fit and with non-slip treatment they're not prone to moving around or dropping down as you ride.
>>> The best cycling sunglasses reviewed
Photochromatic lenses up the cost of sunglasses, but at £100 the Tifosi Alliant glasses are a bit less expensive than Oakley or Rudy Project photochromatics, for example.
As well as the photochromatic version that we've tested, the Alliant is also available with three different frame colours as a non-photochromatic three-lens set.
Thank you for reading 5 articles this month* Join now for unlimited access
Enjoy your first month for just £1 / $1 / €1
*Read 5 free articles per month without a subscription
Join now for unlimited access
Try first month for just £1 / $1 / €1