New Merida Silex first ride review: Was this Mohorič's World Champs winning secret weapon?
The new Merida Silex is a bike-packing gravel bike that has won the UCI Gravel World Championships, and I think I know why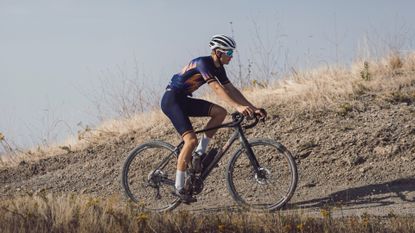 (Image credit: MERIDA)
The new Merida Silex is meant to be a do-it-all bike, and so far, my testing, along side its World Championship-winning testimonials do exactly that. The bike is poised on descents, stable on climbs, and efficient on tarmac too. If you are looking for a super comfortable ride, this might not be the bike for you - and for super muddy, or particularly gnarly riding, the tyre clearance is a bit conservative. But if you are looking for an engaging gravel bike that can do a good job at pretty much anything, the Silex is well and truly worth a look.
Reasons to buy
+

Super stiff bottom bracket and head tube

+

Poised geometry with a composed front end

+

Variety of build options to suit everyone
Reasons to avoid
-

Only 45mm tyre clearance

-

Frame isn't the most compliant
You can trust Cycling Weekly. Our team of experts put in hard miles testing cycling tech and will always share honest, unbiased advice to help you choose. Find out more about how we test.
The new Merida Silex, which launches today, has already been in the limelight in the 2023 UCI Gravel World Championships, with Matej Mohorič of Barhain Victorious storming away to a solo victory on the then unreleased bike.
We have been lucky enough to put in nearly 100km on the new 'bike packing' machine from Merida, in an attempt to both share our thoughts on the new all-road machine, as well as shed some light on why an adventure bike actually played into Mohorič's favour.
Merida Silex: Construction
Merida has stayed true to the Silex's ethos, which makes sense for a bike that has been a huge success for them since its original release back in 2018. This means a mountain bike-derived geometry, making a capable bike designed to handle everything from commuting to bike packing - quite a broad range.
To handle this brief, Merida has tweaked the Silex's geometry, which now has a 69.5 degree head angle - that sits closer to a mountain bike than a race bike.
More tyre clearance has been added, the Silex can now accommodate 45mm rubber, which Merida says makes 650b wheelsets obsolete. As I will come onto, I do think this is a little bit on the small side these days, with many competitors weighing in with 50mm tyre clearance, but its certainly still capable.
The new Silex also has a whole host of mounting points for luggage and mudguards - but you'll only be able to fit 42mm tyres if you do choose to go with a fender setup.
Merida has gone big on the brakes for the Silex. All models come stock with 180mm rotors front and rear, and we think this is no bad thing. It provides more stopping power for a minimal weight gain - not that 160mm or even 140mm rotors don't stop well enough, but for such a small weight penalty, on a bike that is designed to carry a fair amount of weight, a smart move.
For a full rundown of all the new details on the Merida Silex, check out our Merida Silex Launch Story.
Merida Silex: The ride
I was lucky enough to get three days of consecutive riding on the new Silex, where I was able to really delve deep into the bikes characteristics on tarmac, technical climbs and everything in between - and I really got along well with this bike.
I rode a size medium 7000 series offering, built up with Shimano's outgoing 11-speed GRX Di2 - This groupset build won't actually be available, and was only built due to a shortage of Shimano GRX 12-speed groupsets, but having already ridden both groupsets, it didn't hinder my judgement on the bike as a whole.
Our initial shake-down ride consisted of a 36km loop, starting with flat mixed surface sections, and then heading into the hills of Emilia Romagna, and I was pretty quickly impressed with the Silex's geometry. Merida has clearly engineered a good balance of road speed and handling, even with the slightly conservative 45mm tyre clearance, which I will come get on to more later.
Next up was a pretty tasty 4km gravel climb at 5% average gradient, which tested both me and the bike with a top section that was well over 20%. The bike once again was nice stable, which allowed me to stay seated in relative comfort even over the rougher sections.
On the topic of tyre width though, I would most certainly opt for a 50mm tyre if the bike was able to accommodate it. After riding 50mm Pirelli Cinturato tubeless tyres on the Wilier Adlar back in July, I came away with a refreshed perspective of how much forgiveness could be gained through wider rubber, with minimal consequence to rolling resistance - even on tarmac.
On the second and third days, I was able to take the bike on much more tricky terrain, both uphill and downhill. And it was the latter where I was particularly impressed.
The Merida Silex strikes an impressive balance between feeling relaxed and stable, but still quick enough handling to remain enjoyable for more technical riders. On technical descents found it easy to put the front wheel exactly where I wanted, whilst keeping my weight back thanks to the slack 69.5 degree head angle. The short enough 430mm chain stays on the other hand, allowed me to whip the rear end round quickly, making for a poised feel.
We were also treated to a beautiful tarmac descent, with sweeping right and left bends, some of them tight - and the Merida Silex showed once again where it has got its geometry from.
If you have ever descended on the road while riding a mountain bike, you will be familiar with the feeling of abundant grip, feeling like you are able to carve your way down the tarmac - the feeling on the Silex was very similar. This, above anything, was just great fun - and that is what this bike is about.
Merida Silex: Value and conclusion
Overall Merida has done a stellar job of bringing the Silex into the modern age. The geometry makes for a great fun bike, the mounting points are extensive for bike packing and commuting alike, and the bike looks the part too. For me though the tyre clearance does slightly let the bike down.
Merida markets the Silex as a true do-it-all all machine, from commuting to bike packing (and racing as soon as they found out Mohoric was still in form!), and it truly holds all these attributes, and that greatly improves its value- I just wish they gave it 5mm more tyre clearance!
So what about Matej Mohorič? Well, this is not a gravel race bike, but it is a brilliant handling bike. The 2023 UCI Gravel World Championships was a grueling technical affair, which saw even Mohorič himself come unstuck in the final few kilometers, and arguably the most decisive moments in the race were the technical sections. The Silex's capable geometry coupled with the bike handling skills of Matej Mohorič was a lethal combination - and I think this bike genuinely played a part in the Slovenian's win.
I'm certainly looking forward to spending some more time with the new Merida Silex, to give it a more thorough testing across different disciplines.
Thank you for reading 20 articles this month* Join now for unlimited access
Enjoy your first month for just £1 / $1 / €1
*Read 5 free articles per month without a subscription
Join now for unlimited access
Try first month for just £1 / $1 / €1