Garneau Héros RTR helmet review
We test the Héros RTR helmet from Canadian brand Louis Garneau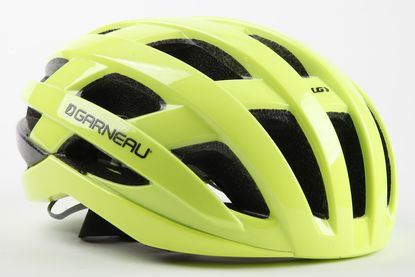 A good quality aero helmet with some nice features and a really comfortable, easy to adjust fit.
Reasons to buy
+

Deep fit

+

Easy to adjust on the fly

+

Comfortable and well padded

+

Reflectives on sides and rear

+
Canadian brand Louis Garneau makes a wide range of cycling kit including clothing and helmets, with the Héros being a newly-introduced aero design. Like many aero helmets, it's got quite a large shell with wide vents – 22 of them in its case. There's a longitudinal rib structure, with the lateral ribs being wide and shallow to present a low profile to the wind and direct airflow onto the rider's head.
The fluoro yellow shell wraps around the bottom of the helmet to help protect the polystyrene body from knocks. And at the rear and sides, the two grey ribs are reflective to add some extra night-time visibility. If you don't fancy a yellow bonce, the Héros is available in black, white or red too. There's also a MIPS version available for an extra £20, designed to give additional protection in a crash.
It's a deep helmet and I've found it a comfortable fit on my large head, although the wide brim is noticeable when riding more head-down. There's enough X-static antibacterial padding to keep things comfortable over the brow and keep some sweat out of the eyes though.
>>> Proviz launches super-reflective helmet
Garneau's adjustment system consists of an annular wheel at the back. This contains two adjusters, one for the in-out fit and one to raise or lower the retainer, so that the cradle's fit can be easily adjusted in both directions on the fly.
Watch: Helmet buyer's guide
When I first set out in the Héros I found that the side retainers were interfering with my sunglasses' side arms behind my ears. This turned out to be because I hadn't quite dialled the cradle in closely enough. Having done this, the fit felt really secure while still comfortable.
It's not the lightest helmet out there, with the size large tipping the scale at a smidgen under 300g. But the Héros makes up for this with a deep design, aero features and a really secure feel.
Thank you for reading 5 articles this month* Join now for unlimited access
Enjoy your first month for just £1 / $1 / €1
*Read 5 free articles per month without a subscription
Join now for unlimited access
Try first month for just £1 / $1 / €1