Corratec Shape Pro: First ride review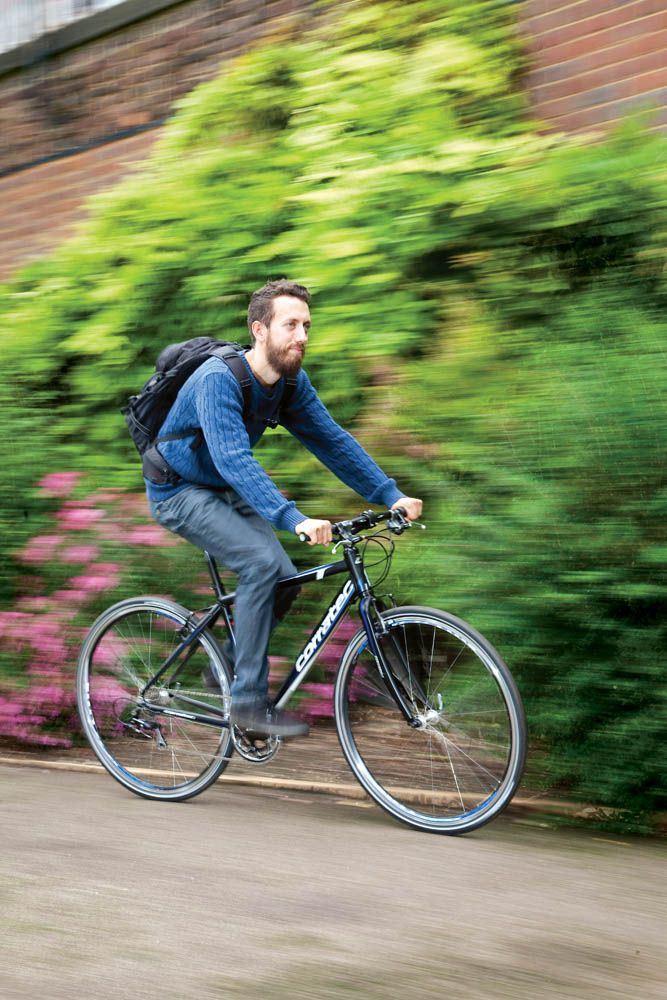 Words Chris Catchpole | Photos Dan Gould
Only relatively recently have bike manufacturers cottoned on to what must have been one of the fastest-growing markets in recent years: hybrid bicycles.
Old mountain bikes with roadie tyres used for commuting, or steel drop-shifter racers with a flat bar for comfortable riding around town. It's not hard to understand their popularity. A speedy, road-inspired machine with efficient skinny tyres, a comfortable, upright mtb style riding position carrying about half the weight of the old mountain bike sitting in your shed. A done deal, surely?
Today's lesson in hybrid manufacture is brought to you by Corratec. The German brand is distributed here in the UK by Welsh company Decade. And those Welsh aren't silly. They obviously know a thing or two about good bicycle design, because that's exactly what we have here.
Spot the difference
To look at... yes, it's a hybrid. But as you're probably learning from reading CA each month, two similar-looking machines can in fact be vastly different in both price and performance. Take a look at Matt Lamy's 'Odd Squad' review starting on page 50 of Cycling Active August 2012 issue to see what I mean. So, with that in mind, I'm inclined to look a little closer.
The flashes of colour give the Shape Pro a subtle yet sporty look. It's certainly a smart customer. It's not too flashy, which I would suggest is what you want if you have to lock your bike up outside the office all day. If you're buying a fancy road bike, you probably want it to look more expensive than it is. But with a hybrid, you might want the opposite.
You can see quite quickly where your money has been spent, investing where it counts the most, in a good selection of Shimano 105 and Tiagra components. Bars, stem and saddle are all from tongue-twisting outfit ZZYZX. They're an 'in-house' brand of Corratec's, and it has to be said, it's all good stuff. I particularly liked the saddle — neither too firm nor overly soft, it kept my underside consistently comfortable, which I appreciate.
On the move
How about the ride? If looks were anything to go by, I expected something refined but hopefully sporty. And that's pretty much what I got. You needn't be in shape to ride it, despite the name of the bike. The frame is tight, light, and with comfort to boot — thanks to Corratec's keen R&D department, no doubt. Roads seemed smooth when aboard, and when you consider that it comes with a full complement of rack bosses, it should make pleasant work of light touring too.
The tyres are Corratec-branded, but underneath they're Continental Sport Contacts. I don't know if Corratec is ashamed of them or whether they just had a warehouse full of tyre-shaped stickers and decided to go mad. They're heavy and draggy: not an ideal combination. But considering they're the only items on the bike I don't like, it'd be overly critical of me to hold them against the Corratec. I certainly didn't feel the need to change them, and even if I'd bought the bike, I probably wouldn't bother doing an instant upgrade. These tyres certainly weren't bad enough to ruin the ride, which is really very good.
I enjoyed the Shape Pro a lot. It's not a cheap hybrid at £899, but you get what you pay for. The groupset components combined with a frame this versatile and comfortable wouldn't be out of place on a road bike of a much higher price. If you've 'been there and done that' with a budget city bike, or want something to complement your weekend racer, with this bike the Germans have a worthy option for you to consider.
Specification
Corratec Shape Pro £899
Frame Ultra Light hydroform tubing, Alloy 6061
Size 44-48-52-56
Rear derailleur Shimano 105 RD-5700A
Front derailleur Shimano 105 10-speed Shifting lever Shimano Tiagra flat bar 10-speed Rapidfire
Brake Shimano M421 V Brake lever + Shimano V-Brake 432
Crankset Shimano non series FC565-L Chainset Black
Wheelset/Hubs Formula Road Black
Tyres Continental Sport Contact
Saddle Corratec 2012 Road
Stem ZZYZX
Handlebar ZZYZX 31.8/580
Price £899
Contact decade-europe.com
Alternative
Jamis Coda Elite
The Americans have approached the hybrid market from a different angle. Here, a steel frame with a carbon fork should ensure a good mix of comfort and rideability. Jamis' Coda Elite has Avid BB7 disc brakes and MTB groupset that offers a wider range of gears than the Corratec. It's a sexy-looking thing too. I toured on a Jamis steel frame last year and it was superb, so I'd have high hopes for this one. www.evanscycles.com