first ride: Cannondale Quick 3 review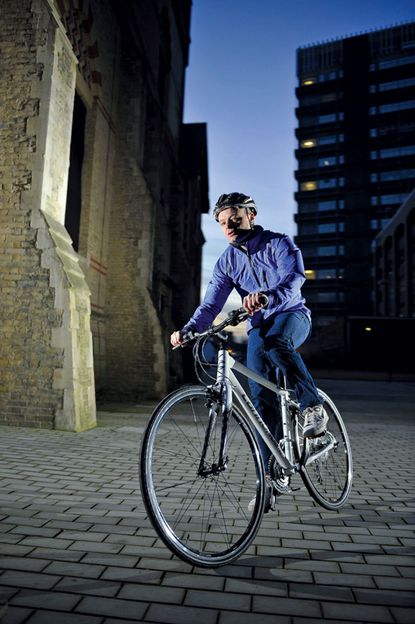 26th January 2011 Words: Matt Levett Photos: Roo Fowler
Urban commuters after an upgrade needn't worry, it's not rocket science — as Cannondale's latest hybrid proves. The Quick 3 packs more bang for your buck and delivers an exciting ride that's big on fun.
If you want to upgrade your car, you don't necessarily have to buy a performance hybrid or an all-conquering 4WD when you're looking for a bit extra. The same applies to your bike. If you're mainly a cycle commuter, an urban cyclist, or you purely enjoy the kind of leisure loop covered in the Escape pages of this magazine, looking for a bit of quality and higher specification needn't push you into buying a serious road racing machine or heavy-duty mountain bike.
Bike manufacturers, mindful of the ever-growing and diversifying cycling market, have begun to take the hybrid seriously, an approach reflected in the Cannondale Quick range. The Quick 3 seems to offer a lot for the more casual cyclist who cares about their bike. Cannondale pitches it to the cyclist 'who rides the West Coast path'. I wish — but I know what they're getting at.
Drawing-board chic
Much as I'm a fan of the old school, I also like the way that Cannondale bikes have the look of a bit of R and D about them, giving them a cutting-edge feel. The Quick 3 follows this tradition with its flat top tube, bladed forks and delicately curved rear stays.
Internal cable-routing adds an extra touch of class. It certainly looks like an evolution for the hybrid. Available in simple but striking magnesium white, the Quick 3 rolls on sporty-looking wheels (Elements Xero C3 rims and hubs) and one of the strangest seat clamps you're ever likely to see (sparking Marmitesque love-it/hate-it debate in the office). My only issue, looks-wise, is with the riser bars. I can't help feeling they're a nod to the dowdier end of the market and rail against what the rest of the bike represents. It's personal taste, but I would have preferred something a bit flatter.
So the Quick 3 is a pretty good-looking bike, but there is also some substance to this style. The frame has been conceived to benefit from the stiffness and relative lightness of aluminium while avoiding the harsher ride sometimes associated with the material. The SAVE system integrated in the rear triangle means that the seat and chain stays are designed to absorb the impact from the road, while stiffness is maintained where it's most needed, through the bottom bracket.
To the cobbles!
It certainly worked for me. The Quick 3 was a really comfortable ride, absorbing the bumps and holes in the road — I even tried it on cobbles. The bladed forks perform a similar role to the rear triangle; the more forgiving carbon dampens the ride and joins the frame on a large, confidence-building bearing, provided by the tapered head tube. There was very little of the road noise that you can often find with an aluminium bike.
The Quick 3 was capable of some speed too. There was good transfer of power, giving me plenty of reward for my efforts both in terms of acceleration and climbing.
As is often the case with more relaxed geometry, it feels a little short when standing on the pedals, but that's not really what this bike's for; it's great to just sit on your perch and push up the hills. The 12-26 9-speed cassette and triple (48/36/26) chainring should get you most places.
Around town, the Quick 3 is light and manoeuverable — it u-turns like a London taxi and sweeps at speed around tight corners with no drama at all. Continental City Contact tyres offer plenty of grip and cornering confidence. They're a fat, comfortable design, but still roll along nicely.
As ever, this is an easy area for a change or upgrade if you want to go a bit faster or take on some rougher terrain. However, the Contis do a great job as all-rounders.
Upright position
The upright riding position with flat bars is great for commuting and leisure riding; your head is up, giving comfort, control and vision. This is further enhanced by the Alivio rapid-fire levers that allow you to push or pull the top lever for upshifting, meaning you barely have to move your hands on the ergo grip to change gear. The mountain bike-specific Deore rear mech gave precise, clean shifts, and bar-mounted gear indicators let you know exactly where you are. The Tektro RX1 Mini V-brakes were also pretty impressive. There's lots of clearance, and they provided really good, sharp braking and snapped back open, instantly.
So the Quick 3 is a bike for someone looking for a decent quality ride, whether they're commuting, dashing between weekend haunts, or tackling some longer cycling challenges. You could even take on touring. It's not going to win a road race or conquer a mad off-road descent, but that's not what it's about.
What the Quick represents is a considered approach to the hybrid, particularly in terms of frame design, but also in its high quality finishing. It's not much of a hot rod, but it's a serious bike for fun rides.
ALTERNATIVE
For £100 more: Whyte Caledonian £900
For around £100 more, the British-designed Whyte Caledonian veers a little further off-road. Built similarly to the Quick from hydroformed 6061 aluminium and also featuring Alivio levers, it upgrades on the Cannondale with a Deore front mech and SLX rear. Whyte chooses to iron out the bumps with
lock-outable front suspension, and the WTB All Terrain tyres and disc brakes are further nods towards the rougher stuff. Again, there's lots of versatility and value.
This article first appeared in the February 2011 issue of Cycling Active magazine.
Thank you for reading 10 articles this month* Join now for unlimited access
Enjoy your first month for just £1 / $1 / €1
*Read 5 free articles per month without a subscription
Join now for unlimited access
Try first month for just £1 / $1 / €1