Endura FS260-Pro Adrenaline race cape II
Endura's packable waterproof is effective and good value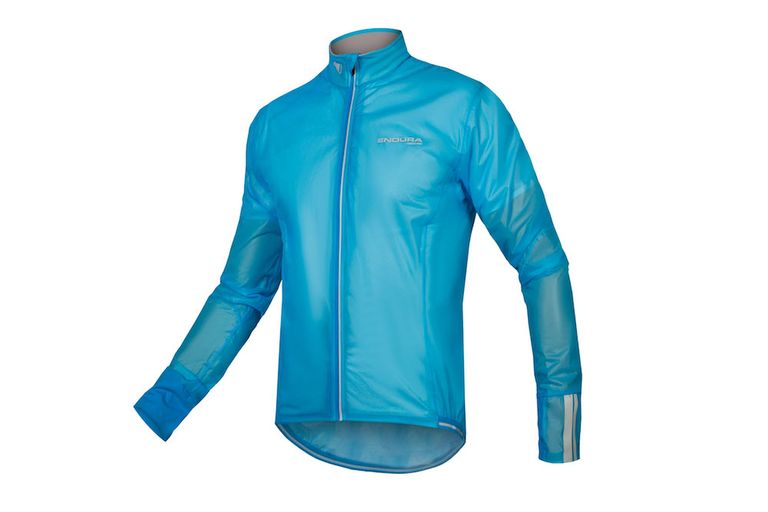 Cycling Weekly Verdict
The Endura FS260-Pro Adrenaline race cape provides good coverage and waterproofing that will keep you dry in a deluge. There are bright colour options and lots of reflectives. It's good value, but slightly less packable than some options.
For
+

Good value

+

Stretchy

+

Lots of reflectives

+

Cuffs keep out water

+
Against
-

Some windflap

-

A bulky pocketful

-
Endura supplies a separate stuff sack with the Endura FS260-Pro Adrenaline race cape. It results in a reasonably compact package, although you will end up with a rather bulging pocket with no room for extras.
Sensibly, since rain usually means poor visibility, there are lots of reflectives on the Endura FS260-Pro Adrenaline race cape. On the rear, these are at the collar and base and the elastic bottom hem includes a reflective band. There are further reflective logos on the front breast and collar, while the zip also has a reflecive covering. There are yet more reflective bands on the cuffs.
>>> Cycling in the rain: how to survive it
At 124g, the Endura FS260-Pro Adrenaline race cape is not super-light. But at £78, it's reasonably priced for a fully featured, stowable waterproof.
As a Scottish brand, Endura knows about rain and the Endura FS260-Pro Adrenaline race cape is an effective rain stopper. It's made of a stretchy waterproof fabric so that you can fit it just as effectively over winter layers or a summer jersey. It's quite sheer too, so a race number can still be seen through the fabric.
Breathability is pretty good, although as with any waterproof jacket, you're likely to get sweaty when riding hard or climbing.
Sensibly, the Endura FS260-Pro Adrenaline race cape comes in bright green and pale blue colours to help get you noticed. There's a white option too as well as black.
All the seams in the Endura FS260-Pro Adrenaline race cape are tape sealed – an essential feature to keep out proper rain. There are nice finishing features like the padded collar to help reduce trickle-down from the neck. The front zipper has a padded backing strip, again helping to stop rain ingress and draughts and add a bit of warmth.
Endura's sleeves have long cuffs with stretch fabric inserts on the underside. These help keep cold winds and rain out effectively without the complication of adjusters or the discomfort of elastic.
The cut of Endura's garments tends to be a bit more generous than some other makes'. This extends to the Endura FS260-Pro Adrenaline race cape and leads to a bit of windflap around the arms and sides. On the other hand, this does mean that you get good coverage and the dropped tail ensures that your rear end is kept a bit drier.