Assos Mille GT Spring Fall LS jersey review
Assos is renowned for quality cycling kit in the realms of the premium clothing market but the Assos Mille GT LS jersey at £120 is a step in the right for affordability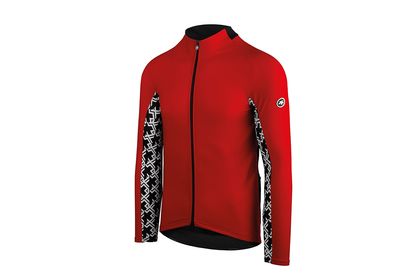 Another great garment from Assos that performs brilliantly. Its construction and fabrics are top draw but it is a little let down by the fit across the chest.
Reasons to buy
+

Comfortable

+

Breathability

+

Warmth
Reasons to avoid
-

Style

-

Fit across the chest
It's sad to say it but soon we'll be heading into chiller climbs, where getting in an early morning spin will require something slightly thicker with long sleeves to keep you warm.
However, it isn't time to pack up cycling, you just need to adjust your wardrobe a little to continue enjoying your rides - remember there is no such thing as bad weather just bad clothing choices!
>>> Autumn cycling training: eight things to do now for a successful 2019
To help us through this colder phase long sleeve jerseys, like the Assos Mille GT Spring Fall LS jersey, offer up better protection from the elements but should allow you to continue once the sun comes up and the temperature rises with it.
The Assos Mille GT Spring Fall LS jersey, as the name suggests, falls into the Mille styile cut that the brand offers. This means unlike the traditional race cut - which up until a few years ago was Assos' only option - you get something more relaxed, a regular fit for us regular cyclists.
The fit is good and thanks to the RX fabric the Assos Mille GT jersey feels comfortable against the skin. This meant I could wear a short sleeve jersey under this long sleeved one without irritation. Annoyingly though, the fit isn't perfect and I found - as well as others in the office - that the Assos Mille GT was tight across the chest and allowed for a fold of fabric across the chest when in the riding position.
Else where the fit was spot on around the shoulders, waist and arms the jersey felt great.
In terms of style this jersey wont be for everyone. I like the pattern running down in inside of the arms but the block red colour didn't hide the outline of my stomach and didn't feel totally comfort in the look. However, a black version is available.
Technically the jersey works very, very well. Recently the weather hasn't allowed for truly chilly spins, although some early starts and evening rides meant this was the ideal choice for me. The jersey excels between eight to 15 degrees and even around 19 degrees the Assos Mille GT jersey coped.
Breathability is helped by the full back coverage of the Type.157 Stripe Tex fabric that allows for heat expulsion. It is UPF35 protected too.
All this for £120 is very reasonable, especially as the quality is one of the best you can buy on the market.
Thank you for reading 10 articles this month* Join now for unlimited access
Enjoy your first month for just £1 / $1 / €1
*Read 5 free articles per month without a subscription
Join now for unlimited access
Try first month for just £1 / $1 / €1
Symon Lewis joined Cycling Weekly as an Editorial Assistant in 2010, he went on to become a Tech Writer in 2014 before being promoted to Tech Editor in 2015 before taking on a role managing Video and Tech in 2019. Lewis discovered cycling via Herne Hill Velodrome, where he was renowned for his prolific performances, and spent two years as a coach at the South London velodrome.