Best spring cycling clothing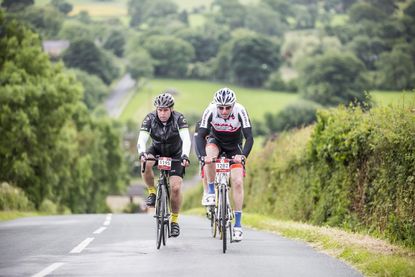 Most cyclists know that springand autumn are the hardest seasons to dress for.
In summer, perfection is all about finding a jersey and shorts that combine breathability with comfort and aerodynamics in the appropriate doses. In winter it's all about jackets and bib tights that balance breathability and warmth. In spring and autumn getting cycling kit right is all about layering.
Rides that begin with temperatures in single figures are often still underway when the mercury has risen by10ºC, and despite seemingly cloudless skies, a spring shower is never far away and rarely predictable.
So what kit should you have at your disposal to make sure that you can cope with such changeable conditions? Here are some recommendations...
With each product is a 'Buy Now' or 'Best Deal' link. If you click on this then we may receive a small amount of money from the retailer when you purchase the item. This doesn't affect the amount you pay.
Bib shorts for spring cycling
You can trust Cycling Weekly. Our team of experts put in hard miles testing cycling tech and will always share honest, unbiased advice to help you choose. Find out more about how we test.
Comfort is your biggest priority. This is the time of year whenyou're going to begin racking up the miles, so make sure you do a bit of shopping around to find a pair of cycling shorts with a comfortable pad.
You could go with any pair of basic bib shorts (men's bib shorts here, women's bib shorts here), paired with knee warmers (more on those below) if there's a chill in the air.
If you're happy to splash out and buy a dedicated pair of shorts for the shoulder seasons,then 3/4 length bib knickers are an option, or you can check out the extensive range of thermal bib shorts which will provide added insulation...
Our thermal bib short recommendation:
Sportful Fiandre Light NoRain bib shorts
The Fiandre range is inspired by the spring classics of Flanders - and these use NoRain thermal fabric to repel the worst of the water thanks to Nanotechnology. The inside features brushed fleece and seams are kept to a minimum. The leg grippers use a raw-cut edge with silicone dot dripper and there are some reflective details. These scored a perfect 10/10 when we reviewed them.
Read more: Sportful Fiandre No Rain bib shorts review
Buy now: Sportful Fiandre No Rain bib shorts at Pro Bike Kit for £90
Le Col Cycling Aqua Zero Thermal bibshorts
If conditions are wet or particularly chilly, then thermal bib shorts are a nice option to have, adding just a little extra insulation. Le Col's version features a soft fleece lining, and a treatment that means they repel water to keep the very worst off should you encounter spring showers.
Read more:Le Col Cycling Aqua Zero Thermal bibshorts reviewed
Buy now:Le Col Cycling Aqua Zero Thermal bibshorts at Le Col for £150
Castelli Omloop Womens Thermal Bibshort
Castelli's Omloop thermal shorts finish just above the knee, and combined with the Thermoflex fabric this creates a snug ride with ample breathability as well as warmth. The hem is raw-cut and anatomically shaped to fit the knee, and the Progetto X2 Air women's seat pad provides comfort in the saddle - these are said to suit temperatures from12° - 18°C.
Buy now: Castelli Omloop women's thermal bibshort at ProBikeKit for £74.99or at Tredz for £92 (sizes limited)
Base layers for spring cycling
With temperatures differing greatly from morning to noon, you'll want a quality base layer that will ward off the chill early on, but wick sweat when the sun begins to shine. Quick drying materials are essential, especially with the chance of a short shower rarely off the cards.
Lightweight mesh base layers should be reserved for the summer months - in spring and autumn you'll likely be fine pairing your summer jersey with the same short sleeved base layer you'd wear through winter.
>>> Buyer's guide to summer cycling jerseys
Our recommendation:
MAAP Seamless Base Layer Tee
A tight fitting but super stretchy base layer, the MAAP seamless tee sucks up sweat and is quick drying, helping to regulate your body temperature as conditions change.
Read more: MAAP Seamless Base Layer Tee review
Buy now: MAAP Seamlesss Base Layer at MAAP for £52.48
Jerseys for spring and autumn cycling
Most riders will find that they're fine wearing a summer weight, short sleeved cycling jersey throughout the shoulder seasons. If speed is your priority, then you might want to get an aero jersey, but for the rest of us, there's no need to break the bank.
As you'll see below, you should be wearing extra layers over the top if it's cold or rainy, so you don't need a super-breathable or super-warm jersey, just something that fits well and has enough pocket space to carry all your essentials. However, if you have the means to invest further, there are some windproof and water repellant jerseys that might save you packing your pockets with extra garments.
Our recommendation:
Sportful BodyFit Pro Race Jersey
If aerodynamics are important, then this BodyFit jersey from Sportful could be right up your street. A stretch mesh is used at the shoulders, and there are no seams to chafe or get in the way. The garment weighs just 108g, so when summer arrives it'll be light and airy too.
Read more:Sportful BodyFit Pro Race jersey review
Buy now:Sportful BodyFit Pro jerseys at ProBikeKit from £75or Women's Sportful BodyFit Pro Jersey at ProBikeKit for £90
Gore C5 Windstopper Jersey
Gore's C5 Windstopper is specifically designed for windy days when you just want to keep the edge off without overheating. We granted it a mighty 9/10 in our review, praising the temperature regulation, dropped tail which protects from spray and long sleeves which are just right at this time of year.
Read more:Gore C5 Windstopper jersey reviewed
Buy now:Gore C5 Windstopper Jersey and Gore C5 Windstopper Women's Zip off Jersey at Wiggle from £139.99
Waterproof jackets for spring and autumn cycling
Unfortunately spring isn't all sunshine and daffodils, and there are inevitably going to be weekends where, if you want to ride, you're going to find yourself toiling away in the rain.
For days where it's wet and cold and the rain is set in for the duration, then a wet weather jacket such as the Castelli Gabba can be a good option. However, when it comes to tackling short spring showers, you really want a lightweight jacket you can roll into your pocket and produce only when it's required.
>>> Buyer's guide to waterproof cycling jackets (video)
As the temperature is hopefully in double figures and the rain usuallynot torrential, you can go for a lighter waterproof jacket that can offer breathability, and is easy to take off and stuff down small enough that you can fit it into a jersey pocket when the rain starts to subside. And if your jersey pockets are full, then you can always stuff it up the back of your jersey instead.
Our recommendation:
Sportful Hotpack NoRain jacket
With excellent waterproofing qualities and adequate breathability, the Hotpack from Sportful is a comfortable option with some nice details - such as thumb loops and a zip garage.
Being lightweight, it's easy to stow away in your pocket and competes will at a competitiveprice point.
Read more: Sportful Hotpack NoRain jacket review here
Buy now: Sportful Hotpack 6 jacket at ProBikeKit for £60, Sportful Hotpack NoRain for £130 or Sportful Hotpack NoRain women's jacket for £98.49
Gore ONE 1985 Gore-Tex Shakedry jacket
A top end option, this 98g jacket is incredibly easy to pack away, and provides the level of waterproofing you'd expect from a hardshell with the breathability of a light race cape.
Read more: GORE ONE 1985 Gore-Tex Shakedry jacket review here
Buy now: Gore ONE 1985 Gore-Tex Shakedry jacket now from Wiggle from £230
Gilets for spring and autumn cycling
For drier days where the forecast tells you that it's safe to leave the waterproof at home, then a gilet is a sensible option. A gilet is perfect for those big days, where you're leaving before the sun has had a chance to warm the earth - but you know it'll be dazzling by lunch time.
>>> Buyer's guide to cycling gilets
Your main priorities when looking for a gilet for spring and autumn riding is finding one with a windproof front to keep the chill off your torso early in the ride, and, as with the waterproofs, that will pack down small enough to be dispensed with and stuffed into your back pocket when the sun comes out to play.
As an added bonus, this type of gilet is great if you're planning a riding trip to the mountains. Yes, you might like to think that you can leave all your spring and autumn kit at home when jetting off to the Alps in July, but a gilet such as this is a must if you want to properly enjoy the long descents, which can be rather chilly even at the height of summer.
Our recommendation:
Rapha Pro Team Insulated gilet
An cosy layer that packs up nice and small so it won't get in the way if you warm up. There's three pockets too, which is a bonus. This gilet adds plenty of warmth, thanks to new materials such as Polatec's Alpha insulation which has the same properties as down (eg it's very warm) and we really liked the fit.
Read more: Rapha Pro Team Insulated Gilet review
Buy now: Rapha Pro Team Insulated Gilet at Rapha for £140
Sportful Giara thermal vest
Another 9/10 item, the Giara thermal vest really impressed us thanks to its highly insulating and comfortable Soft Protec Stretch fabric and Thermore insulation on the front and shoulders. Extra breathability at the back helps regulate temperature, too, though there's no pockets or waterproofing.
Read more:Sportful Giara thermal vest review
Buy now:Sportful Giara thermal vest at ProBikeKit for £68.99
Arm warmers
Perhapsthe most under-rated pieces of kit in any cyclists wardrobe. Although they're going to see the most use in spring and autumn, you're still going to be pulling them out now and again through summer and winter. And yet, they seem to be a piece of kit that many manufacturers struggle to get right, with many riders unable to find arm warmers that are tight enough around the bicep so as not to fall down, while still being long enough to go all the way to the wrist.
>>> Buyer's guide to arm warmers
This means that if you do find a pair that fit you perfectly, then it might be worth getting a couple of pairs, as you're probably going to be wearing them on most days in spring and autumn. Beside the sizing, make sure you find a pair that offer some light thermal and windproof protection, and there are also some slightly pricier offerings with water-resistant coatings for drizzly days.
Our recommendation:
GripGrab light arm warmers
We loved these arm warmers because when rolled up, they take up about half the amount of space as a standard pair. They offer a good temperature range, plenty of breathability, and we found they stayed put without slipping down.
Read more: GripGrab light arm warmers review
Buy now: GripGrab light arm warmers at Wiggle for £24
Knee warmers
Once April arrives, many riders will shed their leg warmers and expose bare legs to the world. However, if this disrobing feels too sudden for you, then filling in the gap until summer with knee warmers might be preferable.
>>> Buyer's guide to knee warmers and leg warmers
Like leg warmers, you want a pair with good silicon grippers around the top to stop them from falling down, and also a pair with a decent fit so you don't end up with material bunching around the knee. As for the construction, you should look for a pair with thermal and windproof protection, and, like arm warmers above, there are also knee warmers that have a water-resistant coating applied.
Our recommendation:
Castelli Nanoflex Plus kneewarmers
Though not the cheapest knee warmer available, the Nano Flex tubes from Castelli offer insulation and protection from the rain. Silicone grippers hold them in place, and the newest 'Plus' version sees the removal of the previous rear seam, resulting in improved comfort.
Read more:Castelli Nanoflex Plus Kneewarmers reviewed
Buy now:Castelli Nanoflex Plus Kneewarmers at Evans Cycles for £40
Overshoes
While in winter you need a pair of overshoes that will keep your feet warm, this is less of a priority in spring. Instead, you need to look for some overshoes that will keep your feet dry (or at least dryish) in light or moderate rain, and will also keep your shoes clean when riding on wet roads.
>>> Buyer's guide to cycling overshoes (video)
For this task, yourovershoes should be thin so as not to make you feet get too hot, have a waterproof outer, and fit snugly around your ;eg so water doesn't run down you calves and into your shoes.
Our recommendation:
Endura Road II overshoes
Made using a waterproof neoprene fabric, these overshoes feature reinforced sections at the toe and heel, making them much more resilient than other options on the market. We found them to be incredibly warm and were impressed at their ability to keep the rain out.
Read more:Endura Road II overshoes reviewed
Buy now:Endura Road II overshoes from Tweeks Cycles for £18.46
Gloves
Again, like knee warmers, gloves aren't an essential part of your spring cycling wardrobe, and it's really up to you if you want to wear them, or think that you're Belgian enough to make do without.
>>> Buyer's guide to Summer cycling gloves
If you do feel the need for gloves, then you should invest in some with full fingers, but without much in the way of insulation so as to make sure that your hands don't overheat. Recently woollen gloves have begun to come back into fashion, although make sure you get some with some grippers on the palms so that you can maintain grip on the bars even in the wet.
Our recommendation:
DeFeet E-Touch Dura Gloves
If you're not quite ready for summer mitts (or to forgo the gloves all together!) then these E-Touch Dura gloves from DeFeet are a good option. Made from a mixture of polyester, nylon and lycra, they're a mid weight construction that will suit early spring and autumn days.
Designed to be touch-screen friendly, they'll please mid-ride happy snappers and those navigating their way via a smart phone.
Read more:DeFeet E-Touch Dura Gloves review
Buy now:DeFeet E-Touch Dura Glove at Wiggle from £14.99
Cotton Cap
If it's raining, then it can be a good idea to slip a cotton cap on underneath your helmet. This isn't really there to keep your head warm, but is mainly useful for its peak, which you should flip down to stop the rain from falling directly into your eyes.
Cycling caps are fairly simple constructions, but they've long been vessels for sharing brand loyalties, encouraging (or otherwise!) slogans and other leanings. When it comes to choosing the best cap, it's largely down to choosing one that mostrepresents your personality on the bike.
Sunglasses
Surprisingly, sunglasses are a great addition to your riding kit whatever the weather. Most pairs now come with interchangeable lenses, which mean that you can wear normal lenses when it's sunny, yellow lenses to brighten things up when it's a bit gloomy, and clear lenses when riding after dark.
>>>Buyer's guide to cycling glasses
They're also useful when riding in wet weather. Combine them with a cotton cap and they should do a perfect job of keeping the rain out of your eyes, and if you're riding fast enough then water shouldn't collect on the lenses either.
Thank you for reading 20 articles this month* Join now for unlimited access
Enjoy your first month for just £1 / $1 / €1
*Read 5 free articles per month without a subscription
Join now for unlimited access
Try first month for just £1 / $1 / €1