Better than Castelli Gabba? Wet weather racing jackets on test
Castelli grasped the waterproof jersey market by the throat with its original Gabba. Is the updated version, the Gabba 2, still a class apart from the competition?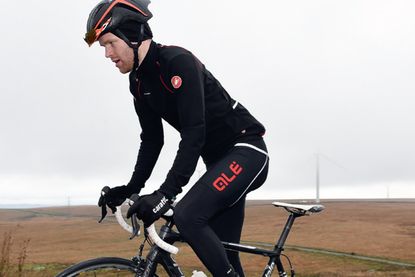 During the 2013 edition of Milan-San Remo, the weather was horrendous. Many of the pro peloton could be seen wearing a black jersey to fend off the foul conditions. That jersey was the original Castelli Gabba.
If a pro rider is willing to be fined for wearing a piece of kit not supplied by a sponsor and which is in breach of UCI regulations, we can infer that it must be seriously good. Other manufacturers have rushed to develop products to compete with the Gabba and match its performance in awful weather. In response, Castelli has launched an updated version, the Gabba 2.
Here, CW tests a wide range of potential alternatives to see whether any of them have succeeded in surpassing Castelli's benchmark.
Why you can trust Cycling Weekly Our expert reviewers spend hours testing and comparing products and services so you can choose the best for you. Find out more about how we test.
Castelli Gabba 2 jacket
£180
Vermarc Aqua Zero
£101.99
B'Twin Aerofit 900 jacket
£49.99
Oxygen WS long sleeved jacket
£139.99
Sportful Fiandre Light WS Jacket
£165
Santini Reef Rain Jersey
£139.99
Capo Lombardia DWR long-sleeved jacket
£159.99
Rapha Pro Team Softshell jacket
£200
Verdict
We did this test in the hope of finding a superior and cheaper alternative to the Gabba, but Castelli has raised the bar with the Castelli Gabba 2. The Rapha Softshell is considerably less breathable than Castelli's benchmark jacket, while the Santini and Capo didn't fit quite as well. The Gore Oxygen and Sportful Fiandre were lacking in the tail.
Top tips for riding in wet weather
As for value, the B'Twin Aerofit was by far the cheapest jacket on test, yet performed very well — if you are on a budget, we would strongly recommend it.
>>> The best cycling overshoes
Water-resistance was good across the board, but all these jackets eventually succumbed when worn in prolonged rain. The next challenge for manufacturers is to match the fit and breathability of the Gabba while improving on its waterproofing.
Thank you for reading 10 articles this month* Join now for unlimited access
Enjoy your first month for just £1 / $1 / €1
*Read 5 free articles per month without a subscription
Join now for unlimited access
Try first month for just £1 / $1 / €1