Santini Coral 2.0 long sleeved jersey review
Can the slim-fitting thermal Santini Coral 2.0 long sleeved jersey deliver on function as well as form?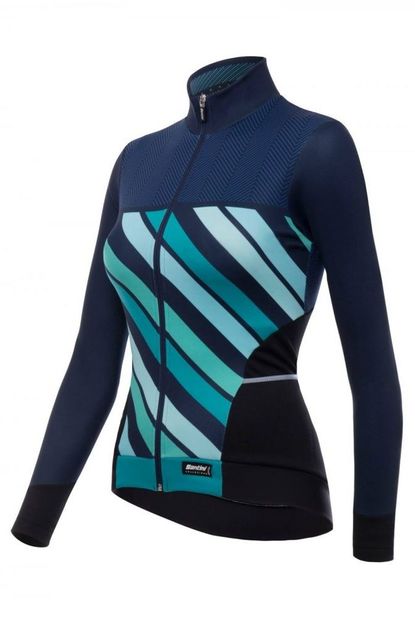 The slim-cut women's-specific Santini Coral 2.0 long sleeved jersey provides a perfect balance between keeping you warm on rides while preventing overheating thanks to its impressive breathability. Offering a couple of extra design features over other similarly priced jerseys, the Coral would make a great cycling wardrobe addition.
Reasons to buy
+

Slim fitting.

+

Ideal for autumn/spring temperatures

+

Five practical-sized rear pockets

+

Reflective detailing

+

Bold and practical colour ways
When the weather hovers around the low teens, it can be hard working out exactly what to wear: if jerseys and arm warmers no longer cut it, it doesn't yet feel quite right for a jacket, then something like the Santini Coral 2.0 long sleeved jersey could be what's missing.
Head over to our pages on the best long sleeved cycling jerseys (opens in new tab)for autumn or the best winter cycling jackets (opens in new tab) if you are unsure what level of protection you need to be investing in right now.
Construction
Created specifically for this transitional weather, the Coral 2.0 is constructed from thermofleece Lite Pro, a fabric that has been designed to provide insulation and optimal breathability and which, according to Santini, ensures the perfect balance of temperature regulation.
The slim-fitting jersey as been also been equipped to deal with the fickle nature of our ever-changing British climate, with enough rear pockets for a stowaway gilet or rain jacket, as well as reflective detailing at the rear for low-light visibility.
Ride
Pulling the Santini Coral 2.0 long sleeved jersey on, the fit was almost race like, without being constricting. The arms fitted, with jersey and glove meeting perfectly. Santini says that the wrist cuffs of the jersey have been specifically engineered to ensure they stay put without twisting and riding up, and I have to admit they did seem to do as they were told throughout testing.
The jersey upper also fitted perfectly. If there was any criticism it would be that, measuring just 54cm at the front and 70cm at the rear, the length of the torso is pretty short, closer to a lightweight summer jersey such as the Sportful Bodyfit Pro W Evo than say a winter jacket such as the Castelli Alpha Ros Jacket.
This short torso can leave your midriff and lower back out in the cold if you're riding at the lower end of the temperature range, but it does make getting a rain jacket or gilet over the top easy.
Talking of rain jackets and gilets, I was really impressed with the volume of space in which to stow them in the Santini Coral 2.0 long sleeved jersey. In total there are five pockets to choose from – the usual rear three, plus one extra either side. I loved the order and extra space this brought to my pocket contents and it made reaching for items really easy, especially when on the move.
The reflective strip is also located across the top of the pockets, which although looks like an insignificant addition, is rather effective as it spans the whole of the rider's back.
Having set out with the temperature in the low teens and not only finding myself riding in the warming autumnal sunlight but also racing a 10-mile time trial in it, I've given the thermal-regulating qualities a good test. Even when the heavens opened, causing me to don the neatly stowed rain jacket, I was really impressed to find myself constantly at optimal temperature – no mean feat considering the range my own body temperature would have been fluctuating around.
Value
I really liked the well-thought-out Santini Coral 2.0 long sleeved jersey. The fit and practical elements make the jersey really wearable, and while some of the brighter colours may not figure in everyone's preferred palette, between the three choices there should be enough choice.
At nearly £80 the jersey is really well placed to compete against similar long-sleeved options on the market, but with the extra pockets and close cut fit, it will certainly be one of my favourites.
Thank you for reading 5 articles this month* Join now for unlimited access
Enjoy your first month for just £1 / $1 / €1
*Read 5 free articles per month without a subscription
Join now for unlimited access
Try first month for just £1 / $1 / €1