Minimalist, modular, made-to-order — Adventure Wagon's modular van interior system reviewed
We took an Adventure Wagon converted Sprinter Van out to California to test its activity-oriented, changeable interior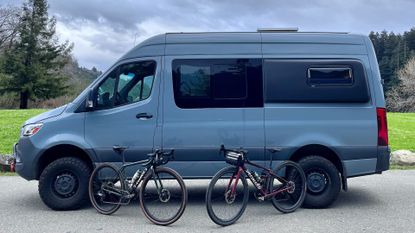 (Image credit: Anne-Marije Rook)
The Adventure Wagon conversion offers a premium, purpose-built interior system with the flexibility to change its layout depending on your activity of choice or the people traveling with you. It's this adaptability that intrigues. It's got what you need, however you need it with nothing more, nothing less.
Reasons to buy
+

Modular system allows you to change the layout of your van

+

Easy to use

+

Robust and durable

+

US-made

+
Reasons to avoid
-

These systems don't come cheap

-

Minimalist aesthetic isn't for everyone

-

For the weekend warriors more than the #vanlifers
You can trust Cycling Weekly. Our team of experts put in hard miles testing cycling tech and will always share honest, unbiased advice to help you choose. Find out more about how we test.
If you've visited a trailhead lately or spent any time on social media at all, you're likely aware of the lifestyle trend called "Van life." Even now that life has mostly returned to normal post-COVID pandemic, thousands, no millions, of people continue to opt for a nomadic lifestyle in the comfort of a converted van.
It's so popular that Yahoo Finance estimates that in 2022, around 3.1 million Americans were living the "Van life" — up from 1.9 million American van lifers in 2020. Even more, are the numbers of people who may not live the van life but have added a tricked-out van to their household for weekend adventures and vacations away from home.
These converted vans come in various shapes and sizes — popular are the Mercedes Sprinter, Ford Transit, Winnebago, Ram Promaster and Toyota Sienna — and are commonly equipped with a sleeping area, kitchenette, storage space and some kind of solar or portable power system. The interior build-outs of these converted camper vans range from purely functional to downright luxurious, complete with beautiful wood panels, state-of-the-art electronics, a bathroom and a queen-size bed for traveling or living in (relative) comfort.
These conversions can be quite complex, time-consuming and, not to mention, expensive. One could easily spend dozens of hours watching 'home' tours of stunning conversion and DIY how-to videos on YouTube. Luckily, with the rise in demand for van conversions came the supply of van conversion companies. Among them is Adventure Wagon, an Oregon-based company specializing in interior systems for vans. It will either do the conversion for you or sell you a DIY conversion kit.
What sets Adventure Wagon apart from the other conversion companies is that the systems are modular. With a simple socket wrench, you can change the layout of your van. You can go from having a tall bed with a tray of bikes underneath to bunk beds with a ski rack in mere minutes. The whole system is on L-Track rails, allowing you to attach, remove and relocate just about anything in the van.
"Life isn't static; it changes with every adventure. This isn't an apartment on wheels. It's a rig for your favorite activities – one that can change with the seasons and your interests," the brand's website states. "From one day to the next, year after year, the Adventure Wagon system allows you to adapt to whatever your journey requires."
Adventure Wagon allowed me to live that enviable #vanlife for a quick trip to California to test its modular interior for a cyclist's needs.
What is it?
Adventure Wagon makes modular van conversion systems for the activity-minded consumer. Rather than turning a van into an apartment on wheels, Adventure Wagon creates utilitarian interior systems that help you get outside.
Available as both a DIY kit with detailed video instructions or a package complete with factory installation, Adventure Wagon's interior system consists of:
A-Frame: The whole system is built around an A-Frame of steel bracers. Sturdy enough to hang a hammock from the ceiling and load all your gear on the rails, the A-Frame is the foundation of the van conversion.
Electrical System: The system includes a wiring harness with pre-measured leads that's ready to plug and play. Adventure Wagon uses Blue Sea Systems' corrosion-resistant USB and 12V outlets, and German-engineered LumiCoin LiLu Dual red/white dimmable LED lights.
Logistical Track, or L-Track: The star of this modular system, L-Track rails are bolted directly to the A-Frame and allow you to attach just about anything to the track, including bed rails, overhead storage and gear carrying options.
Climate control: The conversion kit comes with pre-cut and labeled 3M Thinsulate insulation, along with Reflectix low E insulation on the back of every panel. Against the metal of the van, Hushmat sound dampening is applied for a smooth and quiet ride. Also included is a MaxxAir Deluxe fan for ventilation. And Espar heaters are available as an add-on.
Finish options: ABS molded plastic topped with upholstery, finished bamboo panels or black hexa-ply laminate — the look and feel of your finished interior is up to you!
Beds, storage kitchenette, and more: Adventure Wagon offers a collection of products designed around the L-Track system to suit the needs of your adventure. Products include its popular MOAB (Mother Of All Beds) elevator bed and Monk bunk bed, overhead storage lockers, battery integration systems, gear pull-out trays, cargo control options, and more.
Cost: The Modular Interior Systems start at $16,000 —installation excluded— and quickly go up from there. The conversion I reviewed here, with all its bells and whistles, would cost upwards of $45,000.
Factory visit
Founded in 2016, Adventure Wagon HQ is located on the outskirts of Portland, Oregon. Here, the L-Tracks, the insulation, the paneling, bed frames and wire harnesses are all made in-house. Better yet, Adventure Wagon sources most of its materials from Oregon as well.
Everything is pre-measured, cut and fabricated for the conversion kits, which are model-specific for the Mercedes Sprinter 144 and 170, Ford Transit High Roof Long and High Roof Long Extended. Adventure Wagon is also partnering with Winnebago for a special collaboration.
Kurt Schreiner, Marketing Director at Adventure Wagon, tells Cycling Weekly that the lead time on custom conversion kits is just two to three weeks and in-house factory installations, which happen right here in the warehouse, once started, take five days. In addition to its conversion kit, Adventure Wagon will cut and install windows and flares, add seats and install exterior roof racks.
For customers outside of Oregon, Adventure Wagon has a network of certified installers throughout the country as well as detailed instructions and videos for those wanting to install its products themselves.
Setting up the van for my bike trip
I picked up a fully converted Mercedes Sprinter 144 van straight from the Adventure Wagon HQ, leaving my personal truck behind for collateral.
As I was going on a bike trip with my partner, the van was outfitted with a MOAB Traverse elevator bed with two pull-out gear trays underneath to hold our four bikes.
Once we got to loading the van, I realized the bed didn't quite clear the height of the bikes and needed to be higher up on the L-Track. And so, I got to put the system's modularity to test straight away.
To relocate the bed, you first have to remove the mattress and bed panels. These panels have a compressible, interlocking system, allowing you to compress and lift the panels out of the van with relative ease. You simply unlock the safety mechanism, compress the panel using the handholds and lift the panel away from the rail, and set it aside. The bed rails are screwed into the L-Tracks with two 14mm nuts. Once the nuts are loosened, the rails can be relocated anywhere along the tracks. Put the panels and mattress back in place, et voila. It really was that easy.
The MOAB traverse bed we tested frees up interior space by having you sleep sideways. Adventure Wagon also offers the original MOAB elevator bed, which allows you to sleep lengthwise, and a Monk Bed, which is a one-person bed that folds up and out of the way when not in use.
With the bed elevated, we were able to fit two mountain bikes and two gravel bikes underneath in the fork-mount equipped gear trays. We did have to puzzle a bit with the location of the fork mounts and the packing order of the bikes but we got there in the end.
We secured the front wheels with the exchangeable L-Track D-rings and straps; additional gear and accessories were hung from the Molle door panels or from the L-Track hooks directly.
Transporting the bikes on a rack on the exterior of the van would, of course, free up some 'living space' but the inside storage gave me great ease of mind as I didn't have to worry about getting the bikes stolen off the van whilst sleeping, activity-ing or stopping for a bite to eat.
The rest of our cargo —clothing, books and games, and food— went into the overhead storage, two sets of Mule Bags, which offer 175 liters of cargo space per bag, which is the equivalent of two large duffel bags.
Traveling with the van
We took the van down to California for some gravel biking around the redwoods, and exploring the mountain biking birthplace of Marin County.
In addition to safely storing and transporting our gear, the van offered a comfortable, short-time experience. The Moab Traverse mattress was plenty firm and, nestled in our two-person sleeping bag, we slept soundly. The conversion kit also offered solar-powered electricity, a Espar S2 D2L diesel van heater that kept us cozy at night and a kitchenette complete with a portable stove, a Dometic electric cooler, running clean water, a grey water tank and utensil storage. In short, anything you could need (except for maybe a bathroom).
The L-Tracks and its hooks and straps, the electronics and the heater were all very intuitive. And I also really appreciated the LumiCoin LiLu Dual LED lights. These dimmable lights are mounted flush with the ceiling and offer both white and red lights. The red, I was told, is meant to light your way at night without attracting the bugs into the van.
All in all, the space was clean, open and simple. Despite its minimalist nature, there was ample storage. The Mule Bags especially held a surprising amount of stuff — just make sure to close the soft cubbies as the contents will move a bit during transport.
The aesthetic and layout of the Adventure Wagon build-out is purely utilitarian. There may not be any inviting couches, tables or warm wooden cabinets. But it does offer all the conveniences needed for a mobile basecamp. This is not the kind of build-out you spend a lot of time in. This is the conversion kit for those who are on the go. Those who will spend most of the daylight hours outside, riding bikes, skiing, hiking and generally enjoying the great outdoors.
And that's exactly what we did. We used the van as a basecamp for our outings — a simple space for sleep, quick meals and gear changes. And, just because it was a vacation, we may have lingered a little in bed with a book and some coffee. For that purpose, the Adventure Wagon conversion offered us everything we needed.
Conclusion
The Adventure Wagon conversion offers a premium, purpose-built interior system with the flexibility to change its layout depending on your activity of choice or people traveling with you. It's this adaptability that intrigues. Afterall, most of us can't or won't be living the "van life". More often than not, a van is purchased for utility. Thanks to the L-Track system and Adventure Wagon's clever products, the van can transform from work vehicle to campervan in minutes. You can go adventure solo one weekend and bring the whole family the next. It's got what you need and nothing more, nothing less.
Nothing in the van life world is particularly budget-friendly, and a full Adventure Wagon conversion is no exception. But the beauty of a modular system is that you can add as you go. Meaning, you can start with the base kit and build it out as finances allow.
If you're looking to convert your van but keep its utilitarian nature, the Adventure Wagon conversion kits are certainly worth consideration.
Thank you for reading 20 articles this month* Join now for unlimited access
Enjoy your first month for just £1 / $1 / €1
*Read 5 free articles per month without a subscription
Join now for unlimited access
Try first month for just £1 / $1 / €1