Oladance open ear headphones review - puts the mini speakers to the test
Stereo sound in a small package, but with a big price tag and a white noise pay-off for sensitive ears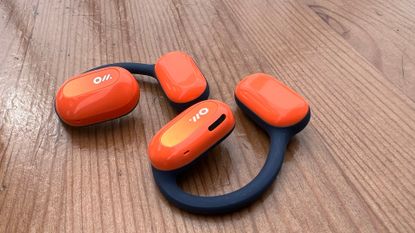 (Image credit: Hannah Bussey)
The Oladance open ear headphones promised stereo sound in a headphone package and they aren't far off the mark. The comfortable, lightweight and secure fit provided a barely there feel, with the open ear design providing a decent depth of music - although unfortunately this quality degrades significantly once on the move. Sensitive ears will pick up on the white noise, which was only rectified with big bass tunes. In all, they're beautifully packaged and presented, and if you prioritise battery life or fit more than high quality sound, they will serve you well. But there's no denying they are a considered investment.
Reasons to buy
+

An alternative to bone conducting or in-ear headphones

+

Big sound without the bleed

+

Secure yet comfortable fit, even with glasses and helmet

+

Decent battery life between charges

+

Four colour options

+

High end look to the finish
Reasons to avoid
-

Sound quality when on the move

-

Incredibly low volume on calls compared to playback platforms

-

Callers struggle to hear past wind buffering / background ambiance

-

White noise detectible on quieter music for some listeners
You can trust Cycling Weekly. Our team of experts put in hard miles testing cycling tech and will always share honest, unbiased advice to help you choose. Find out more about how we test.
Get The Leadout Newsletter
The latest race content, interviews, features, reviews and expert buying guides, direct to your inbox!
Thank you for signing up to The Pick. You will receive a verification email shortly.
There was a problem. Please refresh the page and try again.
One of my biggest tech fails was killing a pair of wired headphones while testing turbos.
The in-ear bud had popped out while I was thrashing around trying to see my max power numbers, hung on its cable at an exact height that caused it to be chewed up and spat out by a spinning rear wheel.
The sad experience has never left me, and is probably why I'm always chasing the next set of best headphones for cycling, to see if I can ever let go of my overly cautious approach to wearing headphones - which is mostly to always ride with a headphone securing headband, and why I was keen to try the secure looking over ear headphones from Oladance.
Oladance open ear headphones - construction
Unlike most other open ear headphones, the first stand out feature for the Oladance headphones is that they are not bone conducting, like the Shokz Openrun or the Haylou PurFree headphones.
They are what Oladance refers to as 'wearable stereos'. In effect, the are mini-bluetooth speakers which sit on top of your ear.
The brand themselves say that the founders and core team of Oladance all hail from BOSE, meaning that although the brand is relatively new, they have over a decade of experience in the audio industry
The horse shoe design contains two 30mm oblongs which are connected by a flexible silicone coated band and wrap around your ear. Weighing 13g a piece (26g a pair) this is almost double that of my Apple Airpod Pros, and exactly the same as the Shokz OpenRun headphones.
Oldance say that its multi-point support system has been constructed to reduce any one pressure point and fit the natural shape of the users ear in order to avoid soreness or falling off.
At one end of the headphone sits the 160mAh capacity battery, which claims to last up to 16hours between charges. Again, to put this in some perspective the Haylou PurFree, and Shokz Openrun headphones average out at about 10hours of playback, while the Apple Airpods Pro are around the 4:30hour mark from a single charge and Adidas FWD-02 Sport headphones are up to 6hours of claimed playback time.
At the other end of the headphone, closest to your ear canal, sits the 16.5mm Dynamic Driver and rest of the headphone tech, including Bluetooth 5.2 .
Without dedicating the entire contents of this review to headphone drivers and how they work, it's worth pointing out that 99% of mainstream headphones will use a dynamic driver to, quite literally, drive the air that creates pressure waves which turn in to sound in your ears.
I'm no sound engineer, but having invested in several sets of headphones over the years, I've come to understand that, crudely put, the bigger the driver, in general, the better (deeper) the sound will be. That is to say the most laymen headphone wearers will appreciate a better bass sound quality.
However, this does need to be balanced with size and driver location. Obviously in-ear headphone drivers are going to be significantly smaller than on-ear headphones.
So while in-ear headphone dynamic drivers measure around the 8-15mm, over-ear headphone drivers measure around 20-50mm. This puts the Oladance pair in a bit of a league of their own. Ideally it would be best to have a comparison against sort of headphone peers we've mentioned above, but alas, information on driver size isn't forthcoming.
Despite the overall small package, the Oladance headphones also shoe horn in a mic to allow for hand free phone calls, voice notifications, Siri (or equivalent) voice commands and tap to control volume, call answering, play back etc.
Coming in their own charging and protective case, the headphones take between 1:30hr and 2:00hr to charge. It's worth noting that the case doesn't offer wireless charging, so unlike the likes of the Apple Airpods, you can't give them a swift re-juice in your pocket.
The final area of note in the construction is that the Oladance headphones come with a water resistance ranking of IPX4 . This is good enough for water splashes, such as sweat, but not a good dunking. which is the same as the Apple AirPods Pro, but lower than the Haylou PurFree and Shokz (both IP67).
Oladance open ear headphones - Set up
Unboxing the Oladance headphones is a treat. Without wanting to appear a packaging snob, I was able to appreciate the brand's efforts to create a luxury experience from the off, especially as there was absolutly minimal plastic in sight. In the box, as well as the headphones and case, are the USB charging cable and spare silicone tips.
I love the fact that there are four colours to choose from and the high gloss finish is ideal for preventing sweat and mucky finger prints making the headphones look old before their time.
Syncing the headphones with my iphone via Bluetooth was a doddle, and within 30 seconds of opening the box I had the headphones on my ears in the office playing music.
This is in part because there is no on or off switch, like many wireless headphones, so as soon as the headphones are out of their case they are 'on', unless you use the manual toggle in the Oladance app.
As an eclectic music listener, headphones always get a good mix of genres, with classical, folk and jazz often my go too morning music, it's the BBC Classical mixtape for anyone interested.
It's worth interjecting here that I made sure I wasn't the only pair of ears to don the Oladance open ear headphones. In balancing this review, I enlisted the help of my cycling other half, who listens to a lot spoken word podcasts, to also try the headphones too.
So, consequently, the Oladance headphones' first sound test, in the home office at least, was always going to be pretty varied.
As soon as the headphones are lifted from their perch in the case, the automatic 'on' switches on the in-built 'noise cancelling' white noise. I personally find any white noise unpleasant listening, so was delighted when I was told by the brand that I could go in to the Oladance app and change the setting from an default 60min of constant white noise to just 15 seconds before switching off.
Much to my amazement, the otherhalf was blissfully unaware to the white noise existence! Something that almost impenetrable to me wasn't even on his radar. Clearly something that sensitive ears are more susceptible too.
As well as unboxing and pairing the headphones, the armchair set up allowed me to play the same music back to back via the Oladance headphones, Apple Airpod Pros and the Haylou PurFree. I also discovered that the sound bleed while someone else was using the headphones was very minimal.
It became swiftly apparent the white noise immediately returns upon play back of softer sound. In comparison, Apple AirPod Pros gave me total sound immersion, with the Haylou PurFree a decent second place.
I even played about with Oladance Wearable Stereo app headphone equalizer, which did deliver a slightly richer sound, close to the quality of my home speakers, with more depth than the bone conducing Haylou pair, but didn't irradiate the background hiss entirely.
However, cycling through my musical collection, I've found that drum and bass will kill off everything sounding to me like it's an aged analogue recording.
Again, the otherhalf found this noise imperceptible and was impressed with the quality of playback for such small headphones.
Oladance open ear headphones - The ride
Its a convenient outcome, as I still find D&B my most go too sound preference when out riding.
Now clearly riding outside with sound is a divisive subject, but the big perk of open ear headphones is that you still maintain all your faculties, with ambient sounds still audible.
So heading out with the Oladance open ear headphones is straightforward enough, and although there's a bit of what comes first question in terms of getting dressed. I found headphones, hat, helmet, sunglasses the best running order, and it all works pretty well together.
Unfortunately, it's here I stumbled across a sound issue that all users suffered.
The headphones seem to have a kind of wind tunnel effect, so that even when riding up hill, the wind rushing pass my ears is really noticeable, and downhill the funnelling wind just totally blocks out any sound from the headphones.
It's even worse when trying to communicate on a phone call on the move. Answering is an easy one headphone finger tap, and making a call requires three taps and a voice command. But what isn't straightforward is having the actual call.
While I appreciate that Oladance have no control over the recording volume of music, the disparity between a playback platform, such as Spotify, Apple Music or podcasts and a phone call is massive. Coupled with the noise of the wind for both ends of the line, and it makes phone calls almost impossible.
Looking past the on-the-move sound issues and there is a lot of the Oladance headphones to be positive about.
As the brand promises, they feel lightweight and comfortable, even with glasses on. They certainly felt secure too and I wasn't having to constantly check that they were held firmly on my ear, not that they felt overly compressing fit wise.
Should disaster strike and one were to become dislodged while riding, I'm confident you should be able to recover, as although there is no 'last know location feature', as there is with Apple, the bright colourways will make it stand out.
It's also important to highlight Oladance battery life when compared to peers. I'm still to find the full extent, as I have a habit of topping batteries up. At around three hours of solid listening at a mid range volume and couple of calls, according to the app there was still 90% charge in each headphone.
Another four or five hours of on off listening did empty the Oladance open ear headphone completely. It may not be close to the claimed 16hours, but nine hours is longer than most wireless headphones, making these a great option for longer rides or adventures.
Oladance open ear headphones - Value and conclusion
The Oladance open ear headphones have a lot of promise. They are comfortable, the play back sound is decent when not riding outside, and the battery life is really impressive.
There is mixed feedback when it comes to the the underling white noise, although the secure fit design has helped me overcome my fear of headphones spontaneous popping off my ear and in to a spinning wheel.
But I do feel that comes with the compromises of the wind noise using outside, and the different levels of sound between playback and calls.
It's important to appreciate that I'm applying my own headphone expectation filters to the Oladance. For me a pair of headphones fundamentally have one job, and it's the sound quality that is my non-negotiable.
However, I do get for other headphone users battery life span between charges will be more important.
For the $199.98/ £199.99 price tag I can say that the Oladance open ear headphones aren't for me. Comparing side by side to the premium $249.99/ £249.99 Apple AirPods Pro (2nd gen) and the lower prices the Haylou PurFree, currently listed at $119.99/ £99.99, you'll have to really value headphone battery life.
Thank you for reading 20 articles this month* Join now for unlimited access
Enjoy your first month for just £1 / $1 / €1
*Read 5 free articles per month without a subscription
Join now for unlimited access
Try first month for just £1 / $1 / €1
Get The Leadout Newsletter
The latest race content, interviews, features, reviews and expert buying guides, direct to your inbox!
Hannah is Cycling Weekly's longest-serving tech writer, having started with the magazine back in 2011. She has covered all things technical for both print and digital over multiple seasons representing CW at spring Classics, and Grand Tours and all races in between.
Hannah was a successful road and track racer herself, competing in UCI races all over Europe as well as in China, Pakistan and New Zealand.
For fun, she's ridden LEJOG unaided, a lap of Majorca in a day, won a 24-hour mountain bike race and tackled famous mountain passes in the French Alps, Pyrenees, Dolomites and Himalayas.
She lives just outside the Peak District National Park near Manchester UK with her partner, daughter and a small but beautifully formed bike collection.