Exustar E-PR2 pedals review
Normally known for their great value entry level pedals, can the higher end Exustar E-PR2 pedals give the established brands a run for their money?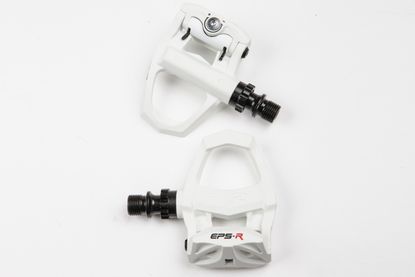 The Exustar E-PR2 pedals are a good alternative to the bigger, more popular pedal brands normally chosen. The lack of a black colour option will certainly put some people off them and it is noticeable how quickly the white body starts to look tatty. However, functionality and reliability is certainly not lacking.
Reasons to buy
+

Good bearing quality

+

Look compatible cleats

+

Adjustable tension

+
Reasons to avoid
-

White body scratches easily

-

Heavier than some options

-
Exustar may be a new name to a lot of readers but the company has been steadily building a reputation for providing excellent value clipless pedals. The catchily titled Exustar E-PR2 pedals combine a wide, durable thermoplastic body with a Look Keo compatible cleat.
Upon opening you are given the option of a 'normal', 6° float cleat plus a set of fixed position cleats. Straight from the box the Exustar E-PR2 pedals have lovely smooth bearings with not a hint of play or roughness.
>>> Buyer's guide to the best clipless pedals
When fitted to the bike they sit proudly nose upwards, giving a large target for the front of the cleat to hit when riding away from the lights. Spring tension is adjustable with a 3mm Allen key and even on its lowest setting, provided your cleats are in good condition, unclipping accidentally whilst riding is almost impossible.
Watch: how to fit your cleats
The Exustar E-PR2 pedals have a chunky, wide body but for some reason didn't feel as stable as some of the other systems when applying power, almost as if the interface between cleat and pedal was not completely flat. I'm also a little concerned by the longevity of the body material as it lacks a metal shield as typically found on pedals with a thermoplastic construction. Wear could already be noticed after only a few hours of use. The good news is the pedal can be rebuilt easily, so excess wear of the body might not necessitate throwing them away
>>> How to fit and remove clipless bike pedals (video)
The other big sticking point for a lot of riders is they are only available in white. The Exustar E-PR2 pedals started to look rather worn even after the first couple of rides; a black option would be preferable.
As said at the start, Exustar provides both fixed and floating cleats which is a nice touch, although the fact that the majority of riders will never touch the fixed cleats means providing two sets of floating cleats would be a better option. Cleat wear is on par with the proprietary Look KEO version, for most riders this could be up to a year at least (providing you limit the walking!) and the cleats have a grippier compound on the face to reduce the likelihood of slipping over when walking.
For more details visit Exustar.
Thank you for reading 10 articles this month* Join now for unlimited access
Enjoy your first month for just £1 / $1 / €1
*Read 5 free articles per month without a subscription
Join now for unlimited access
Try first month for just £1 / $1 / €1
James Bracey's career has seen him move from geography teacher, to MBR writer, to Cycling Weekly's senior tech writer and video presenter. He possesses an in-depth knowledge of bicycle mechanics, as well as bike fit and coaching qualifications. Bracey enjoys all manner of cycling, from road to gravel and mountain biking.