B'Twin Triban 500SE road bike review
A sceptical James Shrubsall throws a leg over B'Twin's new cheap-as-chips Triban 500SE expecting a less than rewarding ride. Surely great bikes cost more than this?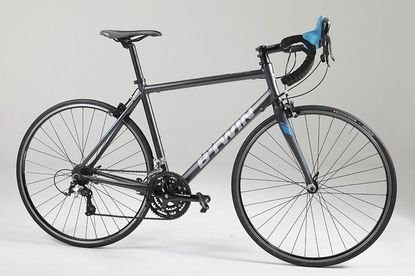 Budget barnstormer. The real revelation is that you can indeed buy a proper, grown up road bike for less than £400. Challenge rides, sportives, fast hacks in the lanes, they're all within the grasp of the Triban 500SE. If winning national title races or riding the Tour de France is more your bag though, you'll need to go further up the range. As a bit of a postscript, after more experience with the 500SE, I tried making use of its mudguard eyes and failed — the clearances with its 25c tyres were simply too small. Frustrating, although it would no doubt take clip-on 'Raceblade' type guards. On the other side of the coin I took the bike out on a 70-mile run in the lanes, and only on the steep hills was I ever reminded that I was riding a bike that costs less than £400.
Reasons to buy
+

Well priced

+

Plenty good enough for sportives and training
You can trust Cycling Weekly. Our team of experts put in hard miles testing cycling tech and will always share honest, unbiased advice to help you choose. Find out more about how we test.
Buy now: B'Twin Triban 500 SE from Decathlon for £249
A couple of years back, fellow scribe Matt Lamy got hold of an earlier iteration of B'Twin's Triban that cost £300 retail.
He loved it. So much in fact that he gave away his own carbon-fibre, Shimano Ultegra-equipped road bike and kept the French bike instead. (He might prefer me not to mention it, but he gave his posh bike away to Cyclists Fighting Cancer).
At the time, notwithstanding the very worthy cause involved, I was left scratching my head in dismay and disbelief at the fact that he'd ditched a premium road bike in favour of a supermarket special.
Fast forward to earlier today, when I rode one of B'Twin's latest Tribans, the £369.99 500 SE. It was a genuine revelation. Eating my words has never been such an enjoyable experience.
Digging out the 'supermarket special' tag for B'Twin is perhaps a little unfair.
It is a Decathlon brand, and Decathlon may be a multinational sports hypermarket, but nevertheless it has pedigree; its bikes have won national title races and have even been ridden in the Tour de France, so you know you're buying into something well thought out.
All the same, once you've become used to riding bikes costing a grand upwards, it's easy to become conditioned to the idea that a decent bike simply can't be had for such a low price. Indeed, I've spent the past 10 years insisting that to buy a road bike that is rewarding to ride, £500 is the absolute minimum. It's a reasonable maxim, but the Triban 500SE B'Twin has more than rewritten the rulebook, it's put it through a shredder and set it on fire.
What to look for in a budget road bike
>>> The best cheap road bikes: a buyer's guide
Before all this raving leads you to believe the B'Twin Triban 500 SE is all the bike you'll ever need, well, sadly for your wallet, it really isn't. It's a basic, heavy machine that, once you look past the tidy overall appearance, quickly betrays its budget provenance.
The first giveaway is the crude triple chainset, which runs on an outmoded square-taper bottom bracket and its 'Ounce' branding is more easily read as 'Dunce'. The brake calipers are basic in-house items, while the gear shifters and mechs are eight-speed Microshift, a lesser-spotted Taiwanese component firm catering for the budget end of the spectrum.
It was actually heartening to see this minnow make an appearance against the might of Shimano, and the chunky heft of the eight-speed chain was nothing if not reassuring. The bright blue shifter hoods look great too, and really complement the overall look.
Wheel-wise, despite the wear indicator on the rims, they are clearly budget items, though the Hutchinson Equinox tyres set the bike off nicely.
Overall, and especially at 10 paces, it's a good-looking bike, but it's the ride which is the real eye-opener. The gears are good. The brakes aren't bad, but above all, the ride is brilliant.
A combination of frame geometry, sensible 25c tyres and cockpit layout yielded a beautifully balanced ride. It steers neither too fast or too slow, and even with its average brakes, it inspired enough confidence to really motor down some of Surrey's bumpiest, twistiest descents.
Downhill, or zinging along on the flat, it was easy to forget I wasn't riding my best road bike, and it was only when the road pointed upwards that I was reminded not to get too carried away. Its 10.6kg is very reasonable for the price, but find another grand, (and £1,300 is still not a particularly expensive road bike) spend it on a B'Twin FC 7 and you'll lose nearly half a stone, an amount which will absolutely transform your bike and how fast you can go on it.
Buy now: B'Twin Triban 500 SE from Decathlon for £200
And this is why the B'Twin isn't a giant killer. It'll take on and beat many bikes twice or even three times the price, but ultimately, those are still lower-priced bikes.
Thank you for reading 20 articles this month* Join now for unlimited access
Enjoy your first month for just £1 / $1 / €1
*Read 5 free articles per month without a subscription
Join now for unlimited access
Try first month for just £1 / $1 / €1