Dolan Rebus Ultegra review
Dolan has plenty of history and has had plenty of stars riding its bikes – is the aero Dolan Rebus the sum of all its knowledge?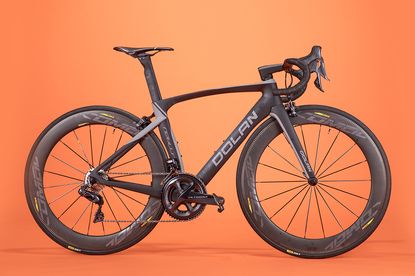 The Dolan Rebus has some nice attributes and is very comfortable for an aero bike. It also feels fast out on the road, although it struggles at lower speeds to feel nippy (below 17mph) possibly due to the wheels on this build and it really hits hard on broken roads.
Reasons to buy
+

Comfortable

+

Looks

+

Ride
Reasons to avoid
-

Flex

-

Hard hitting potholes

-

Uncomfortable handlebars
You can trust Cycling Weekly. Our team of experts put in hard miles testing cycling tech and will always share honest, unbiased advice to help you choose. Find out more about how we test.
Dolan has over 30 years of experience building and crafting bikes and has placed them under some of the best riders track riders in the world; the likes of Bradley Wiggins and Chris Boardman spring to mind. But does the Dolan Rebus live up to the Dolan standards?
>>> Best aero bikes 2018: aero tested and rated
Over the years British bike manufacturer has followed the industry trends with a much smaller budget than the big brands, but still produced some outstanding machines, both in terms of value for money and performance.
The draw now is that now you can build up a frame to match your specific needs – within the realms of the products on offer. This means you can play around with your budget and focus on the areas that are important to you and your riding.
It also means that you can order exactly the right size stem and your preferred saddle and handlebar too, a nice touch that makes buying bikes a little more tailored and avoids having to update parts immediately after purchasing.
The new Dolan Rebus is a full carbon aero road bike made from Torayca T1000 carbon, similar material used to make the Pinarello F10. The Japanese-made material is known for its high tensile strength, high stiffness-to-weight ratio and quality production process.
Take a look around the frame and you'll see some familiar aero features. Dropped rear stays help aero efficiency and compliance while the main tubes hug the front and rear wheels to create stable airflow over the frame. There's a tapered headtube, common aero styling on the forks and of course full internal cable routing.
The Rebus does have one or two restrictions that should be noted down, the first being that you can only fit 25c tyres or smaller in the frame. (On that point, the frame only takes classic dual-pivot calipers and not the direct-mount style that gives clearance for up to 30c tyres.)
On close inspection I reckon a 28c tyre would fit in the rear; the front is a little more restrictive.
The frame will take either mechanical or electric gearing: our test bike came with a Shimano Ultegra R8050 Di2 groupset.
Elsewhere we had a Deda Alanera integrated handlebar and stem, Mavic Comete Pro Carbon SL wheels and Mavic Yksion Pro Griplink front and Powerlink rear tyres and Selle Italia Flite saddle.
Dolan Rebus ride
It was a bit of a mixed bag for the Dolan Rebus. I tried to push its aero boundaries a little with a good mix of terrain and types of rides, taking it into the hills of Surrey as well as flatter rides out to Windsor from west London.
Riding it, I found it excelled at speeds between 17-22mph – flat, fast rides are what this bike is all about. This will be down to a mixture of frame and wheels making it feel that way – those very deep Mavic Comete Pro Carbon SLs come alive once the speed gets above 15mph.
What helped the feeling at those speeds was the bike's ability to dampen road buzz – the frameset is surprisingly comfortable in this sense. Usually on those roads I can feel many of the small lumps and bumps, but not so much on the Dolan Rebus, and that is despite the relatively narrow Mavic tyres, measuring their intended 25c size.
What the Rebus didn't handle so well was bigger impacts coming courtesy of a few potholes and broken roads. It feels like it crashes through the bigger hits no matter what action I took to soften the blows. The handlebars mixed with deep rims meant hard impacts rattled me and the bike.
Heading to some of the tougher climbs around Surrey; likes of Leith Hill and Staple Lane you notice the 7.4kg weight for a size small and that compounds the sluggish feeling at lower speeds. Of course, the wheels' massive 64mm depth won't help this situation and even another pair of Mavics – like a shallower pair of the Cosmic Pros will be a better option for the hillier days and ultimately lower in price too.
Some of the niggly points I have about the Rebus thankfully can be changed via Dolan's bike-building function on its website. First I'd swap the Deda Alanera handlebars for something more conventional. Integrated handlebars and stems offer a great aesthetic and look very clean when the cables are hidden. However, you need to ensure you get the right size and you can forget about tilt adjustment as you don't have that option with these. If they don't give you quite the position you're used to it can really impact on the ride characteristic.
The cockpit is also pretty flexy under load, fairly typical of integrated bars which allow you to generate greater leverage. Plus the hard edges on top I found to be very uncomfortable. A nicer shaped bar, rounded or flat, would be better here. Dolan offers some other aero and non-aero options, so I'd advise looking closely at those.
This bike has definite potential. but is missing the mark in some areas. Dolan always offers good value for money, but this bike still costs over £4,500, so expectations are high. You do, however, get some very expensive components in the wheels and handlebars – just make sure you get the rights ones for you.
The main chink in the Dolan Rebus's armour is flex, both in the wheels and frame. Out-of-the saddle efforts created brake rub more often than not and I even unwound the brakes to help stop this. I even noticed a bit of wheel rub at the front. This will have helped that silky smooth ride but has ultimately hindered outright performance in my eyes.
What you get with the Dolan Rebus built up like this is a fast aero bike that's great on the flat and will keep you comfortable most of the day. But this build did shake you hard if you hit bigger holes in the road and it wasn't the most direct of bikes as it lacks pure stiffness in certain areas. If your ride needs are more general, a few tweaks from Dolan's online bike-building app will get you a more suitable all-round bike based on this frame.
Thank you for reading 20 articles this month* Join now for unlimited access
Enjoy your first month for just £1 / $1 / €1
*Read 5 free articles per month without a subscription
Join now for unlimited access
Try first month for just £1 / $1 / €1