Bradley Wiggins launches new clothing brand with Le Col
Wiggins delves into the tricky world of cycling fashion as he launches Le Col by Wiggins clothing brand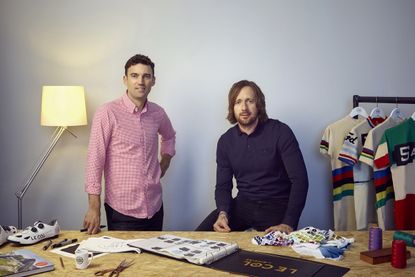 Known as one of the most stylish cyclists in the peloton during his racing career, it should be no surprise that Bradley Wiggins had plenty to say on cycling fashion as he launched the new "Le Col by Wiggins" clothing brand.
In conversation with long-time friend and Le Col founder Yanto Barker, Wiggins discussed his style icons such as Patrick Sercu, Andrea Tafi, and Miguel Indurain, his opinions on black socks, and whether white shorts have any place in cycling.
Speaking about the link-up, Wiggins said he wanted to work with Le Col to develop "a range that caters for committed club cyclists, social riders, through to supporting and inspiring juniors with seriously great performance kit".
The collaboration will also see Le Col become the technical kit supplier to Team Wiggins in 2018, thus ending the current association with Rapha.
Barker said that Wiggins had been interested in helping to design a range of clothing as early as 2011, but said that the then-future Tour de France winner had other things to concentrate on at the time.
"When I started Le Col I would often speak to Brad in the peloton about performance, style and design, so in a sense he was involved in Le Col from the very start. Even at that stage Brad was interested in designing his own range but obviously had other priorities," Barker said.
"I'm delighted that he's now joining us to create 'Le Col by Wiggins' where we'll combine our shared relentless focus on performance and detail, allied to Bradley's unique style and iconic status as Britain's greatest ever cyclist, which will result in the most technical and stylish cycling product on the market."
The "Le Col by Wiggins" range will launch later in 2018, with further information to be released in due course.
Thank you for reading 10 articles this month* Join now for unlimited access
Enjoy your first month for just £1 / $1 / €1
*Read 5 free articles per month without a subscription
Join now for unlimited access
Try first month for just £1 / $1 / €1