Focus Izalco Pro 1.0 road bike review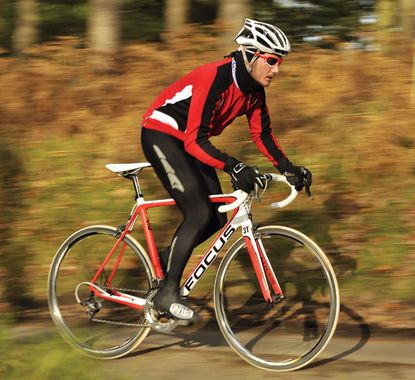 You can trust Cycling Weekly. Our team of experts put in hard miles testing cycling tech and will always share honest, unbiased advice to help you choose. Find out more about how we test.
Get The Leadout Newsletter
The latest race content, interviews, features, reviews and expert buying guides, direct to your inbox!
Thank you for signing up to The Pick. You will receive a verification email shortly.
There was a problem. Please refresh the page and try again.
28th January 2011 Words Neil Webb Photos Rupert Fowler
Sometimes cycling isn't about the journey — it's about the win. Focus's Izalco Pro 1.0 premium player is clearly built to compete.
To the uninformed, most drop barred bikes look the same; in fact when we were kids, all such bikes were simply 'racers'. Thankfully, as our sport has progressed and technology has developed, companies are able to design and manufacture dedicated bikes for specific needs.
Racing, be it at club level or at the highest of the high — such as the Tour de France — has the same basic requirements from a bike. It needs to be stiff so all the effort put into pedalling is transferred into forward motion, and it needs to be light: no matter how fit you are, climbing hurts.
On top of these basics, the kit hanging from the frame needs to be suitable for racing at competitive speeds. Light wheels accelerate quickly; tyres are supple therefore roll fast; bars and stem should be stiff and light to provide something safe to hold on to and allow for accurate cornering and the gears need to be light, reliable and the correct ratios (more on that later).
Lightweight skeleton
As with any bike, the heart of the machine is the frame and forks. The high modulus carbon frame of the Izalco 1.0 is the same as was used by Milram's ProTour level racers only two years ago. While difficult to differentiate from cheaper models on the outside, this high modulus carbon-fibre is lighter and stiffer than that used on lower priced machines. Mated with clever shaping and carbon lay-up, this makes for an incredibly solid platform from which to lay down the power.
Rather than use a standard bottom bracket assembly, Focus has designed the frame to utilise the BB30 concept. This allows the use of specific chainsets with larger diameter, shorter axles, increasing stiffness and reducing weight — see a theme developing? This BB shell also allows for a wider diameter seat tube and down tube too.
Another similar development is the use of a tapered steerer tube for the fork. The larger lower bearing of the headset not only gives the larger down tube something to attach to, it also means torsional rigidity in the fork can be increased without adding weight. All these things combine to make a frame and fork that are not only light but incredibly accurate on technically challenging roads and rewards effort with a surge of forward drive.
You may associate all this stiffness with an uncomfortable ride, but the seatstays have been engineered to allow some movement vertically. Flattened along their horizontal plane, these slender struts transfer precious little of the road vibration to the rider, making for a level of comfort belying the rapid acceleration.
All the gears
Earlier we mentioned needing kit capable of performing at the levels racers need. Many bikes these days come equipped with gears designed to allow the less fit to climb up some improbable inclines. This compact gearing is a godsend outside the competitive sphere, but when the speed goes up, the racer is almost limited to a single usable chainring — fine on the flat but undulating courses become trickier as the jump between the rings is too great.
The Izalco Pro shows its true colours with a full size, 53-39 chainset: a carbon-fibre cranked FSA K-Force. While there are stiffer around, it does have a very narrow q-factor (the width between the pedals) thanks to the BB30 design, allowing for very efficient pedalling technique. These two race-friendly sized chainrings give the speed freaks a better spread of usable gear ratios.
Dura-Ace gears and shifters rarely make an appearance at this price, sitting as they do at the top of Shimano's tree: There is no other way to put it, they perform flawlessly — as they should do at the price — but the deft touch required to shift, even under pressure, is always a pleasure.
Sadly, the braking was let down a little by the use of third-party cables. The Jagwire outer cable fitted seemed to compress a little too readily, failing to offer up the superb braking we know the levers and calipers are capable of.
Ripe for upgrade
There were a few other niggles; the internal cable routing into the front of the head tube leaves the cables too short to turn the bars 90° without stretching them. Not an issue on the bike, but if you regularly travel with the bike in a car, it could result in premature replacement of the cables (at least you could swap them for genuine Shimanos at that point).
The other item we were a little disappointed in was the Mavic wheelset. While it did nothing too badly, we felt they didn't really live up to the level of the rest of the components.
There's no denying it, £2,500 is a lot of money. However, it does get you a huge amount of bike and one that is genuinely light and race ready. Few companies are brave enough to spec their bikes as a racer needs as the market is pretty small but we applaud Focus for doing just that: the Izalco Pro 1.0 is more than up to the task.
ALTERNATIVE
Cannibal's company: Merckx EMX 3 £2,700
As we mentioned, few companies fit their bikes at this price with full-size chainsets. We had to go to the home of the hard racing cyclist — Belgium, to find another. Eddy Merckx was arguably the best racing cyclist ever, and it's no surprise that bikes bearing his legend don't use any of those girly-geared compact chainsets. An
advanced composite, 30mh fibre frame compares well but spec-wise, the EMX 3 falls a little short, using Campagnolo's Athena groupset. However, we know from experience the stuff works very well, lasts and also suits the Euro look of the EMX 3 perfectly.
This article first appeared in the February 2011 issue of Cycling Active magazine.
Thank you for reading 20 articles this month* Join now for unlimited access
Enjoy your first month for just £1 / $1 / €1
*Read 5 free articles per month without a subscription
Join now for unlimited access
Try first month for just £1 / $1 / €1
Get The Leadout Newsletter
The latest race content, interviews, features, reviews and expert buying guides, direct to your inbox!