MCipollini RB800: First Ride review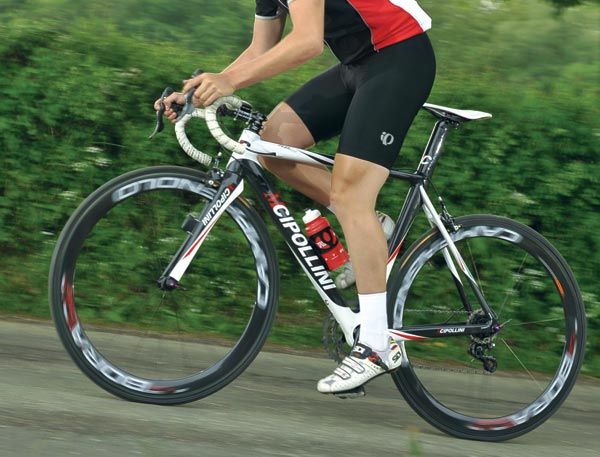 As a package, the RB800 could be summed up as a true Italian thoroughbred with all the trimmings. The tiny head tube, and resultant low-slung front end, plus a super-stiff ride feel means it's one for the racer, but a hint of softness at least allows enough comfort to still tackle longer rides.
Reasons to buy
+

Firm ride, but not too harsh
Mario Cipollini, 'Super Mario', 'the Champion', 'the Power', is a rider synonymous with Italy and all its flair and extravagance.
Former sprint king Cipo said he had no desire to simply stick his name on any old frame, so set about handcrafting from scratch, promising pizzazz. The RB800 sits in the middle of three, so believe it or not, there's a more expensive option, the RB1000, at £4,400 for the frameset.
There's an 'aero' undertone to the aesthetic of the RB800 but that's not been substantiated with any of the marketing, so we can only assume it's exactly that - aesthetic more than wind cheating. It's no secret how much Mario himself craved the stiffest, punchiest frames during his racing days so we were expecting that to shine through in his designs. The chunky tube shapes, especially the down tube, huge bottom bracket area and tiny head tube are all traits suggesting that's the case.
The ride feel was indeed very firm, but at the same time delivered the confidence that the bike wouldn't do anything unexpected. However, we were pleasantly surprised that even after 90 miles of typical UK broken-tarmac lanes, I had no bodily complaints. It's not a harsh, uncomfortable bike, which is indicative of a hard-to-achieve balance being struck.
Our test bike was garnished with nothing but top-of-the-range components, Campagnolo Super Record and FFWD F6R wheels (switched out for Campagnolo Boras in our picture). The 60mm deep rims on the FFWD F6Rs excelled in stiffness and encouraged you to confidently go that little bit harder. However, stick in your training wheels, and the bike's performance didn't suffer that much.