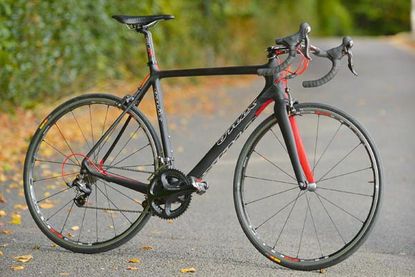 If you could do a blind test of bikes - imagine the money you'd earn from You've Been Framed clips - and if you could strip the decals off several similarly priced frames with identical finishing kit, you'd have one hell of a bike test. That's clearly ?challenging', but if you used the same wheels and tyres on all the bikes and rode them blind, it's a fair bet that this Onix would be ranked among the top models.
Reasons to buy
+

Comfortable ride quality

+

Great aesthetics
You can trust Cycling Weekly. Our team of experts put in hard miles testing cycling tech and will always share honest, unbiased advice to help you choose. Find out more about how we test.
In a world of hyped products and at a time when carbon-fibre frames are pouring out of increasingly efficient Far Eastern factories, it takes a bold individual to start a new bike brand - especially when he's got "zero" experience of the bike trade. But that's Onix major-domo Craig Middleton for you.
Deciding that he had had enough of working in a job that was, for want of any better expression, doing his head in, Middleton founded Onix, driven by passion more than money and enthusiasm more than planning, in 2009. Three years on, the Onix RH Black/Pro represents the pinnacle of the first phase of Onix bikes. With new investment on the way and increasing input from Rob Hayles (the RH in the RH Black), Onix is ready to shout about its products.
The bike build we tested was a full carbon Onix Black RH/Pro 57cm frame and fork kitted out with a Shimano Ultegra groupset, Jagwire red cables threaded through the concealed routing, FSA K-Wing carbon bars, SL-K stem and seatpost topped with a Fizik Arione saddle.
The wheelset was Shimano's Ultegra level RS80 24-spoke effort with, alternatively, Challenge Criterium Open Road and Mavic SSC tyres levered on to them. Why the different tyres? Well, the first rides were so comfortable we decided to see what impact on ride quality different tyres would have. We're nothing if not thoughtful.
Comfort and joy
Tyres and wheelsets allied to tyre pressures play a massive part in influencing ride comfort and the Onix Black RH/Pro impressed on our usual test roads. Was it possible that a frame with such a strikingly oversized bottom bracket area and head tube could feel so smooth? Onix makes a big deal about 'stiffness' and the frame design from head tube to down tube flowing around the seat tube looks massive. But the comfort of the ride - dictated in part by the type and lay-up of the carbon in these frame areas - is impressive.
If it's fair to say that, if you want a stiff bottom bracket area (and we've got the 'industry standard' BB30 down there, albeit with an adaptor for the Shimano cranks), then an oversized head tube and down tube, culminating in a bottom bracket shell big enough to anchor a tanker, are key areas. Smart design and speccing build in more comfort in the seat stays and seat tube - as well as the finishing kit.
Any muppet can build a super-stiff carbon frame: the trick is to find the compromise between rigidity and lower back-cosseting comfort. Stiffer isn't always better - unless you are an out-and-out racer with a physio waiting for you at the hotel. Happily, after putting in the hours on this Onix, our local osteopath speed dial number remained untouched.
Stable, mate
Another factor in the rigidity equation - in addition to the power transfer and ride comfort variables - is cornering stability; specifically, cornering at speed on bumpy roads. When you are sweeping down a hill with just enough room for two cars, the last thing you want to feel is anxious about cornering stability and how the bike reacts when you're braking. Who wants to feel like a sack of spuds being bounced around on top of a plank? I was happier with the more responsive, softer-feeling Challenge tyres than the Mavics, with the Challenges riding road ripples better in corners.
In terms of geometry, the 57cm bike we rode read conventionally enough, with a 1,003mm wheelbase coupled with 73-degree head and 73.5-degree seat angles. The centre-to-front dimension - 609mm - means that, compared with some other recent bikes I've been on, the weight distribution was a little less front-biased - the distance from the centre of the bottom bracket to the front fork drop-out was a little longer.
It's the sort of thing you notice whistling down steep hills when you have to brake hard for a hairpin. How much weight is on the front tyre? How much do you feel your weight is pitching forward? Personally, I'm not overly keen on that 'over the bars' feeling myself, and the Onix set-up - with a 125mm FSA stem - kept things just the right side of 'Woah, Jesus!' for my utterly average dimensions. In short, I think the weight distribution, front to back, is just about spot-on.
And, while we are talking about the front end, the FSA K-Wing Aero anatomic bars felt great, despite their ageing design. The carbon Kevlar construction no doubt played a part in the comfort department - no buzzy fingers for me - and those flat tops feel surprisingly comfy to climb on.
There's no doubt that the look of a bike plays a part in how well it sells. We can fool ourselves all we like, but a combination of the right decals and a pretty paintjob goes a long way in catching our eye in the first place. This Onix Black RH/Pro sports classy stealth approach with a combination of matte finish and gloss highlights, giving the frame a distinctive look. It might be a bit too understated for some, but it hides road filth better than most, so, aesthetics aside, that's a bonus. There's a lot to be said for a predominantly black bike in the UK climate.
The rear triangle of the bike catches the eye too, partly because of the 'fag paper' clearance between seat tube and the tyre and, partly, because of the weird/ground-breaking design of the rear drop-out area, wherein the seat stays and chain stays 'curve' and sit above the carbon dropouts rather than tapering to a 'triangular' join at the drop-out.
It's reminiscent of a long-forgotten mountain bike design from the last millennium, but an early Onix frame was battered and bounced by sponsored rider Daniel Patten, who raced in Belgium for a year - and it came through intact. Belgian cobbles and cycle paths are a fierce test so, even if the effect is mainly aesthetic, it doesn't appear to have compromised resilience or longevity and Hayles reckons it adds some compliance and comfort.
Thank you for reading 20 articles this month* Join now for unlimited access
Enjoy your first month for just £1 / $1 / €1
*Read 5 free articles per month without a subscription
Join now for unlimited access
Try first month for just £1 / $1 / €1