Verenti Insight 0.4 road bike review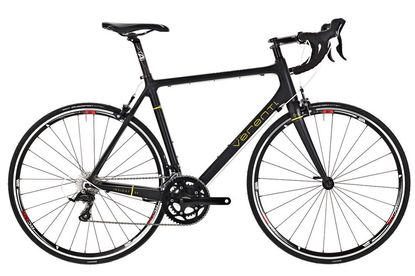 If you can keep up a higher cadence and have a smooth power transfer you'll get a lot out of the Insight 0.4. It's a viable alternative to some of the harsh aluminium-framed bikes you get at this price point and is a great choice for eating up long miles without paying a price in comfort.
Reasons to buy
+

Consistent good handling

+

Comfortable
When Wiggle introduced the Verenti range a few years ago, it quickly gained lots of good feedback. For 2014, the impressively good value-for-money £950 Insight 0.4 lies at the bottom of the carbon-fibre road/sportive range and has seen a few fundamental changes.
When setting up the bike, I was struck by how racy it looked, the superbly finished matt black carbon frame and subtle yellow accents give the illusion of something much more expensive and refined.
At 8.75kg, it's also competitively light considering the level of componentry — the small size I tested boasts a listed frame weight of just 1,190g.
You could be forgiven for thinking at this price and weight that strength may have been sacrificed. However, this year Wiggle has upped the lay-up of carbon-fibre around the bottom bracket and beefed-up the head tube to accommodate a tapered fork to further increase overall stiffness.
"Handling is consistent and precise"
The initial impression on the road is of something concordant, it doesn't feel overly solid, but conveys a sense that everything is harmoniously balanced. If it were a German car they'd describe it as having a 'quality' feel. It also helps that it's quiet too, there are no disconcerting rattles, scrapes or clunks you get with some aluminium bikes.
The Sora groupset shouldn't be considered inferior. It may 'only' be a nine-speed one, and lacks the glamour of those higher up the Shimano range, but it works well and does a decent job for everyday use. It's testament to Shimano's expertise that manufacturers are now starting to put this groupset on 'serious' bikes. The wheels and finishing kit continue this trend and are pleasingly unassuming in their design and in use.
Handling is consistent, precise and balanced nicely between lively and relaxed. The ride experience also reflects this too — you're aware that this isn't some super-stiff bone-shaking racing bike, there's some lag with fast accelerations and big power out-of-the-saddle climbing, but you won't lose out with this bike.
Thank you for reading 10 articles this month* Join now for unlimited access
Enjoy your first month for just £1 / $1 / €1
*Read 5 free articles per month without a subscription
Join now for unlimited access
Try first month for just £1 / $1 / €1
Symon Lewis joined Cycling Weekly as an Editorial Assistant in 2010, he went on to become a Tech Writer in 2014 before being promoted to Tech Editor in 2015 before taking on a role managing Video and Tech in 2019. Lewis discovered cycling via Herne Hill Velodrome, where he was renowned for his prolific performances, and spent two years as a coach at the South London velodrome.