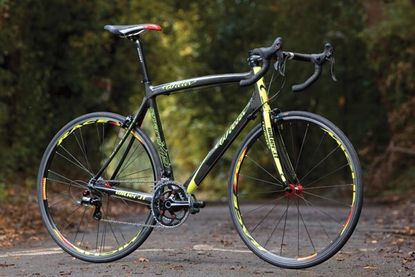 At the end of the day if you were lashing out £2,000 on the Izoard XP as your only bike then you wouldn't be disappointed. It is not the most comfortable, but you certainly wouldn't have any qualms about doing a long sportive on it (I did a 150-mile charity ride on it). And above all you'd feel proud of it every time you wheeled it out of the front door because it looks good enough to be racked against bikes costing twice the price.
Reasons to buy
+

It's a stunning looker

+

Well priced

+

Responds well to hard efforts
Reasons to avoid
-

Not the most comfortable on long rides

-

Wheels not quite up to rest of spec
You can trust Cycling Weekly. Our team of experts put in hard miles testing cycling tech and will always share honest, unbiased advice to help you choose. Find out more about how we test.
Some of you won't even bother to read this review. One look at the photos of the Wilier Izoard XP, resplendent in all its black and fluoro glory, and you will have decided that you absolutely, desperately need it.
Day-glo yellow can have that love-at-first-sight effect on people. No doubt you will already be justifying the expenditure with such terrible excuses as 'it's so bright I won't need to buy a new set of lights this winter' (you will).
The Izoard XP is Wilier Triestina's entry-level carbon frame and it's available with four different groupsets hanging off it - two Shimano and two Campagnolo. This Centaur-equipped model is the higher of the two Campag groupsets and I happen to think there is something ultimately sophisticated in the marriage of an Italian frame with Italian gears. Like pizza with Peroni, they just look well together.
Flamboyant
Not one of my friends, even those not so sold on the high-viz graphics, failed to comment on the Wilier when I was out riding it. Quite a few assumed from a casual glance that it was much more expensive than it actually is. Even more of them opined that you need to have the legs to match because you really shouldn't be seen riding slowly on something that flamboyant...
It's not just the frame's paintjob that marks it out as a good-looking bike either; look closer and the jewel-like anodised details on the Centaur Red groupset combined with the equally scarlet Miche hubs are like so many enticing cherries hanging off the carbon cake.
The only jarring piece of spec is the big Selle Italia Q-Bik saddle, which looks like a chunky pterodactyl perched on the seatpost. I also thought it was quite funny that the long list of tiny team sponsors' logos on the seatstays (Vittoria, Look, San Marco, Elite...) bore absolutely no relation to the kit that appeared on the bike!
My home is on a hill and although the sensible thing to do would be to always set off with gravity helping cold muscles, for some reason I frequently leave the village the other way and clip in while pointing uphill, immediately having to stand up on the pedals just to crank the first few revolutions and get going. Instantly the hoods of the Centaur shifters with their ridged surface feel like a good place to be and there's that very positive, mechanical Campag engagement as you click up a gear with your right thumb.
Ergonomic
The first few miles are always interesting and straight away the front end of the bike felt very reactive to even light inputs as if you've got a racy, steep head angle.
Accentuating this is the fact that it also feels and looks quite tall up front (a brief read of the Wilier website shows that our XL size test frame gets a lengthy 19.5cm head tube - a healthy 3.5cm taller than the large frame below it).
I also took the Izoard on a trip up to North Yorkshire and snuck out to find some decent hills one Sunday morning. I'm generally a bit of a grinder and like to push a big gear in a sprint, so not a massive fan of compact gearsets as a result, but I'll happily admit that the 50/34 option was lovely on some of the sharper ascents up there.
That ride also confirmed that it's a bike that really seems to come alive a little more when you get over the front end of it. Every time you got out of the saddle and hauled hard on the bars on a short climb there is absolutely no flex to the front end, something I very quickly grew to love.
The XP really encouraged you and willed you on. The lovely shallow drop and compact bend of the Ritchey handlebar felt just right too, placing your thumbs perfectly for the Campag shifters.
In contrast, the rear, which felt as though it was needing to play catch-up, isn't quite as snappily engaging and there was a bit of flex when you really drove hard on the pedals while sitting down. This is mostly due to the Miche Race 707 wheels.
While looking the absolute business when their matching yellow rim graphics were spinning, they would be ripe for upgrading because although they held speed well on the flat, they weren't especially stiff or light.
Thank you for reading 20 articles this month* Join now for unlimited access
Enjoy your first month for just £1 / $1 / €1
*Read 5 free articles per month without a subscription
Join now for unlimited access
Try first month for just £1 / $1 / €1