Essax Adrenaline R saddle review
The Essax Adrenaline R is the performance saddle of the Spanish brand's range, aiming to hit the targets of stiffness, lightweight and comfort.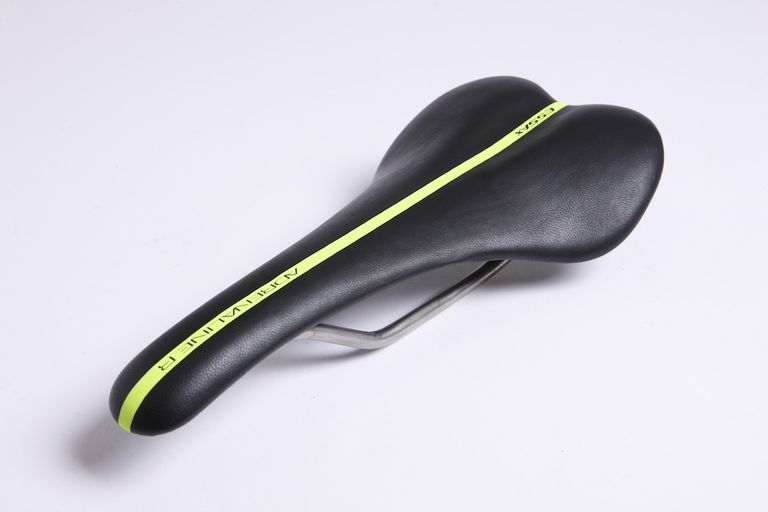 Despite the all the claims of improved stiffness and pedaling efficiency, we were most impressed by the lightness of the Essax Adrenaline R, which is hard to beat for the price. Comfort is also good, just as long as you're bent low over the bars.
For
+

Seriously light for the price

+

Encourages aggressive position

+

Good value

+
Against
-

Uncomfortable when riding on tops
The Essax Shark saddle may have stolen all the headlines, but the Spanish brand has a full range of saddles that it hopes will attract the same levels of attention. The performance model is the Essax Adrenaline R which comes in three models with either carbon, titanium or chrome rails. We put the budget (£57.99) chrome-railed version to the test.
>>>Buyer's guide to bike saddles
As with all Essax saddles the Adrenaline R includes the company's patented AF Net (Anti-Fatigue Net) technology. This is a matrix built into the saddle which aims to improve the rigidity of the shell by 40% (compared to an Adrenaline R saddle with AF Net technology removed), therefore increasing the efficiency of the pedal stroke, with independent tests showing a 2.5% gain in efficiency over a comparable Fizik saddle.
The performance focus of the Essax Adrenaline R saddle is easy to see with the slender nose and limited padding encouraging, and rewarding, and aggressive riding position. Indeed Essax also produce the Adrenaline KRBON, a full carbon version which keeps the same shape.
>>>Saddle height: how to get it right and why it's so important
However the flip side of this come on longer climbs, especially when riding with your hands on the tops, where we experienced some discomfort with our weight supported more by the rear of the saddle. Of course saddles are a very personal thing when it comes to comfort, and Essax dealers have sample saddles to let you try before you buy.
Perhaps the most impressive part of the Essax Adrenaline R is the weight. Considering the sub-£60 price tag of the chrome-railed version we had on test, the 157g weight is fairly astonishing. To put this in context, the lightest saddle in our £120 saddle grouptest that will be published in the 12 February issue of Cycling Weekly, the Pro Falcon, hits the scales at 155g – and that's with a carbon rail! Put simply, this is by far the lightest saddle you can pick up at this sort of budget.
For more details visit the NRG4 website.