Specialized Power MIMIC Expert women's saddle review
The popular Power saddle has gained some new tech, but it won't be for everyone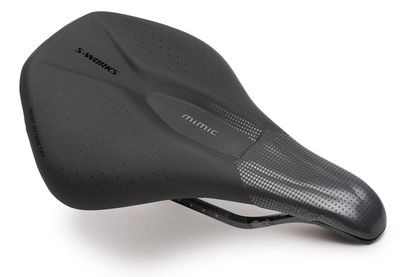 I've been lenient with the scoring against my own experience here, and that's because saddles are hugely personal. This is an incredibly well-researched saddle, and the Power model has been tried and tested to success by many women (and men). It does suit a rider who wants to stay in a static position, and limits your ability to move around. For this reason, set-up can be more complicated and for me it just wasn't right. The new MIMIC technology felt comfortable enough, but I'd really need to try it in a saddle shape that fitted me to be convinced that it beats a cut-out.
Reasons to buy
+

MIMIC foam is soft without the need for a cut-out

+

Looks great

+

Well researched
Reasons to avoid
-

One static riding position
Bike saddles are a hugely subjective review category. What feels like a dream for one person might represent the culmination of all evils for another.
When the Specialized Power MIMIC saddle arrived in the office, I absolutely wanted it to be my dream saddle.
After around 20 hours pedalling away on the perch, I have tried my upmost to make our relationship a lasting one. Sadly, I've concluded that it's just not for me. However, it is a hugely well researched saddle that could well be the answer to many women's (and men's) nether region struggles.
The Specialized Power MIMIC women's saddle: the technology and testing
The original Specialized Power saddle was developed alongside Evelyn Stevens, the now-retired pro rider who was a time trialling expert at Boels-Dolmans.
Originally made to be a women's specific model, it later transpired that men were comfortable on it too. Though the new iteration has been marketed as a women's saddle the expectation is that men will continue to like it in equal measure.
Still, with saddle discomfort being a major issue for women - one that sees some seeking surgery - it was an area where the big S felt female riders needed to be the focus.
The vast majority of women's saddles come with a 'cut-out' relief channel, and typically these have been the varieties I've got on best with myself. I usually favour a wide cut-out, like the one on the Sella Italia SLR Lady Flow, the ISM option which features no material in the centre and my current favourite, the Pro Stealth.
However, for many women, the hard edge of the cut-out can present a problem, with soft tissue chafing or even being 'sucked into' the hole. To add some graphic imagery, the popularised term among women's cycling circles for this is 'flapmash'. Nice.
After studying 200 pressure maps from 23 women, Specialized decided that the traditional cut-out was not doing the job - so it looked for a way to provide space for soft tissue, without crushing it.
Enter 'Biomimicry' (or, MIMIC), a design ethos which uses materials and structures that are moulded on 'biological entities'. In place of a hole in the centre is a collection of three different foams, plus a flexible TPU in the centre to prevent swelling and numbness.
Other alterations between this and the original Power include tapered wings, to remove rubbing felt by some riders.
Once the design was complete, Specialized had nine women not involved in the earlier process try the saddle out - and they found it more comfortable than other options available.
It's available in widths of 143, 155 and 168mm at Comp (£80, 220g) and Expert (£100, 200g) level and in 143 and 155mm on the Pro (£175, 219g, carbon shell) and S-Works (£220, 170g) rungs.
I tested the Expert version, with hollow titanium rails. The key benefit of spending more is the introduction of more carbon, for added compliance, and lower weight at the very top end.
The Specialized Power Mimic women's saddle: the ride
It was with great excitement that I fitted the new Power with MIMIC to my bike.
First setting myself down, I was indeed impressed by the comfort of the soft 'MIMIC' area in the middle.
However, problems arose soon after.
The Power gives a rider a very specific area to sit on - the idea being that you can rotate into a aggressive, low down position and stay there.
My problem in the first few rides was that I simply could not find the 'perfect' position. I'd set the saddle up so that it was comfortable, but as soon as I got to an interval or went to put a dig in, I'd roll forwards and find myself balancing on the end.
In response, I'd push the saddle forwards on the rails so that I could sit there during efforts - but then I'd feel there was too much pressure going through my patella. The 'sitting space' was not large enough for me to be comfortable in a range of riding circumstances.
Not only that, the downward swoop of the nose meant I kept slipping down it, so even if I was happy with the position, I could rarely stay in it.
After around two weeks of stunted rides and a slightly munched seat post clamp, I decided to drop into the UK Specialized headquarters, to have Retul Fit expert David 'D.A.' Alexander set me up. Both of us remained fully aware that some saddles just don't suit some riders, but I was keen to give the Power the very best chance.
After pushing the saddle back a few millimetres on the rails, he turned his attentions to the constant forward-shuffle I had going in - which using Retul motion sensors showed my knee angle was constantly changing as I moved around.
To counter this, he very slightly tilted the perch on its rails, so the nose was less downward pointing. The shape of the saddle means the nose still points down, just less so in this new position.
And away I went for more testing.
The upward tilt stopped me slipping, but unfortunately after 40 minutes I found the recess was not deep or soft enough in this new position - giving way to pressure, and ultimately numbness.
As is perhaps evident, I desperately wanted to like this saddle. It looks great, and the MIMIC technology feels like it would be an excellent development, if only it was the right shape for me. On the plus side, I'd hazard a guess that we'll see more MIMIC roll out across the Spesh range in future.
Setting up your own Power saddle
The Power's design means that set up is important. Specialized suggest you measure your reach from the tip of your existing saddle, to the bars, and then add 3cm as a "starting point".
"That's a good place to start," says Alexander, adding "for the majority of riders - not everyone - there will be a bit more playing around with it. The amount of adjustment you might need to do, to fore-aft, to saddle height and to tilt on your first few stages of the ride might be considerable because they'll all interface slightly differently with your pelvis.
"Because it's noseless, it is worth persevering with fine tuning that tilt."
"On a saddle that's quite long, has lots of padding, and is fairly generic in its overall conturing, you've got loads of places to shift around. You don't have that with a noseless saddle, so it needs to be pretty much bang on."
"Hopefully for the right person, it places them exactly where they want to be - locked in, with consistent power production straight from the saddle down to the pedals," Alexander explained.
If adjustment yields no success? No worries - Specialized doesn't do test saddles, but it does offer 30-day money back guarantees at all dealers.
"As long as you keep the header card or packaging and receipt, you can take it back to the retailer, and they'll work with you to help you find a saddle that does suit you from within our range, which is pretty comprehensive," Alexander says - stressing the importance of leaning on the expertise of local bike shops and fitters.
Thank you for reading 10 articles this month* Join now for unlimited access
Enjoy your first month for just £1 / $1 / €1
*Read 5 free articles per month without a subscription
Join now for unlimited access
Try first month for just £1 / $1 / €1
Michelle Arthurs-Brennan is a traditional journalist by trade, having begun her career working for a local newspaper, where highlights included interviewing a very irate Freddie Star (and an even more irate theatre owner), as well as 'the one about the stolen chickens'.
Previous to joining the Cycling Weekly team, Michelle was Editor at Total Women's Cycling. She joined CW as an 'SEO Analyst', but couldn't keep her nose out of journalism and in the spreadsheets, eventually taking on the role of Tech Editor before her latest appointment as Digital Editor.
Michelle is a road racer who also enjoys track riding and the occasional time trial, though dabbles in off-road riding too (either on a mountain bike, or a 'gravel bike'). She is passionate about supporting grassroots women's racing and founded the women's road race team 1904rt.
Michelle is on maternity leave from July 8 2022, until April 2023.