dhb Aeron Women's Halterneck bib shorts review
Comfortable bib shorts that earn themselves a place as a wardrobe staple while carrying an impressively friendly price tag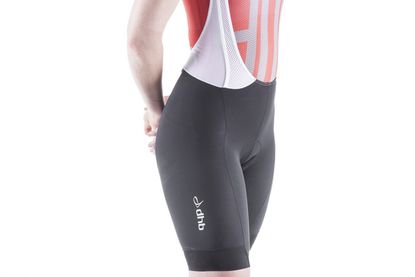 (Image credit: Picasa)
Quality shorts that provide comfortable compression and a brand-leading endurance chamois at an entry-evel price point, they're pretty hard to beat.
Reasons to buy
+

Excellent value

+

Clever halterneck design
Reasons to avoid
-

Not much to criticise at this price
Why you can trust Cycling Weekly Our expert reviewers spend hours testing and comparing products and services so you can choose the best for you. Find out more about how we test.
If you're after a quality staple for your cycling wardrobe and don't want to pay over the odds, you can't go far wrong with Wiggle's in-house brand, dhb.
Head out for a club run, roll down to the track or check in at a sportive and you'll see the logo more often than not. And with good reason: this is hard-wearing, practical yet still performance-orientated kit you can crash in without crying over.
>>> Buy the dhb Aeron Women's Halterneck bib shorts now at Wiggle from £52.49 (opens in new tab)
Construction
The dhb Aeron Halterneck Women's bib shorts have all your basic needs covered, but sitting in the brand's more performance orientated Aeron family they're also more than capable of keeping you comfy during race-pace efforts.
>>> Best women's cycling shorts
The key party trick from dhb with these bib shorts is the halterneck design, which makes the rigmarole of removing jerseys with laden pockets every time you need to stop for a comfort break a thing of the past.
The back of the shorts simply pulls down thanks to the stretchy material used at the neck, so there's no need ever to loop it over your head.
The style does mean that your back and chest are exposed, so these are shorts to wear with a base layer if you like an extra piece of fabric between skin and jersey.
A mesh fabric is used where panels do cover the upper body for greater breathability where heat tends to build up.
Created using Italian fabrics, the key material utilised is Miti Granfondo, which dhb tells us combines Power and Interpower threads to create a stretchy weave designed to offer compression, promising muscle support and optimum recovery while still wicking sweat to keep your skin dry as you work.
At the cuff the elastic grippers have been shaped to smooth out across the thigh, avoiding the hated 'sausage leg' that can be created by a narrower strip.
dhb has used a Cytech Tour HP Super Air chamois, which it says can provide comfort for up to five hours. It's a thermomoulded pad created with distance rides in mind and designed to offer breathability and temperature control. The high-density foam is designed to provide support when in the rotated position over the bars.
>>> How to prevent saddle sores
Colours and sizes
Firstly, congratulations to dhb for biting the bullet and making a plain black option. It's perhaps hard, as a brand, to sit on your hands and not include splash of colour to set your baby apart. But a large percentage of the cycling public can't afford to have a matching jersey for every pair of bibs (and has too much pride to mismatch).
For those who are looking for a set, the bibs also come with a colour trim in blue, yellow, pink or white too so you can add a colour splash.
dhb also opts to do away with the standard S, M and L of the cycling world when it comes to cycling kit, instead using dress sizes 8 to 16 – another real no-brainer when supplying kit to women who are used to selecting a size using these criteria.
dhb Aeron Women's Halterneck bib shorts: ride
I'll start with the negative, because it gets it out the way and it works with the overall storytelling order.
The first time I donned a pair of dhb Aeron Women's Halterneck bib shorts, the thread at the lower leg cuff snapped immediately with a loud rip that left a piece of thread hanging loose. Not a good start.
I contacted dhb about the issue and soon received a new pair. And another pair after that, perhaps not entirely intentionally.
In both cases I pulled the shorts on to no nasty rips, and further tested the strength of the thread by stretching the leg cuffs as wide as I could. No more rips, and it would seem the first pair was just unlucky. The good news is dhb does honour returns and would replace faulty goods for a customer, too.
On to the actual test. The fabric felt soft to the touch and fitted closely, offering a compressive cocoon as you might hope. The leg grippers were secure enough to stay in place without denting the flesh, the neck strap fitted well and the system does its job.
Getting the length of such a neck strap right is no easy feat: dhb's appears to dig in a bit in the pictures but in practice it's soft and I didn't feel it got in the way.
I wore the shorts over shorter rides on the track and on a few endurance road sessions. I do find occasionally it takes a little longer to get the pad on halterneck bib shorts sitting correctly, but once the shorts were properly pulled up and I was in the saddle all was well and they did their job.
Aside from the first initial failure, which did seem to be a one-off, these bibs carried no real faults – which is perhaps what's most important in a basic pair of shorts that you want to know you can rely on at any given opportunity.
Value
>>> Buy the dhb Aeron Women's Halterneck bib shorts now at Wiggle from £52.49 (opens in new tab)
The dhb Aeron Women's Halterneck bib shorts carry an RRP of £70, though you can find them on sale at the moment for £52.49. Effectively, dhb has ticked all the boxes required in a basic pair of shorts at a price point which is hard for anyone to compete with.
Thank you for reading 5 articles this month* Join now for unlimited access
Enjoy your first month for just £1 / $1 / €1
*Read 5 free articles per month without a subscription
Join now for unlimited access
Try first month for just £1 / $1 / €1