Le Col women's HC sky blue hex bib shorts review
With a snakeskin hex design and matching reptilian silicone panel at the quad, would these shorts slither their way to a top score?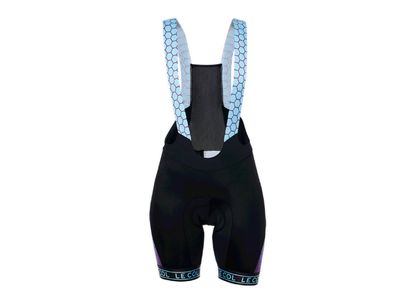 (Image credit: Picasa)
Quality bib shorts that ooze comfort without being harsh or overly compressive. Cool enough for hot climates and stylish to boot. Though the silicone panel didn't bother me, I'm just not sure it's necessary and these certainly aren't a value-orientated choice.
Reasons to buy
+

Key fabric very soft and comfortable

+

Nice-looking grippers
Reasons to avoid
-

Not sold on the silicone panel

-

Quite pricey
Why you can trust Cycling Weekly Our expert reviewers spend hours testing and comparing products and services so you can choose the best for you. Find out more about how we test.
Le Col's HC, or Hors Catégorie, bib shorts are the premium brand's 'ultimate shorts', designed to provide top-end care for your derrière, with a touch of luxury.
Race-ready shorts can have a tendency to focus on lightweight material and quad-squeezing compression and these don't aim to be a part of that – they're meant to be for riders seeking comfort alongside performance.
Some high-end shorts, at first glance, can fill a reviewer with a sense of trepidation. Compression is held in such high esteem that initially the shorts appear to be made for a child – yet once on they turn out to be spot on.
>>> Best women's cycling shorts
Constructed from Italian 220g lycra, these shorts are quite different. They don't look tiny off and pulling them on in a size small bore no resemblance to squeezing sausage meat into its skin. Indeed, they're soft, stretchy and there's zero need to do a special dance to get them on.
To use the world's worst adjective, the key fabric really does feel exceptionally nice against the skin and once on these sit closely with no flapping or bunching.
Running along the outside leg is a panel of silicone – this version carrying the blue hex design. This is not something I've ever seen before and I did feel some concern on discovering it. The idea is that the patch keeps the shorts in place but it looked like it might result in discomfort or excess sweating.
In practice, neither fears came to fruition – and the shorts did indeed stay in place. However, I do question the need for this – my shorts usually stay in place without snakeskin texture against my quads.
The legs are further held down by a 4.5cm (just under 2in), ribbon-like gripper with silicone backing. This sat fairly well, with only the slightest hint of over-compression, which is pretty hard to avoid.
>>> How to avoid and treat saddle sores
The Dolomiti Gel women's chamois is definitely an endurance creation. It feels pretty thick as you move around off the bike, with a notable degree of padding at the rear (to suit a more endurance stance).
I have a tendency to sit further forward on the saddle, and put the chamois to the test over a 130km loop with around 2,500 metres of climbing with no discomfort above the norm.
The chamois is carefully stitched in to avoid any chafing, and most seams are flat locked. However, some panelling at the front uses a rougher stitching pattern with exposed seams – this isn't something I've seen in top-end shorts before, though I didn't feel any discomfort as a result.
The fabric turns to a lighter mesh as it rolls into the upper, with laser-cut straps that carry the hex design in a traditional 'Y' shape, which doesn't make any special provision for easy comfort breaks.
The back finishes quite high, but uses a mesh panel to eliminate overheating – and trying these out under the hot Spanish sun I only overheated when an 18.8km climb made not doing so near impossible.
The straps themselves have been designed to offer plenty of stretch – which indeed they do. In fact, you can extend them right out and dance around like a Bavarian in lederhosen. Not that I did that. Still, though a tad over-generous for me, that will suit taller riders and I found they sat comfortably over the bust and don't dig in.
Whilst the label is stitched in, as opposed to being heat transferred, the Le Col logo is embroidered at the lower back. This means there's no chance of the unsightly peeling that you see elsewhere.
Thank you for reading 5 articles this month* Join now for unlimited access
Enjoy your first month for just £1 / $1 / €1
*Read 5 free articles per month without a subscription
Join now for unlimited access
Try first month for just £1 / $1 / €1